Blake E. Was Already On A Show With Whaboom Before 'The Bachelorette'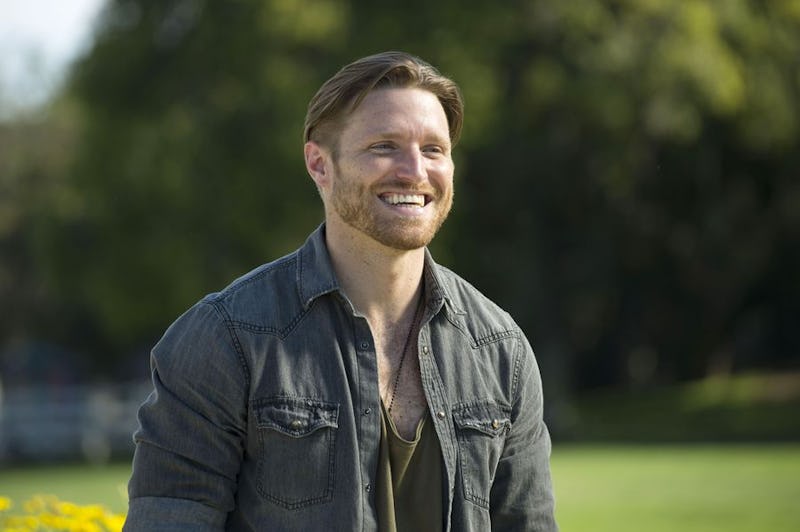 ABC/Michael Yada
From the very beginning of Rachel's Bachelorette season, Blake has had it in for Lucas, aka the "Whaboom" guy — and now we finally know why. On tonight's episode, Blake revealed that he knows Lucas from before The Bachelorette. That's because they were on a different reality show, WE TV's Ex Isle; Blake even still lives with Lucas's ex-girlfriend, whom he met on the program.
Interestingly, although Blake seems to have instigated the feud this time, it was the other way around when both appeared on Ex Isle in 2016. Hosted by Carmen Electra, the short-lived series took on-again, off-again couples and dropped them into intensive couples therapy on an island to help them either get through or get over their toxic relationships — and then added 10 singles to the mix to stir the pot even more.
As In Touch Weekly reported last week, Lucas appeared on Ex Isle with his ex Brittany, and Blake was brought on as one of the single contestants. Brittany and Blake hit it off, causing a rivalry to start between him and Lucas. After the show ended, Brittany and Blake continued to date and even lived together — and still did, if what Blake said in tonight's Bachelorette episode is true.
Honestly, it's too bad Lucas is so upsettingly committed to his Whaboom shtick. Just based on this WE TV video, he seems like once upon a time he was a normal, upstanding dude with a real job and an actual human personality. Guess that all went out the window when he decided to sell t-shirts with his face on them, huh?
Of course, Ex Isle was not Lucas' first time on a dating show either — according to Refinery29 he also starred on 12 Corazones Especial de Circo Entretenimiento, a Telemundo reality series, in 2012. Say what you want about how extra the drama between Blake and Lucas already is, but you've got to admit, it's a little weird that he's been on so many dating shows. There are plenty of places to find women that aren't television, dude! Have you tried Tinder? Or maybe going to a bar?
Regardless of whether or not Lucas is truly here for the right reasons, it's clear that his beef with Blake is not going away any time soon. Hopefully it won't derail Rachel's journey to find love too much — after all, this show is supposed to be about her!