'Love Islander' Paul Has BIG History With Britney & Laura's About To Find Out Why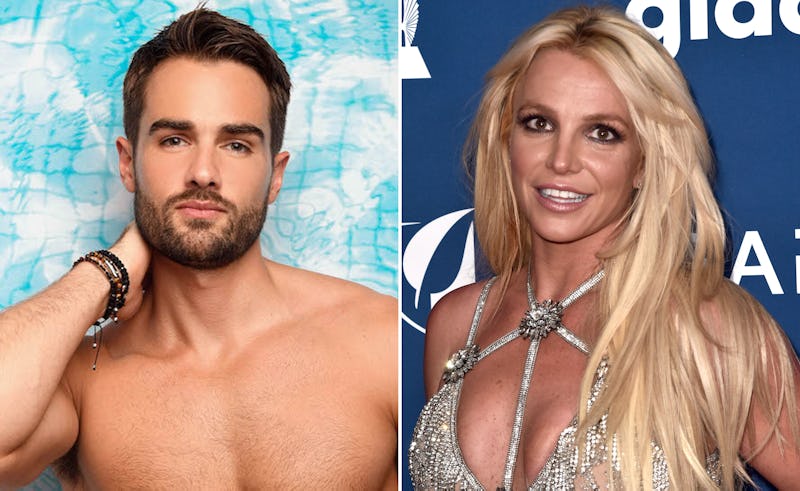 ITV/Alberto E. Rodriguez/Getty Images Entertainment/Getty Images
This year's Love Island has resulted in some shocking anecdotes from the contestants. First, there was Charlie admitting that his grandad sold a company for more than £400 million. You know, not that much. Now, another story claiming Paul has kissed a very famous pop star has come to light. So, how does Love Island's Paul know Britney Spears? And did they really kiss?
For those not in the know, Paul is the guy who coupled up with original Laura in Thursday night's show. Yes, I'll admit that I sometimes forget his name too but maybe it's not his fault that he hasn't been given that much screen time. Anyway, the 31-year-old carpenter has a very secret past which will be revealed in Friday's episode.
That secret past mainly revolves around the fact that Paul isn't just a carpenter. Turn out, he has also worked as a model (seriously, check out his Instagram account) and was chosen by Britney to be the lead man in her 2016 "Make Me..." video. If that isn't enough to make your jaw drop, then the fact that he also kissed the world-famous singer might just do it.
In the raunchy video, Paul is made to audition in front of the 36-year-old before taking his top off and planting a kiss straight on her lips. The pair then take things to the bedroom where, well, he gyrates on top of Britney.
Paul had already admitted to getting to know Spears "really well" before entering the villa, even going so far as to say that "me and Britney were friends for a bit."
But his shock confession is all too much for unsuspecting new flame Laura. After spending their first night together in the same bed, Laura asked Paul about his previous jobs, probably expecting talk of cutting up wood and nothing more.
Instead, he told her this:
"When I was in LA, I think it was one of the first jobs I did out there. They called me up and said, 'Paul, do you fancy doing a music video?' and I was like, 'Ah yeah, cool,' and I said 'Who's it for?' and they were like, 'We're not supposed to tell you who it's for, you have to go for a casting for it, but it's for whisper Britney Spears.'"
That news alone would be enough to make me spit my drink out. But Paul then told Laura that he got quite close and personal with everyone's favourite childhood singer, to which she could only reply: "Was she single?" (That's my girl. Always checking to see where a man's loyalties lie.)
Of course, the kiss was for work purposes only (and yes, Spears was single in case you were wondering) but I can't imagine the news stayed quiet in the Love Island villa for long.
It's already erupted on social media with plenty of people wondering how he managed to keep that secret for so long.
Laura later made a dig at the fact that Britney is a few years older than Paul. Naturally, many people have taken this as a sign that Laura may be experiencing a case of the green-eyed monster.
But I mean, who can blame Laura if she did feel a little defensive after hearing her man has previously kissed Britney? How would you feel? Perhaps we should just cut her a little slack. She's not exactly had the easiest time in that villa.
So, was Paul just showing off and trying to make his new partner jealous? Or was this another attempt to stir things up? Who knows? But Laura, I don't think Spears is coming into the villa to steal your man any time soon.