This Is What It's Like To Get An MDNA Skin Facial From Madonna — EXCLUSIVE VIDEO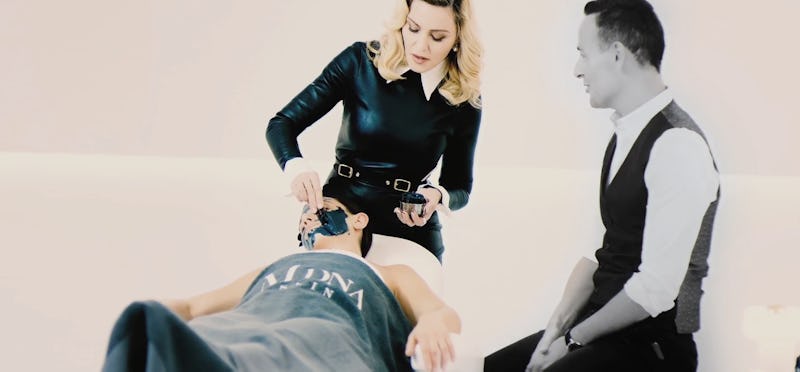 Courtesy of YouTube
Ever wonder what's it like to get a facial from Madonna, whose MDNA SKIN line is finally available in the U.S. after a successful launch in Asia three years ago? Well, you can actually "experience" that situation and live vicariously by watching this short film, which is the first in a three-part series featuring Madonna, Dr. Frank, and the singer's aesthetician Tarin Skillets. Bustle is excited to exclusively share this video, which gives the viewer an up close and person demonstration of the pop icon's premium MDNA SKIN range, specifically the Chrome Clay Mask.
This short film, dubbed "The Facial" and which "takes the horror out of skincare," has a kitschy, vintage vibe that will instantly remind the viewer of classic, B-horror films, thanks to the creepy music, the distorted voices, and the playful tone. It's spooky and satisfying, and it spotlights the commitment of caring for your skin by using advanced technology and ingredients.
In the minute-long segment, which you will find yourself watching over and over again, Her Madgesty and Skillets flip the script. The ladies swap roles, with the mononymed multi-hyphenate serving as the facialist and Skillets in the chair as her client.
It's a brilliant (and really cute) way to for Madonna and co. to effectively introduce MDNA SKIN to the new customer base in America.
Madonna looks ultra sexy in a belted, black leather dress with a pointed, white Peter Pan collar, because duh! She's Madonna. With her own skin looking like porcelain, Madge asks Skillets if she is excited to be on the receiving end of the facial and notes this isn't going to hurt, before winking at the camera with a delightfully devious twinkle in her eye.
Madonna and Dr. Frank engage in a light-hearted conversation about why the Chrome Clay Mask, which draws out dirt and impurities while providing long-lasting smoothness and hydration, is such an amazing product. Dr. Frank, who appears in black and white as though he were a hologram, explains that it boasts a mineral-rich volanic ash from Montecatini Terme in Italy and features a hero ingredient called "M.T.PARCA."
Madonna jokes that the ingredient's name sounds like a coat or a rapper, which is exactly what we were thinking upon hearing it.
But here's what M.T.PARCA actually is — a transcendent ingredient and a proprietary blend of thermal waters from the area. People from all over the world travel to this region to experience this ingredient and indulge in its healing properties. It's exclusive to MDNA SKIN, per the brand's site, and it helps restore the look of skin to its naturally beautiful state.
Madge is even a bit self-deprecating in this fun clip, saying that she is a blonde and couldn't figure out how to apply the mask, although she appears to be doing a more than fine job... because, once again, she's Madonna. What can't she do?! As she applies the thick, rich mask to Skillets, you will find yourself wanting to scoop some of this same product onto your face and let it do its thing!
It's a creative clip that helps the viewer understand the ingredients and MDNA SKIN products, which are luxe and lush. It takes the science of skin care and translates it into digestible bites.
Madonna decided to bring MDNA SKIN stateside for a simple reason. Supply and demand economics — her fans wanted it.
MDNA SKIN is available via the brand's site, at Barneys counters in both NYC and L.A., and at Barneys.com. With its sleek and chic gunmetal packaging, its cutting edge ingredients and products, and Madonna's savvy, MDNA SKIN certainly stands out as one of the most appealing options in the prestige skin care space.
Enjoy this Madonna x MDNA SKIN clip.