This Teeny Detail In 'The Walking Dead' May Reveal How & Why Maggie Leaves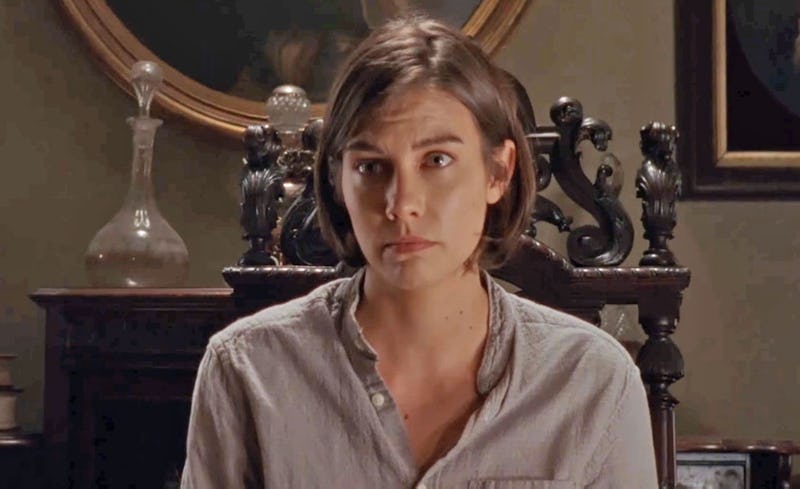 AMC
The Walking Dead Season 9 is set to be a big one for the long-running series. Not only are fans going to witness the grisly end of Rick Grimes, played by Andrew Lincoln, but they are also going to see the departure of show favourite Maggie Greene, played by Lauren Cohan. While we know that Rick is going to be killed off, never to return, how does Maggie leave The Walking Dead?
Well, unlike Rick, it doesn't look like Maggie is going to be killed off. During an interview with Andy Cohen on his SiriusXM radio show, she explained that although she's leaving, the door is being left open for her to possibly return one day. Speaking about her departure, she said: "It's time for me to explore comedy and happier fare, so the good news — which is good for me and, I hope, good news for fans — is that my Walking Dead story is open. It's not finished."
So, if she's not going to be eating alive by a hoard of walkers, what is going to happen to Maggie? Is she just going to leave the Hilltop? According to some fan theories, that could very well be the case. You see, in episode one of the new series, Maggie is seen having a heart-to-heart with Jesus, played by Tom Payne, during which she drops what some people think is a hint about her departure.
While talking about Georgie (the mysterious woman she met last series, who gifted her with a guide, complete with blueprints, containing all the secrets on how to rebuild civilisation), Jesus asked if she had been in touch any more since her last visit. Maggie then assured Jesus she wasn't thinking about leaving to team up with Georgie — she was just re-reading previous letters she had sent. "I'm thinking about how much she's done for us. How much is still left to do," she explained. Jesus then asked again: "You thinking about joining her? You know she'll never get tired of asking."
Although Maggie insisted to Jesus thats she isn't going anywhere, the fact of the matter is, she is leaving because the actress that plays her is going. And fans believe that Maggie's departure will come as a result of her saying goodbye to the Hilltop with her baby son Hershel to join Georgie and help rebuild civilisation.
Of course, none of the cast or team at AMC has confirmed this. However, that hasn't stopped the Internet from jumping to conclusions. Just check out the reaction to episode one on Twitter:
Personally, I can totally see this being Maggie's exit as this option would leave the door open for her to one day return to the Hilltop, perhaps even with a cure.
Being a true stan of The Walking Dead ever since the very first episode aired back in 2010, it's definitely going to be weird watching the show without Rick and Maggie. However, I'm glad that it sounds like she's going to return. Even though Rick is going to be killed off, Lincoln is going to be coming back too — just not how you think. "I'm going back to shadow a director, and my intention is to direct next year," he told Entertainment Weekly on Sept. 25.
So, while these two show favourites are going, at least they won't be gone forever.
'The Walking Dead' is on FOX, Mondays at 9 p.m.