Nick Viall Has "No Regrets" About 'The Bachelor'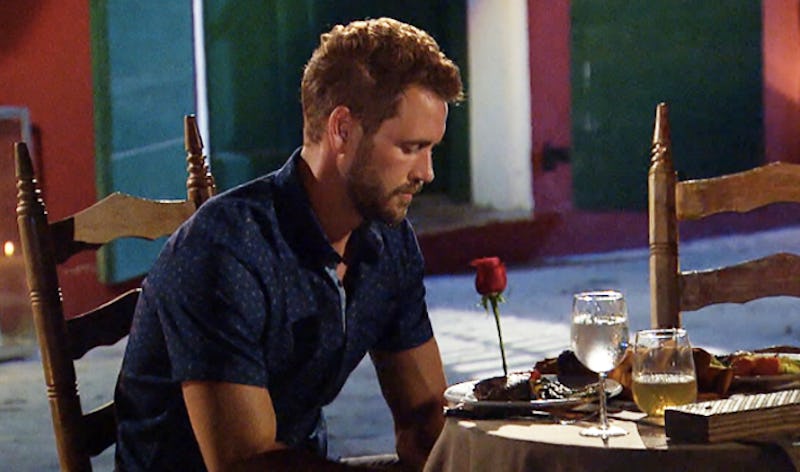 ABC
If you were left on the edge of your seat wondering if you were even going to get more episodes of Nick Viall's season of The Bachelor after he sent three women home on dates and then tearfully announced to the rest that he wasn't sure he was cut out for this process, well. You're not alone. And I'm sorry to say that Nick had nothing reassuring to say in an exclusive interview with Bustle. "I have no regrets," he says during an interview with Bustle's Will You Accept This Podcast, regarding his feelings about the season as a whole. And, as for fans, well, grab the Kleenex. "If you're an emotional person, if you've cried on the season before, no matter what happens you might cry at the end."
What is that supposed to mean? Personally, I've been Team Rachel since day one, but, after Monday night's episode, I've started to wonder if maybe Nick should just be single by the end of the season. Maybe some people just aren't meant to find their significant other on a reality TV show. Maybe none of these women are right for him. There are a lot of maybes, and this season has already been such a roller coaster ride. I probably should have expected that when the first night began with a woman showing up in a shark costume — sorry, I mean (alleged) "dolphin" costume — but I've been blindsided several times. Like, I'm still trying to figure out where the hell Corinne got the idea to say her "vagine is platinum."
Whether we'll be crying because Nick has finally, finally found love on a Bachelor franchise show, or we'll be crying because Nick failed to find love on a Bachelor franchise show, the only thing for certain is that there are no certainties. Nick wants to make that very clear.
When Will You Accept This Podcast co-host Allison Piwowarski asked Nick to describe the rest of the season in one word, he says, "Unpredictable," before joking, "It could be a bunch of Alexis clips, if I quit the show, and they'll just have to go with [that]. It could just be outtakes of Alexis. 'Well Nick left, so here you go, Bachelor Nation.'" Which, to be fair, wouldn't totally be a bad thing.
But, honestly, all of this just makes me really worried about what the next few weeks are going to hold both for Nick and for the women vying for his heart. He certainly seems healthy and happy now, but is that because he's had time to put his heartbreak behind him or is it because he's happily settled down (with Rachel) and eager to share his new love with the world?
We'll just have to stay tuned to find out more. Or to find more outtakes of Alexis. Or both.