This Is The Exact Time You Need To Arrive At Wimbledon To Snag Last Minute Tickets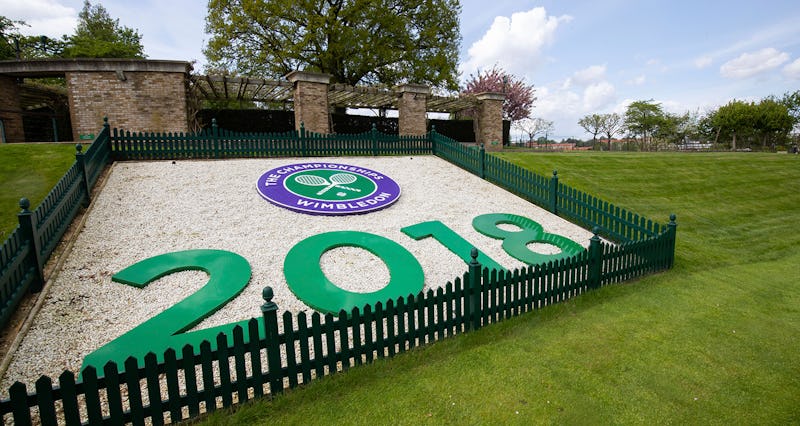 Wimbledon
The biggest tennis tournament in the world will all be kicking off again in almost no time. So pop your Pimms in the freezer and get slicing some cucumber, because it's time to get in the spirit of things. And if you're thinking of taking it up a level and actually making your way down to Centre Court to try and bag some tickets for one of the matches, then this is the right place to find all the important details on how you can do that. But first things first, you may well be asking yourself — how early do you need to queue for Wimbledon?
Before getting into the detail of how to queue for Wimbledon tickets, a little context — the reason you need to queue for tickets is because Wimbledon operates a two-pronged ticketing system. You can either get tickets via their balloting system which is a bit like a lottery, in which you apply for tickets in advance and are then either chosen at random or not. Or you can get tickets via the queuing system, in which you queue for Wimbledon tickets on the actual day on which you wish to watch the matches. The system only allows one ticket per person queuing, and so make sure everyone you want to watch the tennis with is there with you on the day.
For matches happening on Centre Court, No.1 Court, and No.2 Court, there are only a limited number of tickets every day (with the exception of the last four days on Centre Court, when tickets are all are sold in advance, so don't both queuing then). However, on top of those hotly sought after tickets, there are also a few thousand Grounds Passes which are made available each day. You'll find these at the turnstiles, and if you're lucky enough to snag one of these, they will allow you to make use of the unreserved seating and standing room found on Courts No.3 through to 18.
Wimbledon offer a very handy guide that will tell you everything you need to know about queuing for tennis tickets. And while, in the guide, they don't give you an exact answer about how long it might take to queue for the tickets, or what time to get there for, they do advise to "arrive very early on the day that you would like to enter the Grounds."
However, The Londonist has a little more specific advice on the whole business. To get a set of "top notch tickets" they advise getting there somewhere between 5 a.m. and 6 a.m., so maybe set out the coffee the night before cause you're going to be getting up early. However some people get there even earlier, bringing camping equipment and spending the night. And whether you get there the night before or otherwise, the protocol is as follows.
At 6 a.m., according to the queue guide, you'll be woken up and asked to clear away camping equipment. At 7 a.m. the canny folk at the front of the queue will be given wristbands, each wristband representing a ticket for Centre Court, No.1 Court, and No.2 Court — which will then be issued at the turnstiles. The turnstiles open at 9.30 a.m., and it's a one in one out policy for the Ground Tickets — which might take any length of time depending on the size of the queue and where you are in it, so do stick around. The Londonist also suggests that if you want to soak up a bit of the atmosphere (gorging on strawberries and cream before knocking back some Pimms) you could even get there for 5 p.m. and wander around the site (with strawberries and Pimms, of course). There's also a handy map of the grounds, so you can find out exactly where to queue.
So there you have it — everything you need to know about queuing for Wimbledon tickets. And all the dates for this year's matches will be announced on the Wimbledon website. May the odds be ever in your favour.