How Every Chainsmokers Song Is Written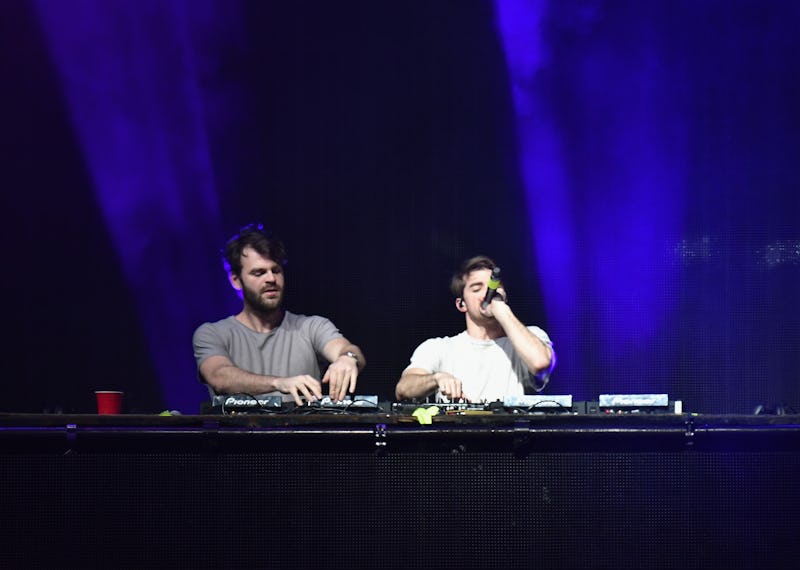 Gustavo Caballero/Getty Images Entertainment/Getty Images
If it feels like there was no time in between The Chainsmokers becoming a thing and people having Extremely Strong Opinions about The Chainsmokers, then you are not alone. The duo behind the chart-topping hits, Andrew Taggart and Alex Pall, seem to be hovering on a strange pop culture edge between their massive commercial success and the threat of becoming the "Nickelback of EDM" — and nothing quite pokes fun at the phenomenon like this YouTuber's viral video of how every Chainsmokers song is written.
YouTube user John Fassold, who is a jazz pianist, originally uploaded the video through a series of Snapchats guiding through the ~writing process~, which he then put together so that the internet could be educated at large. The video points out a lot of commonalities in Chainsmoker songs, as well as in pop music at large (as many people know, most pop is repetitive to the point where there are countless songs you can play with the same four chords). It also pokes fun at the arbitrary quality of some of the lyrics, as well as the overall repetitiveness of them, by employing the help of a random noun generator and even random household objects.
To be fair, the success of a lot of commercial music is dependent on repetition — finding a good hook for a song is essential to its memorability in a competitive market, something the duo has managed to capitalize on again and again in a highly competitive market. To be less fair, The Chainsmokers seem to use that same formula over and over in their music, drawing criticism not just for its unoriginality, but for their stale and occasionally sexist depictions of women. (Whoever the woman is from "Break Up Every Night" — girl. Dump him for good. Someone else will appreciate your "seven personalities," which I suspect are actually — le gasp — just the consequence of being a dynamic, three-dimensional human woman, and not a sentient body pillow.)
Of course, even if The Chainsmokers do see this viral video, I suppose they'll be laughing all the way to the bank — their debut album "Memories ... Do Not Open" hit #1 on Billboard 200, which Forbes points out outperformed both Ed Sheeran and Drake's recent album releases. We are the creators of the 2017 we live in, folks, for better or for worse.