Harry Styles Opening Band MUNA Has A Radical Lesson To Teach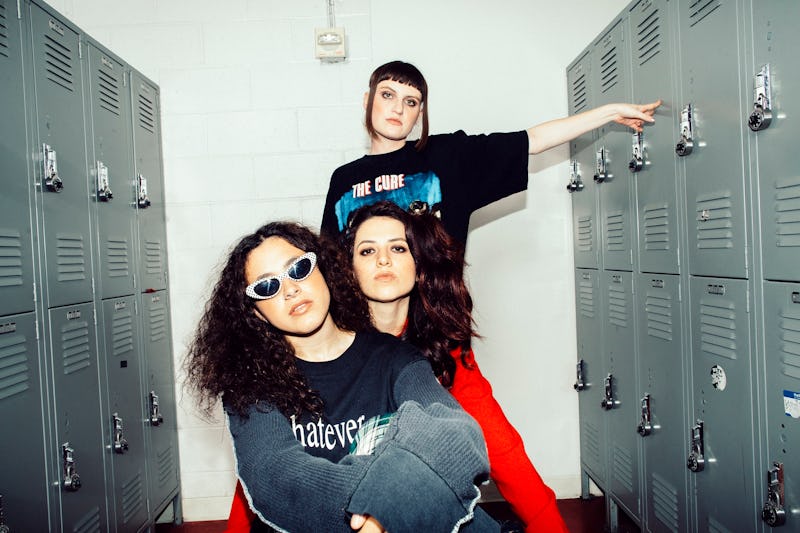 Courtesy of RCA Records
Before the Los Angeles-founded openly queer band MUNA takes the stage at their Music Hall of Williamsburg show, a track is played that has the power to quiet nerves and anxieties. The unnamed song, written in the wake of the Manchester Ariana Grande concert attack, has a "creative, abstract, and a bit absurdist message," as the band later explains to me over the phone from Chicago. "What would you say to somebody who is trying to perpetrate an act of violence in a concert venue, if you had the chance to talk to them?" says lead singer Katie Gavin, who mouths the words every night before, quite literally, hauling herself onto the stage. And that image tells you, in essence, everything you need to know about the band that will open for ex-One Directioner Harry Styles on his U.K. tour this fall.
Unlike many other groups who simply tweeted their support of the Manchester attack victims and Grande, MUNA turned their visceral response to the tragedy into action, giving fans the vocal equivalent of a warm hug — or at least a sense of reassurance. But then the three-piece group, consisting of Katie Gavin, Josette Maskin, and Naomi McPherson, have never been ones to shy away from something if they believe in it. "It's really helpful to try to work your heart as a muscle, extend love... and the benefit of the doubt to other people as a daily practice," says Gavin. "Because it makes you a more mature person — a stronger person — and it also creates good energy."
"We do want that safe space to exist, and, hopefully, when you are with us, you can take that to the world," Maskin explains.
Safe spaces, especially in the wake of the Manchester attack, are particularly important for the band as they prepare to open up for Harry Styles. "We live in a world right now where there's a complete sense of chaos, and it's not any less safe for us to be doing our jobs as out queer musicians in performance spaces as it is for any random person to go to work in the morning," Gavin says.
"You can't let fear dictate your life," Maskin adds. "Keep on dancing."
But their upcoming arena tours with Harry Styles won't be the first platform that MUNA use to inspire people. Take, for example, when they turned their television debut on Jimmy Kimmel Live! into an opportunity to spread love during their performance of "I Know A Place" shortly after the inauguration. Touching on our hostile political climate, MUNA added a verse prior to the performance about inclusivity, featuring lyrics like, "Even if our skin or our Gods look different, I believe all human life is significant."
The band says that the verse was so well received by fans that they decided to perform it that way every time. "I think we were trying to be really careful about doing it in an artistic way, and doing it in a way where the message was much more pro-something than just f*ck Donald Trump. We wanted to try to communicate what we believe in and what we are for," explains Gavin, adding that it would have been weird not to address it.
However, it would be unfair and inaccurate to peg MUNA as simply a political queer band, even if they do sometimes wear "F*** Trump" shirts like they did at last year's Lollapalooza. MUNA's stage presence is striking, yes, but the songs they've written also empower fans by inviting them to confront and process their own emotions, juxtaposing the good with the bad. And the main way they do that is by producing dance-pop bangers that are nonetheless packed with lyrics about heavy and personal accounts of heartache or sexual assault.
On the track "Crying On The Bathroom Floor," we get a song with a lyrical gut punch ("Tearing off the dress I wore, I wonder/If I could ever ask for more") floating through a pulsating Depeche Mode-like beat. "Loudspeaker" acts as a PSA for those who have been sexually assaulted, urging them to speak up ("I don't know where the shame dies/ But it's helping me scream this is not my fault") while the synth and guitar groove move more than just your emotions. And the single "Winterbreak" recounts the dissolution of a relationship in a way that has brought many fans to tears — but the band says, with a laugh, that they hope it doesn't make you cry too much.
Of their formative years, Gavin says, "I used to be more afraid, thinking that I needed to be a star or look really beautiful... or all these things, but really the best thing you can do is just be a depiction of yourself as an individual." She continues, "Thinking too much in any capacity is really debilitating. Just realize you don't need to do something impossible, [and] hav[e] a little faith in the fall."
While there's a public conception of MUNA as radical boundary pushing band, watching these performers interact on stage with over-exaggerated hip thrusts, knee drops, and incessant energy gives you the sense that Gavin, Maskin, and McPherson are just like you. "I do think it's important, what you do in your mid-20s. Your brain is solidifying in certain ways so you have to take advantage of this time to ask questions," Gavin says. "I think it benefits you in your mid-20s to be asking questions about the type of person you want to be."
Here's a question: if the women of MUNA are just like us, and can do what they do, then how could they not inspire fans to fight for what they believe in, go after their dreams, and be the best versions of themselves? In that sense, even before the band stands on the stage and sings, "even if our skin or our Gods look different, I believe all human life is significant," you believe them. And that may be their most radical act of all.