Ariana Grande Will Host A Benefit For Manchester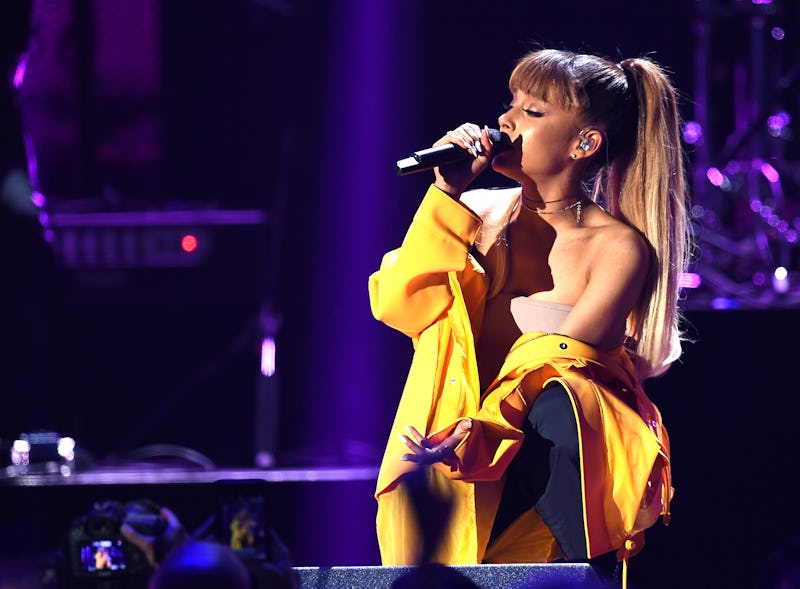 Kevin Winter/Getty Images Entertainment/Getty Images
On Monday night, an explosion outside an Ariana Grande concert in Manchester took the lives of 22 people and injured dozens more. Following the horrific events, the pop singer tweeted, "Broken. from the bottom of my heart, I am so so sorry. I don't have words." On Friday, she released another statement on Instagram. Grande shared a moving note about the Manchester bombing in which she grieves for all affected by this unspeakable tragedy, honors her fans, and shares her plan to host a benefit event.
Grande opens the letter with, "My heart, prayers and deepest condolences are with the victims of the Manchester attack and their loved ones." As the message continues, Grande praises the "compassion, kindness, love, strength and oneness" her fans have shown each other in the wake of what happened at her concert, as well as offering to support victims and their loved ones however she can.
"There is nothing I or anyone can do to take away the pain you are feeling or to make this better," she says. "However, I extend my hand and heart and everything I possibly can give to you and yours, should you want or need help in any way."
Grande adds that she will come back to Manchester to throw a benefit concert for those affected by the bombing. She writes,
Our response to this violence must be to come closer together, to help each other, to love more, to sing louder and to live more kindly and generously than we did before. I'll be returning to the incredibly brave city of Manchester to spend time with my fans and to have a benefit concert in honor of and to raise money for the victims and their families. I want to thank my fellow musicians and friends for reaching out to be a part of our expression of love for Manchester. I will have details to share with you as soon as everything is confirmed.
You can read the heartfelt, affecting note in its entirety below.
Here are ways you can help victims of the Manchester attack.