What To Expect If You're Flying As Hurricane Willa Approaches Mexico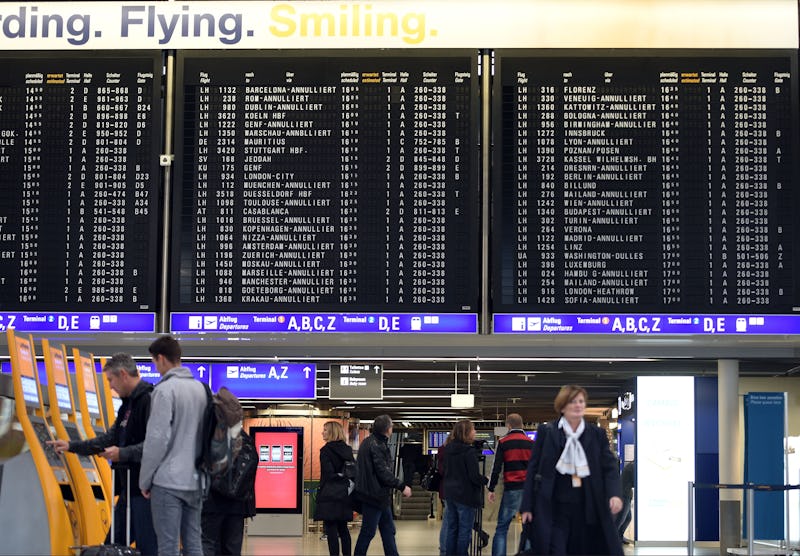 Thomas Lohnes/Getty Images News/Getty Images
A powerful Category 4 hurricane is currently making its way through the Pacific. If you're wondering how Hurricane Willa will affect flights, it depends on where you plan on traveling, as well as on the storm's trajectory. Though most airlines don't seem to have released official travel notices about Willa thus far, it looks like those traveling through the western coast of Mexico could stand to be the most affected.
As the Weather Channel reported, Willa is currently a Category 4 hurricane, which means its winds are between 130 and 156 miles per hour. AccuWeather noted that the storm is expected to make landfall as a Category 1 or 2 hurricane on the southwestern coast of Mexico late Tuesday or early Wednesday. Willa's exact landfall point is not yet known, with the Weather Channel predicting that it could hit Mexico anywhere from north of Mazatlán to Puerto Vallarta.
The potential threats posed by Willa include "damaging winds, flooding rain and a potentially destructive storm surge," as the Weather Channel noted. If you have air travel in Mexico scheduled in the next few days, particularly near the western coast of the country, it is important to check in with your airline for the latest flight updates. While it does not appear that airlines are issuing official travel notices about Willa yet, this could certainly change. Moreover, individual flights could be affected regardless, so make sure to check your flight's status online prior to heading to the airport.
In addition to air travel, those traveling by sea could also be affected by Willa. As Cruise Critic reported, at least two cruise ships traveling through the Mexican Riviera have already changed their itineraries as a result of the storm. The outlet reported that the Norwegian Bliss will avoid ports in southwestern Mexico this week, choosing to dock at several others in California and Mexico instead. Cruise Critic also noted that Holland America's Eurodam has reportedly taken similar actions to avoid the storm.
The latest update from the National Hurricane Center (NHC) indicates that a hurricane warning has been issued for San Blas to Mazatlán, including Las Islas Marias. Tropical storm warnings are also in effect for Playa Pérula to San Blas and north of Mazatlán to Bahía Tempehuaya. The NHC noted that a hurricane warning means that "hurricane conditions are expected somewhere within the warning area." Warnings are "typically issued 36 hours before the anticipated first occurrence of tropical-storm-force winds, conditions that make outside preparations difficult or dangerous." Similarly, a tropical storm warning means that tropical storm conditions are likely in the designated areas within the next 36 hours.
Overall, while it doesn't seem like many airlines are releasing Willa-related travel notices so far, if you are planning on traveling through Mexico this week, it is still important to keep an eye on the storm's trajectory. The most recent warnings indicate that Willa could certainly significantly impact the country's southwestern coast. Thus, it is imperative to exercise caution and plan accordingly as the storm approaches landfall.