Meghan Markle Was Actually Way More Involved In Planning Her Wedding Than You Think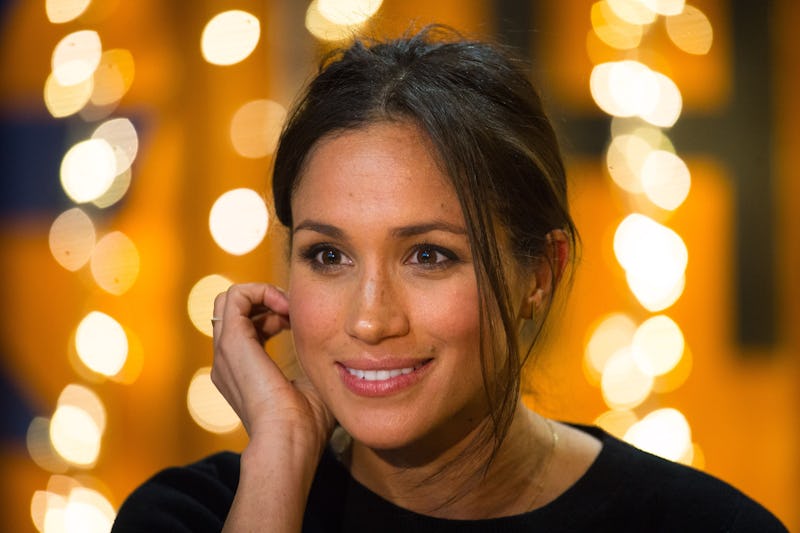 WPA Pool/Getty Images Entertainment/Getty Images
With a typical wedding, the couple getting married calls many of the shots. They'll pick the venue, the decor, and be the general point people when it comes to green-lighting decisions and making arrangements. But in terms of a royal wedding, this differs — it's not just about the couple anymore, it's about a whole royal family. So, with the royal wedding approaching on May 19, you might be asking yourself just how involved Meghan Markle is in the royal wedding planning. And that's a fair question. There's an obvious protocol and formula that seems to be built into the royal nuptial system, and regardless of who is getting married, the system seems to remain, at least to some extent, the same. You know that the wedding will take place in one of the royal chapels and you know that the wedding will follow a strict procession. But where does Markle's input come in?
I think most of the world is wondering: does she get to pick the flowers? How many venues did she get to chose from? Who makes the guest list? How does she pick a dress? Does she get to taste test the cake? How many American, non-royal traditions did Meghan have to give up in order to marry a royal? These are the kinds of things that are hard to know. And because everything that happens within Kensington Palace is so private, this kind of information is not readily available or understood. It seems like most people have no idea whether or not Markle has any impact in her own wedding at all. So to clear up some of the confusion, I've done some sleuthing: Here are a few things that Markle is involved in when it comes to her own wedding planning.
She Gets To Pick Her Dress
While the royal family picks up the bill for 99 percent of the wedding, they leave the dress up to Markle. She's allowed to get a dress from any designer she wants (it can be a British or American designer), and all she has to do is cover the bill.
She Gets To Pick Part Of The Entertainment
While the royal family arranged the musical performances at the wedding, Markle will be allowed to have some input. Kensington Palace has already confirmed that Markle asked Sheku Kanneh-Mason, an award-winning 19-year-old cellist to play at the ceremony. Other rumors suggest that Elton John may also be making a musical appearance at the wedding, as he is close friends with Prince Harry.
She Gets To Pick Her Jewels — Kind Of
Markle will get to pick what jewels to wear from the royal collection. She'll have the opportunity to borrow a tiara from either the Queen or the family collection, which includes heirlooms from Princess Diana.
She Gets To Pick Her Bridal Party
Meghan is allowed to pick her friends to be bridesmaids, though according to Kensington Palace, Markle simply could not pick what friends to join her on the special day, so she's invited the royal children to be bridesmaids and pageboys.
She Gets To Pick The Flowers
Markle gets to pick which flowers she wants featured in the wedding arrangements, though the flowers will be locally sourced. According to the BBC, she and Prince Harry have chosen white garden roses, peonies and foxgloves for their wedding day, and the flowers will be arranged by London-based florist Philippa Craddoc.
She Gets To Pick The Cake
Markle is a pretty big foodie, as you might know from her now-defunct blog, The Tig. On the site, she had interviewed a cakemaker, American-born baker Claire Ptak of East London's Violet Bakery, who she ended up choosing to make her wedding cakes. It's said that the main cake will be lemon and elderflower.