Meghan Markle Released A Heartfelt Statement About Whether Her Dad's Attending The Wedding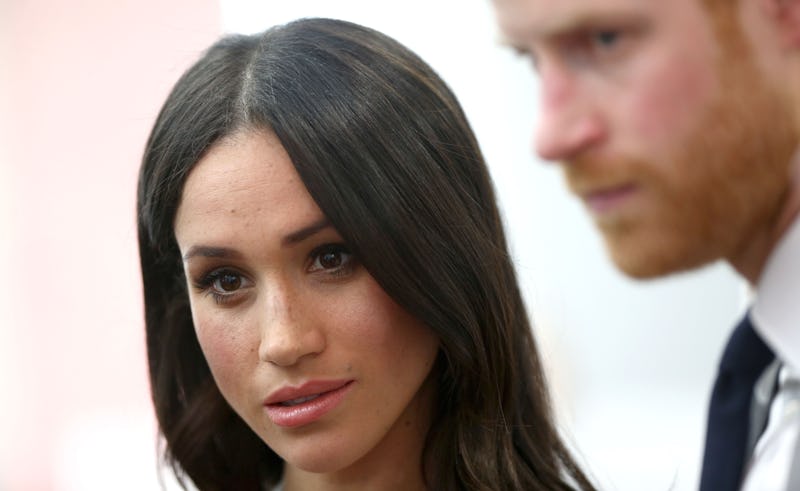 WPA Pool/Getty Images Entertainment/Getty Images
Thomas Markle has been giving updates to TMZ about his health and his role in the royal wedding, but his daughter has stayed quiet on the subject. Yet, that all changed on Thursday, May 17 when Markle released a statement about her father through Kensington Palace. As Marie Claire U.K. pointed out, it's extremely rare for a royal (and a currently unofficial royal at that) to make a personal statement to the public. But with all of the speculation surrounding the topic of her father, Markle obviously felt the need to make a few things clear — and to express that even though her father won't attend the royal wedding, she's still excited to marry Prince Harry on Saturday, May 19.
In Markle's short statement two days before her marriage to the prince of England, she confirmed her father will not be at her second wedding. As TMZ reported, Thomas had undergone heart surgery on May 16 after he had suffered a heart attack a week before. After his surgery, Thomas reportedly told TMZ, "I'm OK. It will take a long time to heal. Staying in the hospital a few more days. Not allowed to get excited." And Markle's message confirms that her father will not be traveling to London for her wedding:
"Sadly, my father will not be attending our wedding. I have always cared for my father and hope he can be given the space he needs to focus on his health. I would like to thank everyone who has offered generous messages of support. Please know how much Harry and I look forward to sharing our special day with you on Saturday."
Nearly every wedding has some family drama, but Markle's family situation has been particularly tough — and public — in the week leading up to the royal wedding. Thomas received scrutiny from media outlets like the Daily Mail for posing for paparazzi photos showing the American getting ready for the royal wedding in his current home of Mexico. Markle's half-sister Samantha Markle (who is not invited to the wedding) came forward on Monday to take the blame for planning the photo shoot. But the damage had apparently been done, with Thomas reportedly telling TMZ on Monday that he no longer would attend the wedding so as not to embarrass his daughter and the royal family.
"This is a deeply personal moment for Ms. Markle in the days before her wedding," a Kensington Palace spokesperson said in a statement to Us Weekly at the time. "She and Prince Harry ask again for understanding and respect to be extended to Mr. Markle in this difficult situation."
But just a day later, Thomas reportedly changed his mind. He told TMZ on Tuesday that a text from Markle convinced him he should attend the wedding, but his health was still posing an issue: "I hate the idea of missing one of the greatest moments in history and walking my daughter down the aisle." Later that day, TMZ gave the update that Thomas was scheduled for surgery the next day and would not recover in time for the wedding.
Markle's statement on Thursday confirmed that her father won't be there because of his health. And she even appeared to address rumors about her relationship with her father. Markle reportedly has strained relationships with other family members, like her half-siblings Samantha and Thomas Markle Jr., so her words, "I have always cared for him," seem packed with meaning. She also politely asked that Thomas is given space from the media so he can focus on his recovery.
The question still remains about who will walk Markle down the aisle. But as a father giving away his daughter is a patriarchal tradition and Markle is a feminist, that doesn't need to be the focus. Instead, people should hope that Markle's father makes a full recovery and that despite his health struggles, his daughter gets to enjoy one of the most important days of her life. And even without Thomas at the wedding, Markle will have many other important people, like her mother Doria Ragland, there to support Harry and her on their "special day."