Justin Theroux's Role In 'Romy And Michele' Totally Changed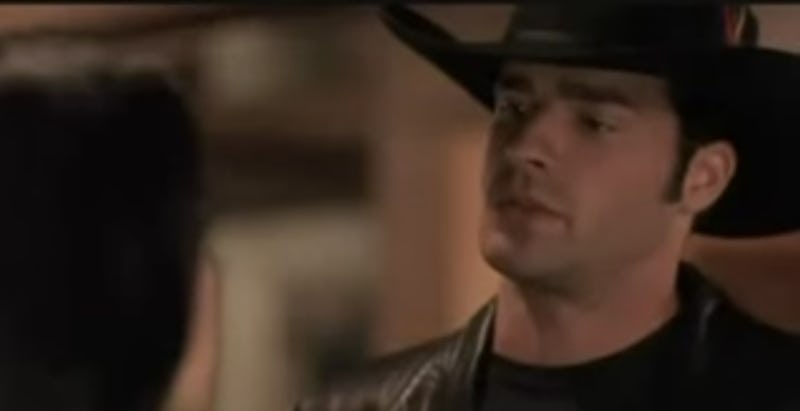 Buena Vista Pictures
Fans of the beloved 1997 film Romy and Michele's High School Reunion will never forget the cult classic. However, they may have forgotten (or just didn't know) that Justin Theroux appears in film, which stars Lisa Kudrow and Mira Sorvino, as Clarence the Cowboy. While speaking with director David Mirkin in celebration of the film's 20th anniversary on Tuesday, he tells me how he knew Theroux was the one for the part and how the role totally changed from the original vision.
Theroux's character in the film actually evolved from Heather's (Janeane Garofalo) storyline, according to Mirkin. "There was no real ending for Heather. In the original script, she had an interaction with Toby [Camryn Manheim] where Toby talked to her about hurting her feelings, when she could say, 'F*ck off,'" he recalls. While Romy (Sorvino) and Michele (Kudrow) are off giving former classmates at their high school reunion the performance of a lifetime, Heather is outside smoking and approached by the cowboy. "I thought it would be great if Heather hooks up with somebody and he was the obvious choice," Mirkin says. Before Romy and Michele, Theroux had only been in one other film. Still, Mirkin says he instantly knew the actor was the right fit.
"I needed someone who had enormous presence just throwing the cigarette without saying a word. It was very hard to find," Mirkin says. He recalls why Theroux was the perfect candidate he and the team were searching for. "We had to find someone who was beginning yet has the aura of a big star. Justin had that right away," Mirkin says. "I saw so many people for that role, I couldn't find the person. And then when Justin did it, there was no question."
What makes the scene so great, obviously beyond Theroux's sultry stare, is the charming dialogue between him and Heather. But originally, the cowboy wasn't supposed to speak. "It would be very interesting if that part was originally just the throwing of the cigarette and never any dialogue. [It] expanded into somebody that would speak." And a star was born. "He was instantly terrific and he completely nailed the scene at the end. It was a great discovery," Mirkin says.
Although it's been a minute since Mirkin worked with Theroux after his career took off, he's still very fond of the actor. "He's a lovely guy. He was a lovely guy, he is a lovely guy," he says. "Fantastic to see his success, it really is, and I love The Leftovers."
It seems it was in the stars, as Mirkin recalls the overlap of prior experiences with Theroux and his now-wife (and Kudrow's Friends co-star) Jennifer Aniston. "It was very funny, because I had worked with Jennifer Aniston on The Edge, and they wound up getting together. A lot of Friends interaction and a lot of Justin Theroux happening," he says with a laugh. "Jennifer Aniston is one of the most amazing, lovely, sweet, ultra talented humans. It's great they found each other."
Hollywood is a small, small world, and in cases like this, fans reap the benefits. Here's to Clarence the Cowboy.