Kylie Jenner & Travis Scott Spilled The Backstory Of How Their Relationship *Really* Began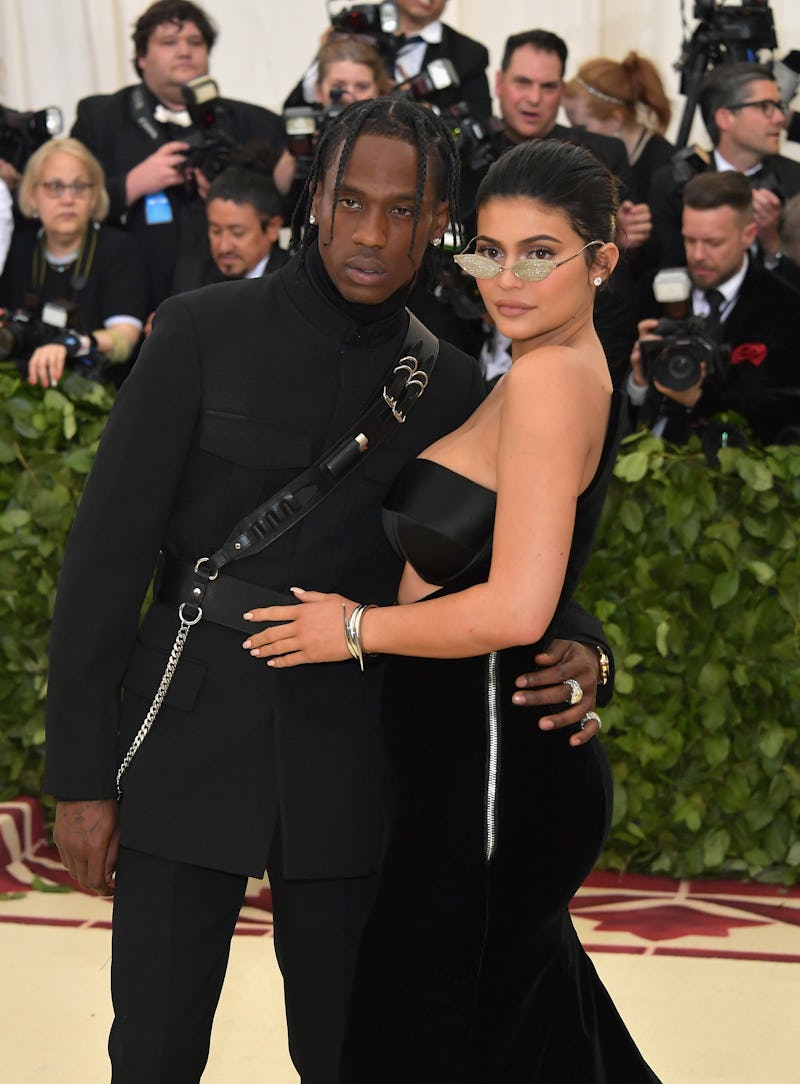 Neilson Barnard/Getty Images Entertainment/Getty Images
Stormi Webster's parents are not only serving looks in the latest issue of GQ, but they're also opening up about their relationship like never before. In their interview with GQ, Kylie Jenner and Travis Scott revealed how their relationship began. But that wasn't the only interesting tidbit from the eye-opening piece.
After some speculation into how things really began for the young couple, Jenner and Scott finally confirmed when they officially started dating. Apparently, they formed an instant connection at Coachella in April 2017, as the music event was one of the stops on the rapper's tour. After they hit it off (even they are unsure of the exact location of their meeting), Jenner recalled wondering what was next in store for them. "So he said, 'I'm going back on tour—what do we want to do about this?' Because we obviously liked each other," she said, "And I was like, 'I guess I'm going with you.'"
They were then basically inseparable, as the Life of Kylie star said, "I really jumped on the bus. And then we rode off into the sunset. I did the whole tour with him." To many, that likely sounds like a pretty big step to take so soon into a relationship. But it was a slightly offbeat step that definitely worked for the couple. In the GQ interview, Jenner also discussed this aspect of making her own path in her relationship.
The decision to head out on a full-fledged tour with someone you've recently met may give some pause. However, Jenner's famous family, and Kris Jenner, in particular, understood that she was simply making the best decision possible for herself. "She [Kris] knows I beat to my own drum. My whole family knows that I do whatever I'm going to do. I've been that way my whole life. I don't really answer to anybody. I live on my own, and so I just rode off into the sunset," the reality star said.
Even though she's one of the most famous people in the world and frequently shares a ton on her various popular social media channels, Jenner has been quite private when it comes to their relationship with Scott. Considering that the Keeping Up With the Kardashians star admittedly marches to the beat of her own drum, that trend toward privacy isn't all that surprising.
In fact, the couple's turn on the cover of GQ, with their honest revelations to boot, is a pretty big deal because of how private and low-key they've been ever since they started dating. While they've been spotted on multiple occasions, including their red carpet debut at the 2018 Met Gala, and have posted photos of each other on social media, Jenner and Scott have rarely shared any specific details about their relationship in such a public manner.
The only other time that the new parents have opened up about their relationship at all came in February. When Jenner shocked the world by announcing that she had given birth to the couple's first child, Stormi, she also shared a wonderful video that highlighted her pregnancy journey, which obviously featured Scott in a big way.
In particular, one of the most interesting factoids about the twosome came from Jenner's BFF, Jordyn Woods. Interestingly enough, her kinds words actually echo the KUWTK star's statements, "Your mother and I were living our lives, having fun. She met your father and they just hit it off. Chemistry."
Not only was that chemistry completely apparent to everyone when they first met, that chemistry is still on display with the couple's stunning GQ shoot and their romantic (and incredibly open) retelling of how they first met.