Laila Ali Was Told She Was "Too Pretty" To Be A Boxer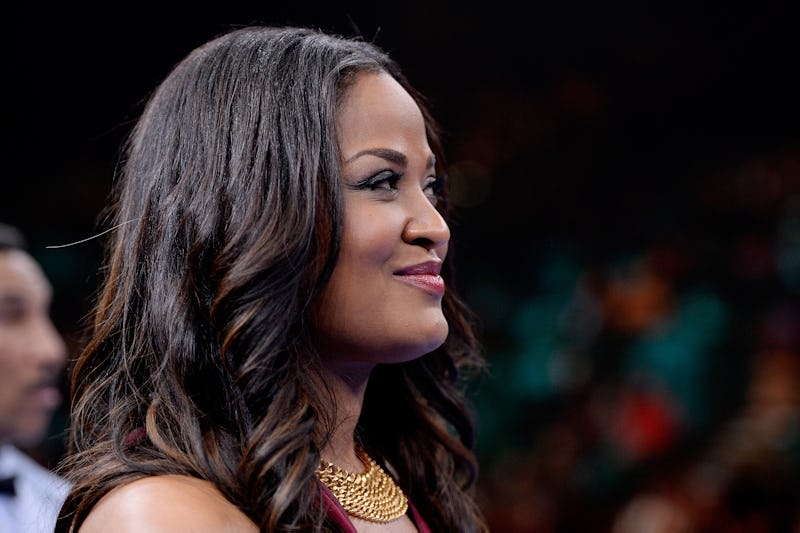 Harry How/Getty Images Sport/Getty Images
When thinking about "traditional" female roles, professional boxing isn't usually one of first that springs to mind. And yet that didn't stop Laila Ali from getting in the ring — despite the fact many people told her she was "too pretty" to box. This seems to be a typical reaction from society whenever women delve into traditionally male roles, such as "boss" or "athlete." We're often too pretty, too girly, too this, too that. And yet Ali ignored the haters and went for it anyway.
"A lot of people gave me a lot of reasons why I shouldn't get into the ring," Ali tells me in an interview about an upcoming collaboration with T.J. Maxx. "They said, 'You're too pretty to box' and 'Women shouldn't box.'" She tells me the comments definitely made her take pause, especially since she had just started a business of her own and was expected to head in that direction. But she pressed on.
"After some soul searching, I decided I wasn't going to let other people, or society, define me and I was going to go after my dreams," Ali says. "And, it turns out, that I actually could box regardless of what I look like or being a woman. I proved them wrong."
Ever since, Ali has made a habit of trampling all over stereotypes. "I'm a mom, I'm a boss, but I'm also a boxing world champion, an entrepreneur, a cooking enthusiast, and so many other things and no one role can define me. I know there are go-to labels often used to describe [women] ... But they don't even begin to scratch the surface of who we really are."
While there's certainly nothing wrong with "traditional" female roles (I mean, where would we be without moms and sisters?), boxing is sort of the perfect metaphor for women who want to be and do even more — trying something outside the box is a little scary, a little unpredictable, and it often requires you to really get in there and fight. "I think that you definitely have to have courage," she says. "A lot of people look up to me and think, 'You're so strong. You're so confident. How do you do it? You're a fighter!' [But] I have my moments, too."
To be successful, Ali tells me it's all about banishing negative self-talk and pushing past insecurities — which is exactly what she tells her friends who feel held back by stereotypes. "I'm like, 'Forget fear! Throw yourself over the edge! Go for it!' You know, you stand there and you think about it too much and you think about all the reasons why you can't and then you won't. You won't ever make it happen. You gotta just do it."
Of course, you have to be ready to pick yourself up again if you fail. "[You] just say, 'OK, I learned from that experience' and you go at it again. You never give up. That's what we're here for, living this life for. To learn. To grow. And to become the best that you can possibly be."
This mentality is why Ali has partnered with T.J. Maxx to mentor women in The Maxx You Project, which aims to help them overcome female stereotypes. This summer, she will be meeting with 80 women to take part in a workshop that will help them embrace what makes them unique.
"Last year T.J. Maxx spoke to hundreds of women and they learned that 80 percent of them feel stereotyped by society into specific roles or expectations. So they knew that something had to change," she says. "Through The Maxx You Project we hope to help women break those stereotypes by embracing their personal aspirations or life-long dreams that make them each one-of-a-kind. That's what this is really all about. You know, beating all of that stuff. Getting past it. And doing it together."
Whatever's holding you back from reaching your goals — whether it be stereotypes, negative self-talk, or fear — Ali suggests you embrace what makes you unique.
"The best thing that you can do is share your gift with the world. That's what's cool about you... there is no one else like you. You need to embrace that and just have the courage it takes. As soon as you get your mind right, that's when all the opportunities open up to you that are out there waiting for you." That's exactly what Ali did, and it certainly worked for her.