How 'Still Star-Crossed' Connects To 'Romeo & Juliet'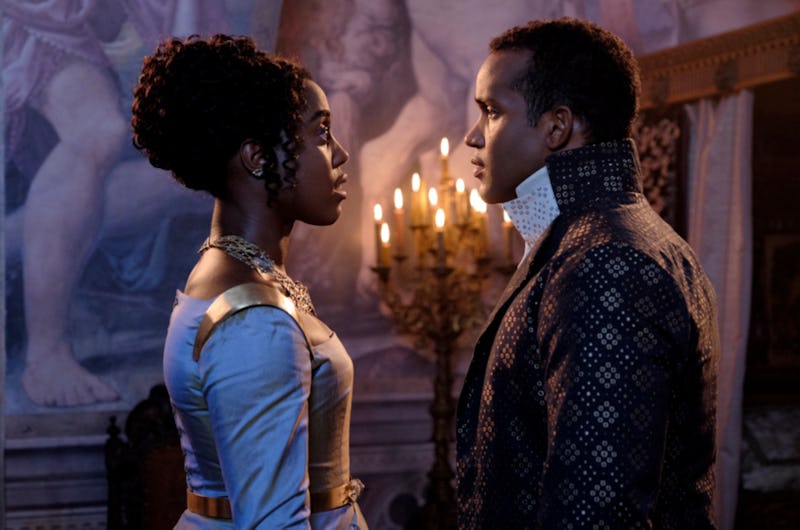 Jose Haro/ABC
Shonda Rhimes' newest television endeavor evokes a time long past, spinning the Shakespearean tragedy of Romeo and Juliet into a newly imagined period drama titled Still Star-Crossed. The series doesn't follow the same classic story, but it does operate within the same universe. So how long after Romeo & Juliet does Still Star-Crossed take place?
Based on Melinda Taub's 2013 book of the same name, the show picks up just where the famous tale left off — and the first episode even recaps the final moments of the play — but switches focus to new members of the Montague and Capulet families. British actor Lashana Lynch stars as Rosaline Capulet, Juliet's cousin. Those that have read Romeo and Juliet may also recall that she was the girl Romeo was first infatuated with when the play opened, though his affection was unrequited.
Contrary to the ending Shakespeare penned, the Montagues and Capulets have not reconciled in the wake of Romeo and Juliet's love-struck deaths, and their bitter feud wears on. In fact, based on the trailer, it seems have escalated into a full-force war.
Prince Escalus (Sterling Sulieman), the ruler of Verona, wants to quell the rivalry, so he betroths Rosaline to Romeo's cousin Benvolio (Wade Briggs) against her will in the hopes that it will restore peace. Both struggle to accept Escalus' decree, and the two set out to find a way to stop to the wedding and end their families' conflict.
From there, details are murky about what Still Star-Crossed may entail, though Escalus and Rosaline seem to have sparked up a clandestine romance. Elsewhere, an early episode synopsis teases that Livia (Ebonée Noel), Rosaline's sister, and The Nurse (Susan Wooldridge) are hiding a secret of their own.
The decision to begin where Shakespeare's story ends was borrowed from Taub's novel, though it should certainly make for a rich narrative: tensions are still high, emotions fraught. The Montagues and Capulets will surely continue to grapple with the grief of losing Romeo and Juliet, and it's not a stretch to think that they'd begin to blame one another as they struggle to find answers in such a tragic act — a fact that would only feed their lingering hostility.
Bolstering the roles of peripheral characters is another apt move. Rosaline and Benvolio will have resonance with those familiar to Shakespeare's original take, but their backstories were vague enough that there's a lot of room to flesh them out and fold in fresh, compelling twists. Watch how it all plays out when Still Star-Crossed premieres on May 29.