Alicia Vikander & Michael Fassbender Have Been Together For Longer Than You Think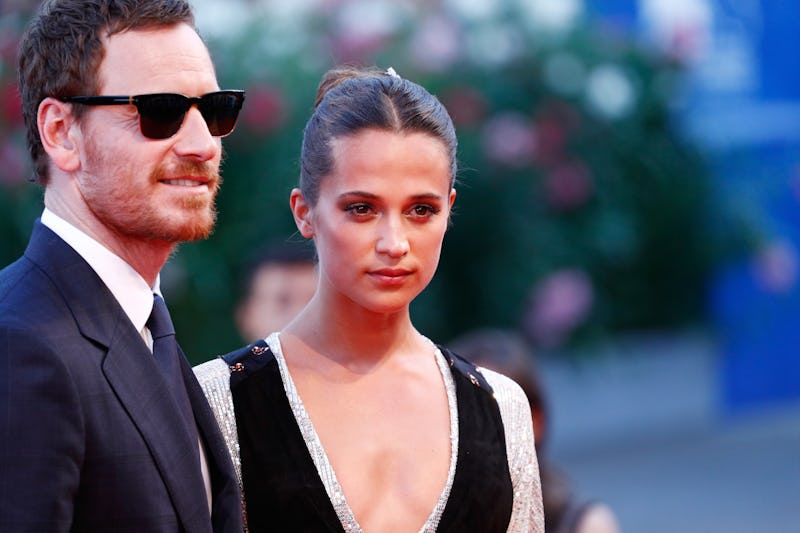 Andreas Rentz/Getty Images Entertainment/Getty Images
Some celebrity couples are high-profile, and others are so under-the-radar that fans barely have time to dream about their faves before they're coupled up again. In between those extremes are Alicia Vikander and Michael Fassbender, frequent co-stars and extremely good looking people who happen to be dating. As for how long Vikander and Fassbender have been together, well, the answer is somewhat mysterious. There's an age difference and a height difference there, and he's been capital-F "famous" for longer than she has. So, how long have the two gorgeous humans been together? Also, what language do they speak together? This is an official investigation.
We know that Vikander married Fassbender on Oct. 14, 2017 — or, at least, that's what they tell fans. They reportedly began dating in late 2014, when Vikander was 26 and Fassbender was 37. At the time, Vikander was just breaking out for her role in Testament of Youth and was about to embark on a whirlwind 2015. Fassbender, meanwhile, had been acting for a steady 15 years, including high-profile turns in franchises like X-Men. Has it really only been three years since fans became aware of this enormously talented, painfully attractive couple? It certainly feels like longer.
The earliest photos of the two attending an event as a couple are from May 2015, when they attended the Grand Prix in Monaco together, of all things. However, Vikander was not present with Fassbender at Cannes that year, where his work in Macbeth was praised by critics. It's possible that the pair thought they would attract less attention attending a race together than they would attending a major film event, or maybe they weren't ready to announce themselves as a couple yet. Or perhaps, since Vikander was on the verge of a breakout year (with roles in Ex Machina, The Man From U.N.C.L.E., The Danish Girl, and others), they didn't want their announcement as a couple to overshadow her entry onto the international stage. After all, 2015 was the year she joined the shortlist for Academy Award Nominee. (Vikander did, in fact, win Best Supporting Actress for her role in The Danish Girl at the 2016 Oscars.)
So, their first photos as a couple are from Spring 2015, but the Internet thinks that Fassbender and Vikander have been together since Fall 2014. Six or so months is a long time to not be photographed together, especially when you have the same high-profile career. However, while promoting the film The Light Between Oceans, both parties were able to reveal a little bit more about their relationship. As the Huffington Post reports:
"We had met at Toronto Film Festival ... just on the dance floor," Vikander revealed. To which Fassbender quipped, "I thought [I was a good dancer] until she started dancing and then I felt like I had two left feet."
They literally met on the dance floor. Can you even?
If they already knew each other by the time The Light Between Oceans commenced filming, which is reportedly when they began dating, then they shared that dance at the 2014 Toronto International Film Festival and were dating by the end of that year. They're just really, really good at playing it cool.
And there we have our answer: Vikander and Fassbender have been together for three years. The two grew closer on the set of The Light Between Oceans, after meeting for the first time on the dance floor at the 2014 Toronto International Film Festival (and oh, to be a fly on the wall of that room). And then they got married in October 2017, giving us one of the best and most low-key celebrity couples to celebrate.