How Long Was Trump's State Of The Union? He Talked More Than Most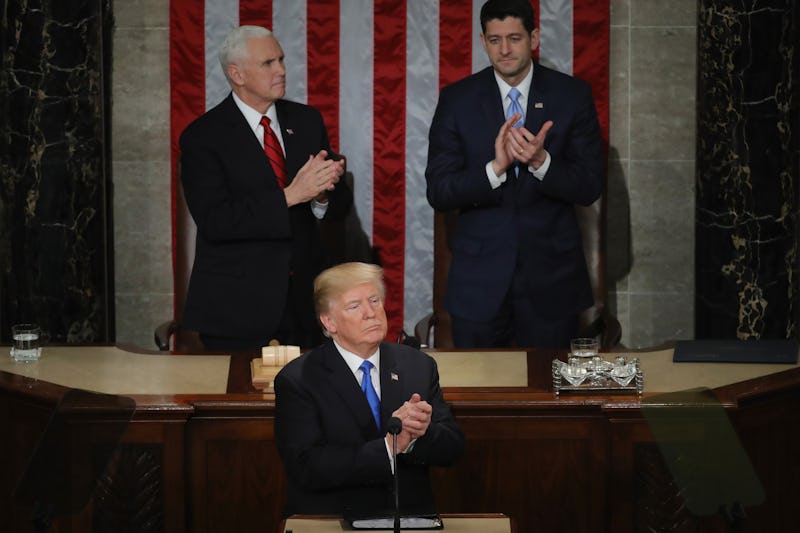 Chip Somodevilla/Getty Images News/Getty Images
On Tuesday evening, President Donald Trump delivered his first State of the Union (SOTU) address to a joint session of Congress. Clocking in at one hour and 20 minutes Trump's SOTU speech was on of the longest addresses in recent presidential history, according to the American Presidency Project.
Trump began speaking shortly after 9 p.m. ET. His audience included members of Congress, Supreme Court justices, members of his Cabinet, and a variety of honored guests. The president wrapped up his speech at around 10:30 p.m.
In addition to being one of the longest overall State of the Union addresses in recent presidential history, Trump's speech was actually the longest first State of the Union given given by a modern president (from Nixon onward, since Johnson's first addresses were not measured).
That being said, other recent presidents were not that far off from Trump's one hour 20 minute marker when delivering their first-ever State of the Union addresses. Barack Obama's clocked in at around one hour and nine minutes and Bill Clinton's came in at around one hour and four minutes. George W. Bush's was significantly shorter, at around 48 minutes.
In addition to its length, Trump's speech was notable for a variety of other reasons. First, the lead-up to his speech was relatively fraught with controversy. Indeed, multiple Congressional Democrats announced in mid-January that they were planning on boycotting the address, with many of them citing Trump's divisive rhetoric as the reason for their boycott.
Moreover, during Trump's speech, a variety of entertainers and activists came together to hold a "People's State of the Union" in New York. The event was designed to serve as an alternative to Trump's address and to encourage people to become politically active. Cynthia Nixon, one of the celebrities who gave a speech during the event, emphatically highlighted its purpose, saying, "Our democracy is under attack, and we Americans need to cherish and to fight for it!"
During Trump's speech, there were also symbols of protest among members of Congress. Many Democratic members of Congress invited guests who they believed, according to Tim Murphy of Mother Jones, would "highlight the human toll of the administration." For example, many members invited DACA recipients as means of protesting Trump's decision to end the program. Other members invited people harmed by Trump administration-initiated deportations, like Cindy Garcia, the wife of Jorge Garcia, who was deported from the United States after living in the country for 30 years.
On the flip side, several Republican members of Congress invited guests to symbolize their support of the administration's policies. According to CNN, Senator Todd Young of Indiana brought two guests, Chelsee Hatfield and Gene Miles on behalf of First Farmers Bank & Trust, as a means of symbolizing the benefits of Trump's tax reforms in the state. Senator Rob Portman brought representatives of the Ohio Fraternal Order of Police, presumably to show support for law enforcement, something which Trump has espoused.
Moreover, in the chamber, many Democratic and Republican women chose to use their attire to deliver messages — not necessarily messages of protest, but ones that highlighted their support for different issues. Many Democratic women chose to wear black as a means of expressing support for sexual assault survivors and the #MeToo movement. Many Republican women wore red, white, and blue to show their support for the U.S. military.
Overall, the president's address was certainly noteworthy, both for its length and for the variety of messages delivered by those who did and did not attend the State of the Union. It will certainly be interesting to further observe how the speech was received by the American public in the coming days — and whether or not it had the effect the Trump administration intended.