Hollywood's Spookiest Horror Franchise Isn't Done Yet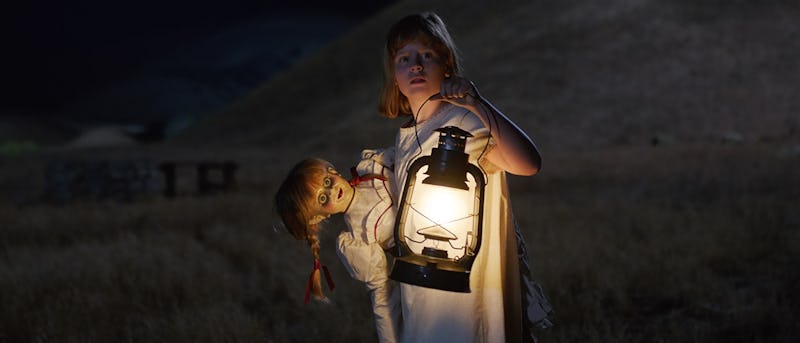 Warner Bros. Pictures
Creepy doll movies are a dime a dozen (was anybody ever really afraid of Chucky?), but creepy doll movies based on actual creepy dolls? Well, that's something else entirely. The possessed doll Annabelle, who first appeared in The Conjuring before receiving her own spinoff, Annabelle, and new prequel, Annabelle: Creation, is based on a supposedly haunted real life doll, which is probably why audiences can't get enough of her. But how many Annabelle movies will there be?
That's a question to which there is no answer, at least not yet. However, it's pretty safe to say that Annabelle: Creation will probably not be the last Annabelle tale. The first Annabelle film made an incredible $256 million at the box office while costing just $6.5 million to produce. That's a pretty big return on their investment for Warner Bros., and the film did this despite less than stellar reviews (it has just a 29 percent Rotten Tomatoes rating). Annabelle: Creation has not hit theaters yet, but it will likely be a strong performer as well, and may even outpace its predecessor thanks to its strong reviews (83 percent on RT as of this writing). Although a third installment in the Annabelle series has not yet been announced, fans of the larger Conjuring Cinematic Universe — of which the Annabelle films are a part — won't have to wait long for the next installment.
The next film in the Conjuring Universe is a new spinoff called The Nun, which hits theaters on July 13, 2018 and focuses on the demonic nun from The Conjuring 2. Also on the way, though without a confirmed release date, is another new spinoff called The Crooked Man, which focuses on a different entity from The Conjuring 2. There will also eventually be a Conjuring 3, with director James Wan recently telling EW's Clark Collis, "We've been working hard on Conjuring 3. Of course, that is something that I am not neglecting. The Conjuring films are still the mothership and the mothership needs to be strong. [Laughs] The mothership needs to be strong for all these other jet fighters to shoot out of. So, we're in the midst of working on the script, and still hashing [it] out. We want to make sure that the script is in a really good place. With how much people have loved the first two Conjuring (films), I don't want to rush in to the third one if possible."
There is no confirmed sequel to Annabelle: Creation yet, but the Conjuring franchise as a whole is growing rapidly. And given the success that the Annabelle movies have had so far, I'd be shocked if they didn't play a big role in the bright-looking future of the Conjuring Universe.