The FBI Is Investigating As Many Domestic Terror Cases As It Is ISIS-Related Plots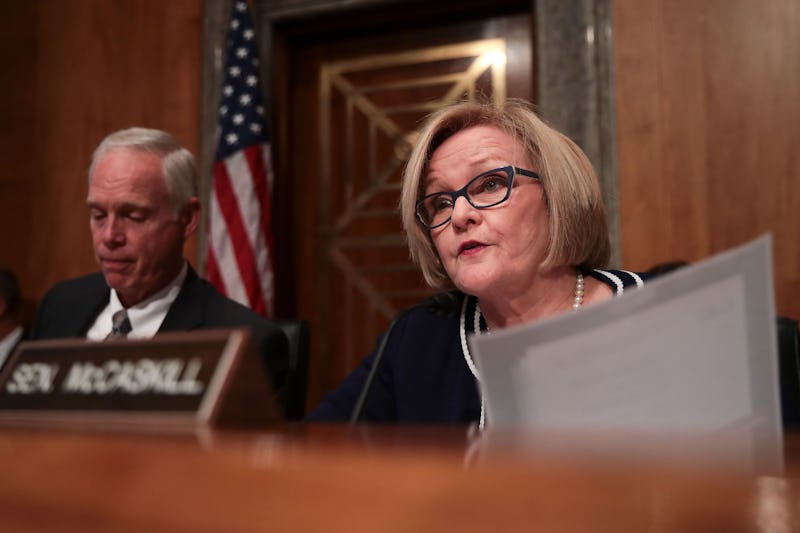 Drew Angerer/Getty Images News/Getty Images
In his first testimony to Congress, newly-confirmed FBI Director Christopher Wray said that the FBI has 1,000 domestic terrorism investigations currently open, including threats from white supremacist groups and individuals. He also said that the bureau is investigating roughly the same number of threats from individuals and groups linked to the Islamic State, suggesting that in the FBI's eyes, domestic terrorism is just as big of a threat to U.S. security as are foreign-based Islamic groups.
During Wray's testimony to the Senate Homeland Security and Governmental Affairs Committee on Wednesday, Sen. Claire McCaskill said that right-wing extremists have carried out "almost triple" the number of attacks in the United States as Islamic terrorists since Sept. 11. This was likely a reference to a recent report from the Government Accountability Office, which found that between the Sept. 11 attacks and the end of 2016, right-wing terrorists had carried out 62 attacks in the United States, compared with just 23 attacks by Islamic-inspired terrorists during the same time frame. The office also concluded that "violent left-wing extremist" groups were not responsible for any fatalities during that period.
McCaskill presented this as evidence that the Senate has focused disproportionately on the threat of Islamic terrorism.
"We've had multiple hearing on the threat of ISIS as it relates to Homeland Security," the Missouri senator said at Wray's testimony. "We've had zero hearings about the threat of domestic terrorists and the threat they pose in our country and our response to it."
In May, a bulletin authored jointly by the FBI and Department of Homeland Security said that white supremacists in specific had committed 49 homicides over the course of 26 attacks between 2000 and 2016 — "more than any other domestic extremist movement," in the bureau's words.
"We assess lone actors and small cells within the white supremacist extremist (WSE) movement likely will continue to post a threat of lethal violence over the next year," the two agencies concluded. According to Wray, the FBI has arrested 176 individuals on domestic terrorism charges in the last year.
From a legal standpoint, domestic and foreign terrorism are very different. Although there are multiple federal laws that make it illegal for Americans to provide material support to foreign-based terrorist organizations, there is no corresponding law pertaining to domestic terrorism. In fact, "domestic terrorism" isn't actually a specific crime, but rather a broad classification of crimes that fit certain criteria.
Attacks that are intended to "intimidate or coerce a population" or "influence the policy of a government by intimidation or coercion," for instance, are considered incidents of domestic terrorism. However, individuals who are suspected of such crimes don't face a special domestic terrorist charge, because again, there is no such charge. Instead, as Wray explained during his testimony, they're charged under the same criminal statutes that cover all violent crimes in the United States.
"Even though you might not see them from your end as a domestic terrorism charge, they are very much domestic terrorism cases that are just being brought under other criminal offenses," Wray said of domestic terrorism at his Congressional testimony. He added that the FBI has "a significant number of agents who are working very, very hard" on identifying and thwarting domestic terror threats. When pressed by senators on whether or not he thinks Congress should pass a law making it easier to prosecute possible instances of domestic terrorism, Wray refused to answer.
President Trump nominated Wray to serve as FBI director in June, the month after he controversially fired James Comey from the position, and the Senate confirmed him to the position for a full 10-year term in August.