Rose McGowan's Activism Will Continue Long After Her Show Ends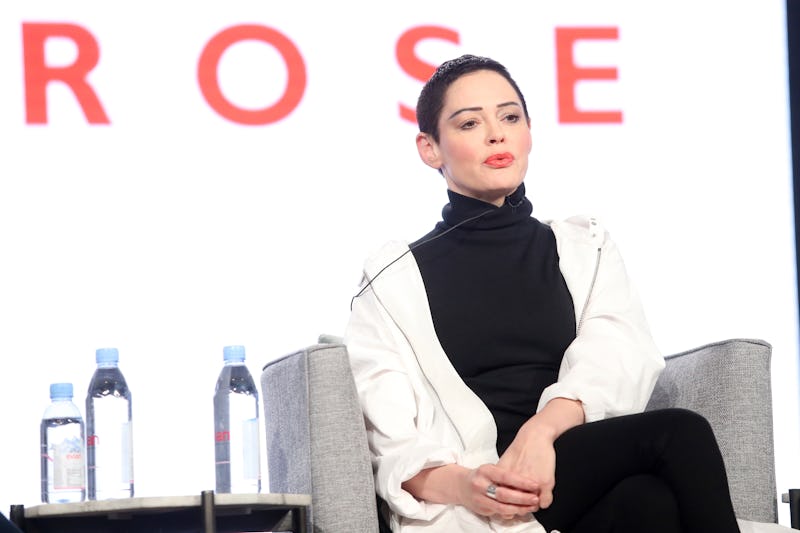 Frederick M. Brown/Getty Images Entertainment/Getty Images
In the last few months of 2017, actress Rose McGowan mobilized her social media followers into a force, helping to spread the hashtag #MeToo and speak out against different forms of harassment and assault. Members of "Rose's Army" will want to check out her original reality show, and may be wondering how many episodes of Citizen Rose (executive producer: Farnaz Farjam) there will be. According to E!, the series, which premieres on Jan. 30, is a limited series of just five episodes, but that should be plenty of time to hear what McGowan wants audiences to know.
According to The New York Times, filming on Citizen Rose began before the paper's own bombshell story revealing the details of a settlement McGowan accepted from film producer Harvey Weinstein for alleged sexual assault, and will feature footage McGowan took herself for over three years as she began to advocate on this issue. (A spokesperson for Weinstein told The New Yorker, "Any allegations of non-consensual sex are unequivocally denied by Mr. Weinstein. Mr. Weinstein has further confirmed that there were never any acts of retaliation against any women for refusing his advances." Weinstein's reported $100,000 settlement payment to McGowan in 1997 was, according The New Yorker, "Not [to] be construed as an admission of liability.")
Citizen Rose (executive producer: Andrea Metz) will go far beyond the alleged experiences McGowan has already spoken about. In her statement about the series, McGowan wrote, "I realized I wanted to show how we can heal through art even when being hounded by evil. I want to have a conversation with everyone, and most especially, you, about looking at things differently and seeing beauty everywhere." Resilience, activism, and, in McGowan's words, "bravery, art, joy and survival" will be the subject of the series, which will start with a supersized two-hour premiere, then take a hiatus before airing the remaining four installments.
And now, as the show debuts, McGowan is still very busy, even without E! cameras following her around. She has a book, Brave, which is also to be released on Jan. 30. The book is a memoir that will cover McGowan's experiences in Hollywood and in the Children of God cult, where she spent the first 10 years of her life. At the start of the book, McGowan writes, "My life, as you will read, has taken me from one cult to another. Brave is the story of how I fought my way out of these cults and reclaimed my life. I want to help you do the same."
Additionally, McGowan is still making headlines for her fight against sexism and harassment, in the entertainment industry and beyond. Just days before Citizen Rose's premiere, McGowan is reportedly selling her home in Los Angeles, which she previously claimed would help her in her attempt to confront Weinstein in court. According to Page Six, there are no reports of a lawsuit between Weinstein and McGowan, but the actress claimed that she needed to pay "legal bills fighting off the monster [Weinstein]" during a Q&A about Citizen Rose (assistant editor: Deidre Baisley). She's also frequently active on Twitter, commenting on the variety of sexual assault claims from recent months and advocating for women and survivors.
As for whether or not there will ever be more Citizen Rose seasons, right now there are no plans for additional episodes or any additional seasons of the show. Similarly high-profile docuseries like I Am Cait (series editing: Julie Cohen) and Mariah's World (executive producer: Mariah Carey) were similarly short-lived, but McGowan's dedication to her movement is unyielding, whether or not her reality TV show sticks around.
If you or someone you know has been sexually assaulted, call the National Sexual Assault Telephone Hotline at 800-656-HOPE (4673) or visit online.rainn.org.