Rose McGowan's New Docuseries Is The Perfect Next Move For The Outspoken Activist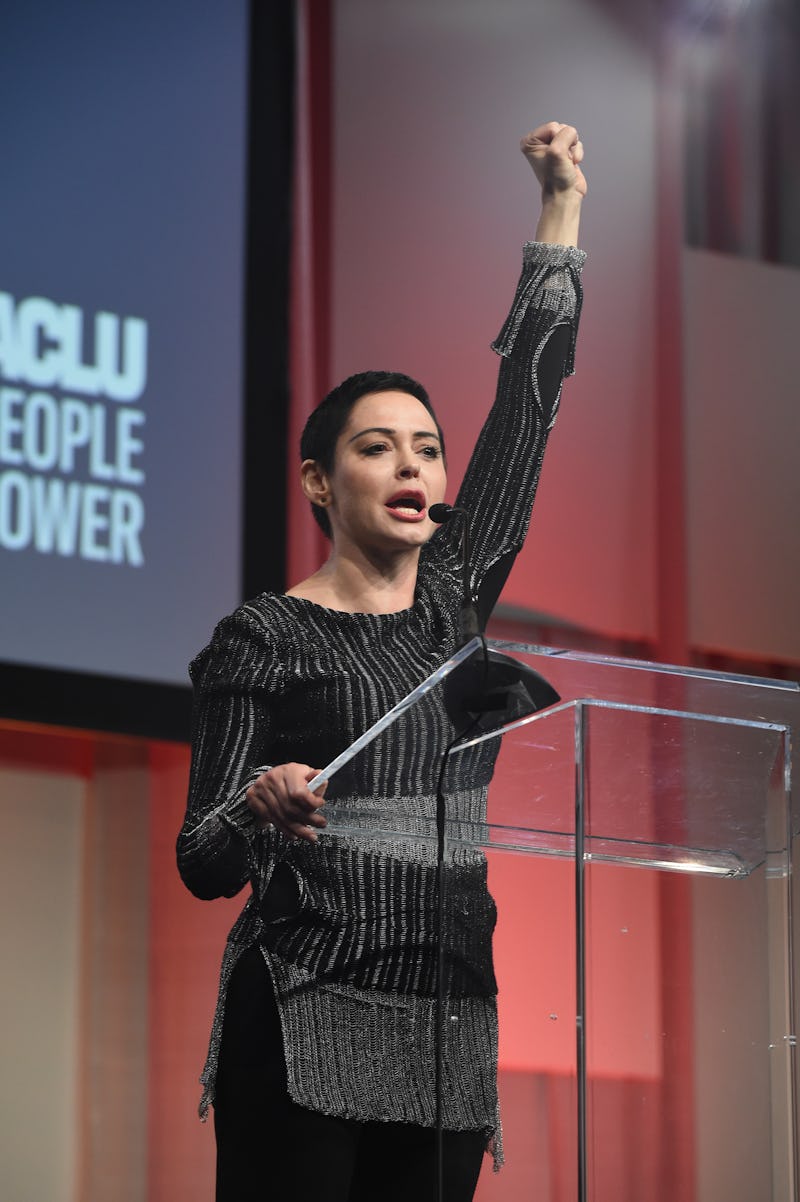 Aaron Thornton/Getty Images Entertainment/Getty Images
A big reveal was made by E! Tuesday when it announced Rose McGowan's docuseries Citizen Rose is coming to the network beginning at the end of January. The limited series, which will be presented in five parts, follows McGowan's preparation to release her memoir, Brave, her "punk brand of activism," and "the music she makes to heal," according to the press release. It's a whole new look into McGowan's life, especially as the many allegations of sexual misconduct in Hollywood continue to be exposed.
"You are formally invited into my mind and world. I am thrilled to partner with E! to amplify my message of bravery, art, joy and survival," McGowan's Tuesday statement read. "As I ready my book, BRAVE, I realized I wanted to show how we can heal through art even when being hounded by evil. I want to have a conversation with everyone, and most especially, you about looking at things differently and seeing beauty everywhere. E!'s tremendous reach and impressive platform allow me to globally communicate the importance of living a BRAVE life."
By getting her own show, it gives the 44-year-old actor an even bigger platform than she already has. She's always been extremely vocal, but even more so since McGowan accused Harvey Weinstein of rape (his rep has repeatedly denied "any allegations of non-consensual sex") in October 2017. She's been one of the fiercest voices leading the charge to punish those in power who have allegedly mistreated both men and women.
Her actions caught E!'s eye and the reason the network is giving McGowan her own show. "Rose McGowan's courage in addressing sexual abuse and harassment in Hollywood ignited a conversation and inspired other women to speak out against their abusers," Amy Introcaso-Davis, E!'s executive vice president of development and production said in a statement Tuesday. "We look forward to taking viewers inside this talented, dynamic woman's world as the first allegations unfold and she becomes a leading voice in a critical cultural change."
Citizen Rose is also launching a completely new type of E! series. The network is known for it's original reality content, including Keeping Up With the Kardashians, Total Divas, the WAGS franchise, and Famously Single. But, Citizen Rose, sounds completely different. McGowan's docuseries is bringing a whole new voice to E! — and an important one at that. The former Charmed star refuses to be silent and will let her voice be hear loud and clear about what she's allegedly endured as an actor, whether that be on social media or on TV.
With her ties to the allegations that have been made against Weinstein, McGowan will most likely open up the conversation even more in her series about the alleged harassment and assault women have faced in Hollywood.
Not only did she name Weinstein as her alleged rapist and became one of the first women to accuse him of sexual assault, but, in 1997, she reportedly reached a previously undisclosed settlement with him. He reportedly he paid her $100,000 to settle an "an episode in a hotel room during the Sundance Film Festival," according to documents obtained by The New York Times in October 2017. The Times also reported that the settlement was "not to be construed as an admission" from Weinstein, but rather intended to "avoid litigation and buy peace."
Furthermore, McGowan's connection to the #MeToo movement and the fact she was featured as one of the "Silence Breakers" for TIME's 2017 Person of the Year could make her series even more powerful than it already sounds.
Based on a Tuesday Instagram shared by McGowan (above), it seems like she's been working on Citizen Rose for awhile now. She wrote, "There is a method to my madness. I've been planning this for 3 years. Citizen Rose. Got punk. Blew it up. Let's put it back together. Let's be all of the flowers."
As great as Citizen Rose may appear to some, there is criticism following the announcement. Many are wondering why, Tarana Burke, the woman who started #MeToo, isn't getting her own series. As one person tweeted, "If it's a documentary series shouldn't it tell the truth? This is not the face of the #MeToo movement. Was Tarana Burke unavailable?" Another Twitter user posted, "After co-opting the #metoo movement started by Tarana Burke, a Black Woman, a mediocre problematic white woman feminist will now secure a bag."
There's always the chance that Burke and other women who have come forward with sexual misconduct allegations will be featured in McGowan's series, but such details haven't been released yet. At this time, neither Burke nor McGowan have responded to the backlash Citizen Rose has received.
Whatever the case, some good can come from the limited series. It will hopefully raise even more awareness of the sexual misconduct that's not only present in Hollywood, but also in other industries, all while holding men accountable for their alleged actions. Citizen Rose debuts with a two-hour special on Tuesday, Jan. 30 at 8 p.m. on E! Four other episodes will later air in the spring.
If you or someone you know has been sexually assaulted, call the National Sexual Assault Telephone Hotline at 800-656-HOPE (4673) or visit online.rainn.org.