'Curb Your Enthusiasm' Season 9 Is Going To Make Fans Even Happier For One Major Reason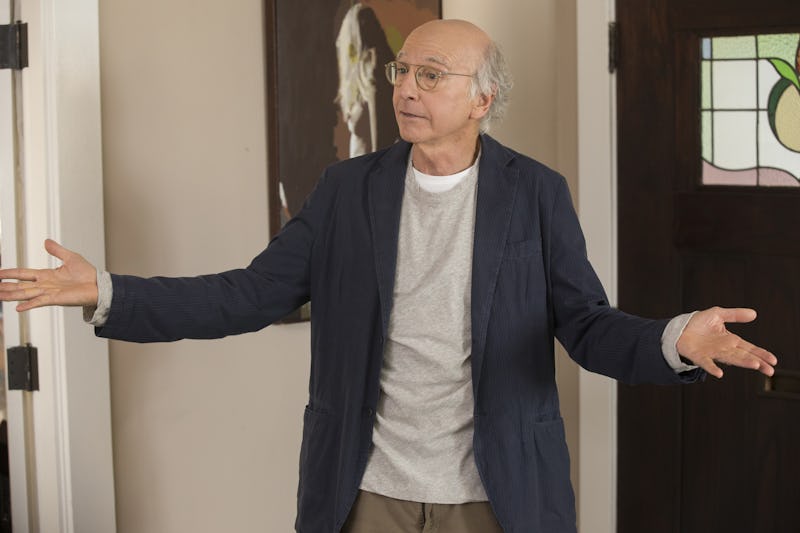 John P. Johnson/Courtesy of HBO
Larry David, the mind behind Seinfeld, isn't just a kvetching comedy genius in real life — he also plays one on TV, in the HBO comedy Curb Your Enthusiasm, which turns every social nicety into a nightmare. David, playing a fictionalized version of himself, finds a way to turn normal life in Los Angeles into a minefield of awkwardness and cringeworthy but hysterical comedy. After a six-year break since the eighth season in 2011, it seemed like Curb was done, but the show is actually returning on Oct. 1 for its ninth season on HBO. And with that exciting news comes the question — how many episodes is Curb Your Enthusiasm Season 9? The season might sound short — it's a typical HBO season, just 10 episodes — but according to the show's executive producer, this season of Curb Your Enthusiasm will feel "supersized." "When we were writing the outlines, we just kept putting stories and scenes we liked. And then we found lots more fun stuff as we were shooting, so we ended up with way more than 10 episodes worth," EP Jeff Schaffer said to Entertainment Weekly.
And while Schaffer said it's "not the Curb way" to capitulate to fan demands, he did admit that fans of the show will certainly be pleased with the additional material. "There's a lot more Curb coming at people than in normal seasons ... Fans wanted us to throw them a bone — and we tossed the whole skeleton at them," he said. As David told EW, "In the intervening years, I was able to accumulate a lot of ideas, so the shows are kind of … dense. They're stuffed." David and Schaffer may promise it wasn't done with the fans in mind, but they'll surely appreciate the gesture — even if kind gestures aren't exactly Larry's hallmark.
After such a long wait, that's exciting news for fans, especially because Curb has done a lot with short arcs before. In various 10 episode seasons, Larry David has starred in a Broadway show, mounted a Seinfeld reunion, pissed off every person in New York City, and narrowly missed rekindling his relationship with his ex-wife over a coffee table stain. The finale of Season 8 left Larry in Paris, after stumbling his way through faux pas after faux pas with the nicest celebrities in town, still as stubborn and irascible as ever. There's nothing in Schaffer or David's comments that indicate whether or not that European kicker to the season or the significant amount of time that's passed will be addressed when the series returns. According to The New York Times, Curb Season 9 will feature the return of Cheryl, Larry's ex, and Lauren Graham is joining the cast to play an NBC censor who's also going to be Larry's love interest.
Getting Larry into big trouble in just a short amount of time is one of the show's hallmarks at this point, and with its loosely improvised style, even a single scene can take the audience on a hilarious journey. So hearing that there's going to be more than usual is just incredible news. According to Schaffer, "Almost every show is longer than a half an hour, and some are going to go way, way longer." Honestly, after an over six-year hiatus, any amount of Curb Your Enthusiasm would be exciting for fans, but to have a full 10 episodes, sans commercials — and for those episodes to have so much material that almost all of those episodes will stretch beyond a typical half-hour — feels like almost too much of a pretty, pretty, pretty good thing.