'Pump Rules' Season 6 Is Officially Happening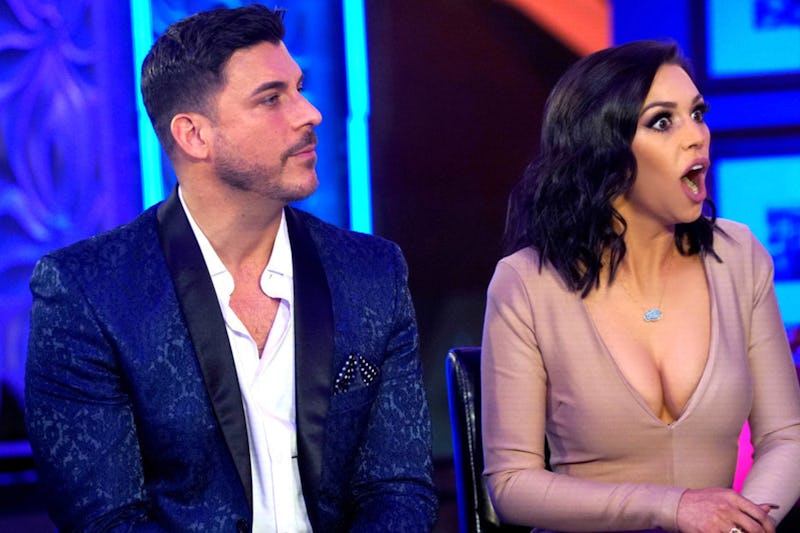 Nicole Weingart/Bravo
All these years later and Scheana Marie's forearm tattoo continues to speak the truth: It's all happening. On Thursday, Bravo announced that Vanderpump Rules will get a sixth season. Though I wouldn't say this renewal was unexpected (judging from my Twitter feed, the show is crushing it harder than ever), this renewal is still worth SUR-lebrating. I am so pleased to know that we will get at least one more year with the Sexy Unique Pumpers.
In the past, I've attempted to predict what the future episodes of Pump Rules had in store. I'd look into my crystal ball (full disclosure: my crystal ball is a SUR champagne flute. And yes, I really do have a set of SUR champagne flutes, I would never joke about something like that) and ask it to tell me all about the forthcoming episodes of my favorite reality TV show of all time. But this time around, I took things in another direction. This time around, I listened to my heart and waited for it to whisper its Season 6 wishes.
Here is what my heart told me:
1. I Hope Tom Sandoval & Tom Schwartz Take Lisa Vanderpump Up On Her Offer
Schwartz, Sandoval, and Vanderpump opening a bar together would be great reality TV material. Nay, perfect reality TV material. Tom Tom has to happen, right? And its birth has to happen on Season 6, right?
2. I Hope Kristen Doute, Stassi Schroeder, & Katie Maloney Make Amends With Scheana Marie
If you follow the Pump Rules cast on social media, you might've caught on that things aren't exactly peachy keen between the self-proclaimed Witches of Weho and Scheana. The whole situation is a big ol' bummer. I know they've all said and done some horrible things to each other, but I guess I can't help but root for their friendships. Call me a sap, but I'd like to see them reconcile during Season 6.
3. I Hope Lala Kent Comes Back
I am an unabashed Lala-pologist, so of course I'm pulling for her to return to the show for good. And hey, now that she's super close with Scheana and Ariana Madix, it'd be weird if she wasn't part of the season.
4. I Hope DJ James Kennedy & Jax Taylor Become Friends
The sworn enemies' rapport at the reunion was something to behold. Every time they laughed together like old chums, a SUR goat cheese ball got its wings. Crossing my fingers that was the beginning of a beautiful friendship.
5. I Hope Jax Taylor, Brittany Cartwright, Katie Maloney, & Tom Schwartz Build A Secret Corridor Between Their Apartments
Now that Taylor, Cartwright, the Bubbas are buildingmates, I'm looking forward to the inevitable hijinks. And what would take the pranks to another level? A secret passageway in the building walls. It could start at Cartwright and Taylor's unit and end at the Bubbas' unit. Think of the mayhem. If the landlord doesn't approve, I'd settle for, like, a rope ladder between their balconies.
6. I Hope Scheana Marie Releases Another Song
I miss Scheana's pop music phase. I would lose my marbles if she recorded another banger during Season 6. Here's an idea: Scheana could record a cover of "Raise Your Glass" with Dena Deadly. If Scheana and Dena Deadly were to sing "Raise Your Glass" at the opening of Tom Tom, I would seriously consider getting a bacon "A" tattoo. A special moment like that only comes once in a lifetime and should be commemorated accordingly.
Hey, Season 6? I'm both ready for you and not even the slightest bit ready for you.