Teddy, Owen & Amelia's 'Grey's Anatomy' Love Triangle Is Just Getting Started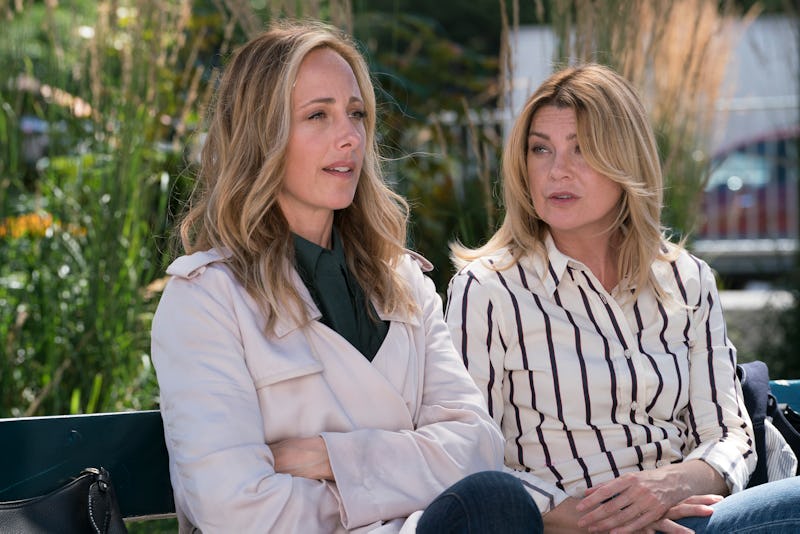 Derek Johnson/ABC
Unless you're killed off of Grey's Anatomy, you can always come home again. And even then, sometimes you can still come home (remember Denny and that whole weird ghost sex thing)? Kim Raver's Teddy Altman bounced in and out of Grey Sloan Memorial Hospital over the years, returning at the end of Season 14 with a very big reveal — she is pregnant, oh, and the baby is likely Owen Hunt's. Which means that fans should definitely expect Kim Raver to be back on Grey's Anatomy for good.
Grey's Anatomy fans who love drama and think this show needs a little more drama (hi, right here!) will be happy to know that Raver is taking Teddy Altman to series regular status, according to Deadline. In a statement, per Deadline, Raver said she's "thrilled to reprise the role of Dr. Teddy Altman" and that returning to the cast full-time was "heavenly." That means that Teddy is sticking around for the foreseeable future, so let's get ready to severely shake up Owen's life. Or at least make him pay for being such a flip-flopping, soul-sucking love monster.
Because, really — poor Teddy is always a runner-up in her relationship with Owen. She's been in love with him for over a decade, and he's always seen her as his silver medal. He was engaged when he was in the army, and then he married Cristina, and after Cristina left, he married Amelia and her brain tumor. Teddy spent years trying to get Owen to see her — really see her — and all she got for it was a broken heart and a few dates with Mark Sloan (RIP, sweet prince).
When Owen's sister, Megan, who was presumed dead, was found in Iraq, Teddy was the one who brought Megan to Seattle, and somehow, Teddy and Owen fell all into their relationship again — at least for one night. After they finally slept together, Teddy found out that Owen had broken up with Amelia like 24 hours prior to coming all the way to Germany to see her. In light of that info, his big romantic gesture to cross the Atlantic Ocean on a whim seemed more like a sign of some mental breakdown. So, she sent him packing, telling him that she deserves better. Seriously, everyone deserves better than mopey Owen Hunt.
But at the beginning of Season 15, Teddy is back in Seattle, and she's been offered a job as chief. It would be very easy for Grey's Anatomy to fall into an Amelia/Owen/Teddy love triangle (even though, frankly, Teddy needs to walk away from love monster Owen), but Raver insists that it won't be what viewers expect. She told The Hollywood Reporter:
"We're in 2018 and I pitched, if we can, not having a woman pitted against a woman. Amelia and Teddy definitely have what they want, but maybe there's a different way for us to approach it. And the writers seem very interested in that and we're hopefully going to head in that direction. I think that will open up a very different storyline."
She went on to say that there will be some sort of love triangle, but not in the traditional, catfight-esque sense. Whatever will Owen do without the attention and drama?
Kevin McKidd, who plays Owen, said that the relationship will be more adult. "What they want to do [now] is show people who have histories and have feelings — all three of these people [Owen, Amelia and Teddy] have a lot baggage and history with each other," he told The Hollywood Reporter. "It's going to be interesting to see how people navigate this pretty murky and difficult and challenging news."
Murky, difficult, and challenging? That sounds like the formula for a winning season of Grey's Anatomy, and it's great that Teddy, er, Kim Raver, will be there to watch it all unfold.