Here's What To Expect From The Final Season Of Anthony Bourdain's 'Parts Unknown'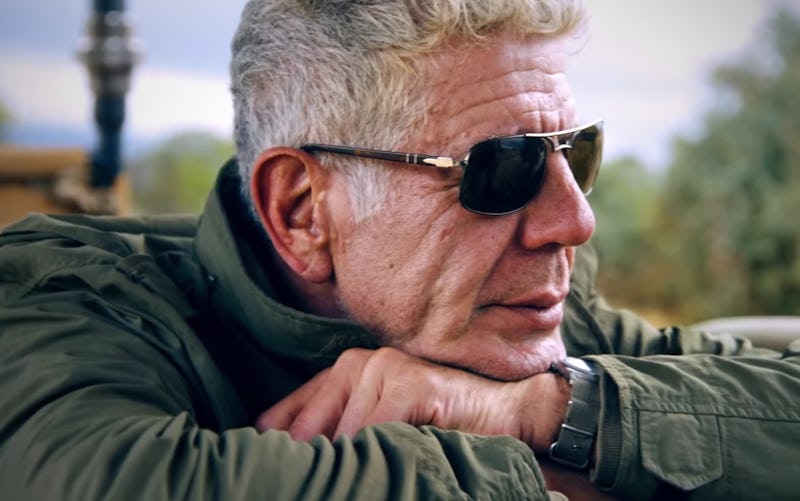 CNN
After gracing televisions since 2013, Anthony Bourdain: Parts Unknown will premiere its final season on Sunday, Sept. 23 at 9 p.m. ET. By the time this travel show concludes, which was hosted by the late chef and TV personality, it will boast 12 installments, with episodes exploring everywhere from Punjab to the Bronx. And although Parts Unknown Season 12 has fewer episodes than its predecessors, the final chapter promises to be a mix of the show's usual fare and a heartfelt goodbye to their inimitable host.
Bourdain died in June while filming an episode of Parts Unknown in France, per CNN. Fans, coworkers, celebrities, and politicians alike were quick to share both their heartbreak and admiration for the late host, and it was clear just how beloved he was. "'Low plastic stool, cheap but delicious noodles, cold Hanoi beer,'" President Obama tweeted on June 8. "This is how I'll remember Tony. He taught us about food — but more importantly, about its ability to bring us together. To make us a little less afraid of the unknown." People from all walks of life shared just how important Bourdain had been to them.
For that reason, it will be incredibly bittersweet for audiences to watch Bourdain's final season of Parts Unknown. And while Seasons 10 and 11 featured nine and eight episodes respectively, Season 12 will have just seven, according to the L.A. Times. One episode will feature Bourdain traveling to Nairobi, Kenya alongside comedian and United Shades of America host W. Kamau Bell. This was the only episode which Bourdain had done the voiceover for previous to his death, per the same L.A. Times piece.
"Everybody who had dreams of traveling with Tony — it's exactly as cool as you think it is," Bell says in a trailer for Season 12, later explaining, "Nairobi is super technicolor, and so it's a lot to take in. It's one of those things about [Bourdain's] show that he did amazingly. It was a place that nobody would go to who didn't live in that town." And yet, as always, the chef looks right at home.
According to an op-ed Bell wrote about Bourdain for CNN, the pair first met at the 2016 Emmys. Bourdain suggested they work together, and the comedian enthusiastically agreed. "Once we got down to it, we decided that Kenya would be the location, because although I'm not Kenyan, my name 'Kamau' is Kenyan (Kikuyu to be precise)," he recalled. "For years, Kenyans have told me that I needed to go to Kenya."
And so Kenya it was. A preview clip on the Parts Unknown site shows Bourdain and Bell preparing to eat goat's head soup. The comedian looks, wide-eyed, at a literal goat's head, which is chopped up in front of them. "I hear the words goat head soup, and I think, 'Oh yeah, it'll be meat from the goat's head in a soup,'" he confides with Bourdain.
This season will also take audiences to Manhattan's Lower East Side, the Big Bend area of Texas, Indonesia, and Asturias, Spain, per the L.A. Times. However, Amy Entelis, the executive vice president of talent and content at CNN, said in the same article that these episodes were completed by directors and other crew members. "Each one will feel slightly different depending on what's gathered in the field," she said. "They will have the full presence of Tony because you'll see him, you'll hear him, you'll watch him. That layer of his narration will be missing, but it will be replaced by other voices of people who are in the episodes."
What's more, the show will also include two specials: One will feature the cast and crew talking about creating the show, per the L.A. Times, while the final episode will be a tribute to Bourdain and how he impacted the world. So while this final season of Parts Unknown will surely be heartbreaking, it will also be bittersweet for fans to watch Bourdain take them on one last tour around the world. Like Bell said on Twitter, "while it will be a very emotional episode w/ his passing, I don't want to forget that we had a really good time & we laughed a lot."
If you or someone you know is experiencing suicidal thoughts, call the National Suicide Prevention Hotline at 1-800-273-8255 or text HOME to the Crisis Text Line at 741741. You can also reach out to the Trans Lifeline at 877-565-8860 or the Trevor Lifeline at 1-866-488-7386, or to your local suicide crisis center.
This article was originally published on