Teddy Is Back On 'Grey's Anatomy' & Here's How Long She'll Be Staying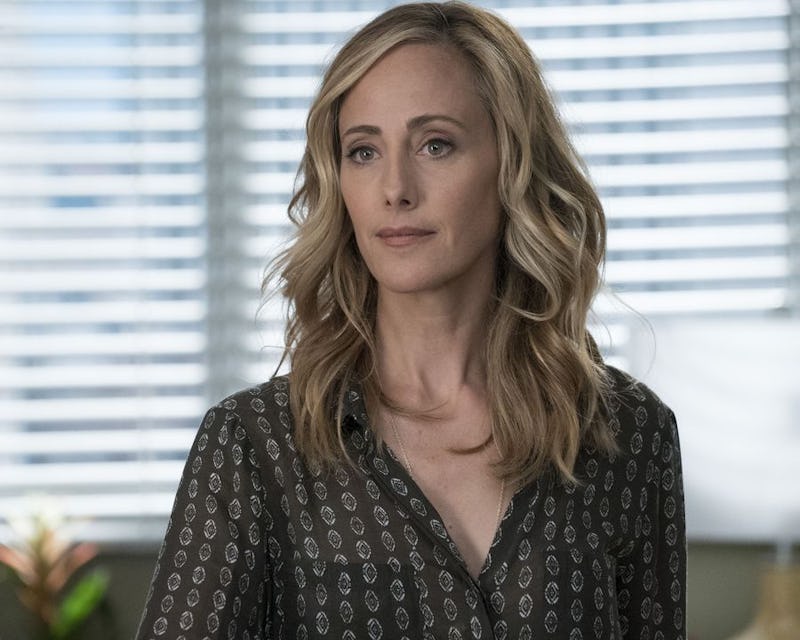 Richard Cartwright/ABC
It's true that Grey's Anatomy fans are used to saying goodbye to their favorite characters on a regular basis, but sometimes, we get to say hello again — this time to Teddy Altman. But how many episodes is Teddy on in Grey's Anatomy Season 14? Being that, for three seasons straight, she was part of the main cast, her roots in this hospital are deep, especially when it comes to her former army buddy, Owen Hunt. Her staying power this season could be huge, but how huge?
So far, that information has yet to be released. When Deadline broke the news back in June, they called Kim Raver's return a "guest arc" without specifying exactly how many episodes that might mean. She's in the premiere episode, which is a given, and that definitely won't be the only one. But beyond that? Fans will just have to watch this season to find out.
And if your fingers are crossed that she's back in Seattle for an extended stay, your wish might be granted, because there's still so much potential for her on Grey's, despite the fact that she left the show five seasons ago after her husband, Henry, died and she got a job offer to head up cardio at MEDCOM.
Considering what's happening on Grey's Anatomy right now, Teddy's return to the show couldn't be more seamless. After all, in the Season 13 finale, we found out that Owen's sister, Megan, was brought to Teddy's hospital. We already know that she's always been close to Owen and his family, so it makes sense that she'd want to come back now that Megan's in Seattle again.
After everything Megan has been through, she was probably very glad to see someone familiar to her. And since Teddy's always had a bit of a hero complex toward Owen, it makes sense that she'd want to be there for him during such an emotional time.
Besides, so much has happened since Teddy left the hospital. Back then, it was still Seattle Grace; now, it's Grey Sloan Memorial and, oh, yeah, all her friends now own it. Callie and Arizona are divorced and Callie's in New York with Penny, Derek, Lexie, and Mark are all dead, there are interns and residents she's never met working there, and Meredith has another kid... and there are surely plenty of other major developments that aren't on that list.
And aside from what's changed while she's been gone, certainly Teddy has changed too. Years removed from losing Henry and being in a new position, it will be great to catch up with her again and find out what she's been up to over the last few seasons.
Plus, the Grey's cast seems super pumped to have her back, and Raver has been posting photos straight from the set now that she's been reunited with her old coworkers, and introduced to a few new ones. How cute is this?
Seems like Raver's transition back into her old role has been flawless (and if you're a fan, you need to catch the other set pics she's been sharing). There have been a lot of changes in the cast and on the show, and seeing Teddy react to those is going to be a lot of fun to watch.
With all of the traumatic deaths and heartbreaking exits Grey's fans have had to endure over the past 14 seasons, it's going to be really good to see a friendly face make a return. Next, maybe Shonda Rhimes can act like Derek never died and he can come back, too? Just a thought.