This Is How Many Kids Trump's Administration Already Separated From Their Parents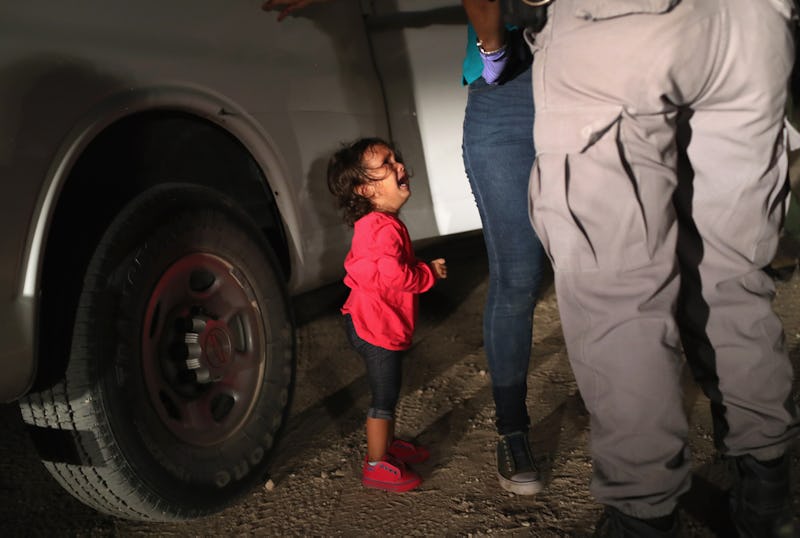 John Moore/Getty Images News/Getty Images
On Friday, the government finally released official numbers for how many migrant children were separated from parents at the southern border over the last six weeks. From April 19 to May 31, 1,995 children were separated from 1,940 adults, who face prosecution for the act of unlawfully crossing the border, The New York Times reports.
The separation policy was put in place in April under Attorney General Jeff Sessions and Homeland Security Secretary Kirstjen Nielsen, according to The Washington Post. The policy states that anyone who crosses the border unlawfully will be criminally prosecuted. In practice, this means that parents go to jail while their children are sent to shelters run by the Department of Health and Human Services (HHS), according to the newspaper.
Casa Padre — the shelter that drew intense media scrutiny after a visit by reporters from major outlets like MSNBC and The New York Times — has a contract with HHS and the Office of Refugee Resettlement, according to NPR. The same report says detained kids spend an average of 49 days in custody at that shelter.
President Donald Trump claimed that the policy, which is quickly becoming the centerpiece of his administration's aggressive stance on illegal immigration, was not actually put in place by his people.
"I hate the children being taken away," Trump told the reporters during an informal press conference on the White House North Lawn. "The Democrats have to change their law — that's their law."
Beyond the false claim that this policy isn't something his administration put forward, Trump's comments are odd because Sessions has publicly defended the policy. On Thursday, Sessions suggested to a group of law enforcement officers in Indiana that migrants were to blame for the separation of parents and children, according to NBC News. "If you cross the Southwest border unlawfully, then the Department of Homeland Security will arrest you and the Department of Justice will prosecute you," Sessions said. "Having children does not give you immunity from arrest and prosecution." Sessions also invoked a passage from the Book of Romans from the Bible, which was also used to justify continuing slavery in the Americas.
Other lawmakers have followed Trump's obfuscations. Speaker of the House Paul Ryan told reporters on Friday that he's not comfortable with the administration's separation policy. "We don't want kids to be separated from their parents," he told reporters, according to CNBC.
There is no law saying that children need to separated from parents who entered the country unlawfully, The New York Times reported. This policy does not allow for the exception for those traveling with their underage children that previous administrations granted with regards to prosecuting illegal entry, the newspaper continued.
The number released on Friday only covers a six-week period between mid-April and the end of last month. This suggests, according to analysis from The New York Times, the possibility that thousands more have been separated since 2017. In April, the newspaper reported that more than 700 children had been separated from their parents, and that more than 100 of those kids were under 4 years old. As CNN reported, beyond a hotline number to call, there is no clear path for reunification for the parents and the children.
When briefing reporters on the new number of separated children on Friday, a Homeland Security official pushed back on another CNN report on Thursday from McAllen, Texas, where a mother said federal officials had taken her baby from her while she was breastfeeding. "We do not separate breastfeeding children from their parents. That does not exist, that's not a policy, that's not something that DHS does," the official told reporters.