60,000 White Nationalists Crashed Poland's Independence Day March & Chanted "White Europe"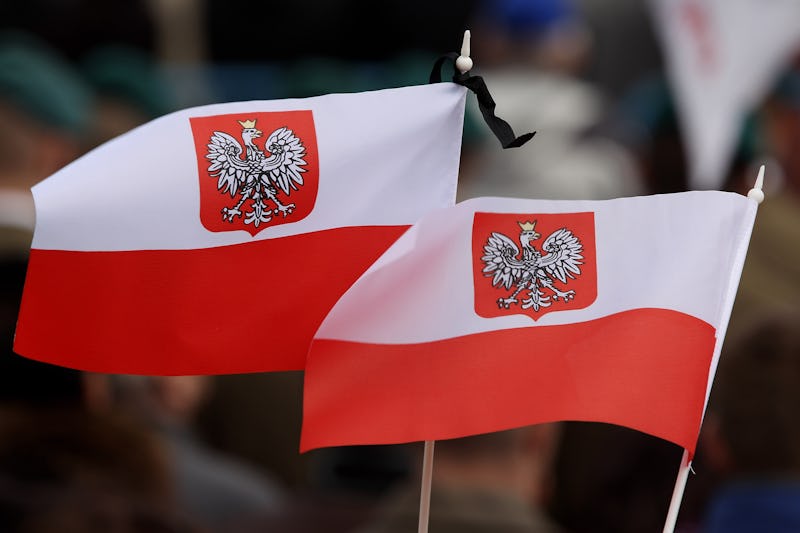 Sean Gallup/Getty Images News/Getty Images
Tens of thousands of nationalists rallied in the streets in Warsaw, Poland on Saturday for a march that has overshadowed state-sanctioned events organized to mark the country's independence day. Nationalist demonstrators marched through Warsaw carrying banners touting Islamophobic and white nationalist slogans like "Pray for an Islamic Holocaust" and "White Europe of Brotherly Nations" in an independence day event organized by multiple far-right extremist groups.
Polish police have estimated some 60,000 people participated in Saturday's nationalist march. While the event was heavily attended by young men, the Guardian has reported that families and older citizens were also counted among participants. Far-right nationalists hailing from neighboring countries of Hungary, Sweden, and Slovakia also joined in Saturday's march, the Associated Press has reported. According to the BBC, some 2,000 people also attended an anti-fascist counter protest on Saturday. No violent clashes were reported to have occurred between the two groups.
As they marched through Warsaw's streets, the far-right nationalist demonstrators reportedly carried the national flag, lit red flares, and chanted xenophobic and white supremacist slogans such as "Pure Poland, White Poland" and "Refugees Get Out." Demonstrators were also heard chanting, "We Want God," a phrase taken from a religious Polish song U.S. that President Donald Trump had quoted earlier this year during a visit to Warsaw.
During his visit, Trump had praised Poland and its people as defenders of Western civilization. "I am here today not just to visit an old ally, but to hold it up as an example for others who seek freedom and who wish to summon the courage and the will to defend our civilization," President Trump said in a speech delivered July 6 at Warsaw's Krasiński Square.
Critics of the president have claimed Saturday's massive nationalist march in Warsaw is evidence his xenophobic rhetoric has emboldened nationalists both in the United States and around the world. "You may not be familiar with Poland, but what happened there today, has EVERYTHING to do with Trump, Bannon, Breitbart, and the American embrace of bigotry," columnist Shaun King wrote in a tweet published Sunday.
Although the event was not organized by city or state officials, Poland's Interior Minister Mariusz Błaszczak reportedly described the march as "a beautiful sight," according to a report from the Guardian. "We are proud that so many Poles have decided to take part in a celebration connected to the Independence Day holiday," Blaszczak reportedly said.
Organizers behind Saturday's nationalist march include the National Radical Camp, an anti-Muslim, anti-immigration, anti-gay, pro-Catholic far-right nationalist group. According to NBC News, other organizing groups included the National Movement and the All Polish Youth, two groups with radical nationalist views founded before World War II. Their far-right nationalist independence day march has grown in size and popularity since it was first started in 2009.
According to the Associated Press, Richard Spencer, a high-profile American white supremacist, was initially scheduled to speak at a far-right conference organized in Warsaw a day before Saturday's march. Spencer's invitation was forcibly revoked, however, when Poland's government announced he would not be welcomed in the country.
Elsewhere in Warsaw, an official National Independence Day celebration was hosted by Polish President Andrzej Duda and European Union President Donald Tusk. In comments delivered upon his arrival at Warsaw's airport, Tusk called for unity. "Independence Day has always been and will continue to be a celebration of all Poles and not just one party," the BBC has reported Tusk said. "No politician in Poland has ever had nor will ever have a monopoly on patriotism."
Poland's National Independence Day marks the restoration of Poland's sovereignty in November of 1918, some 120 years after the country was divided between the Prussian, Hadsburg, and Russian empires. While Poland regained its independence gradually, November 11 was officially constituted as the country's independence day in 1937 as it was the day when, in 1918, the first chief of state for the Second Republic of Poland had proclaimed the country to be independent. In recent years, however, events organized by far-right nationalist demonstrators have tended to overshadow the holiday.