The Power Rangers Franchise Is Gonna Be Huge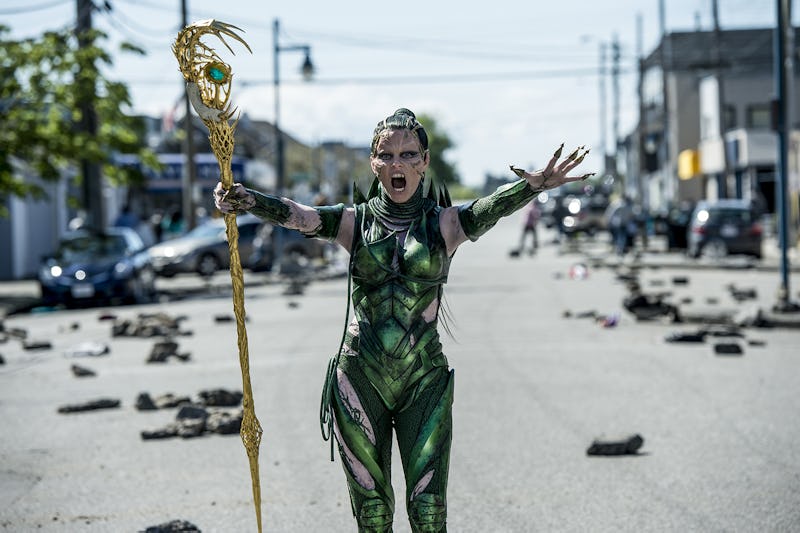 Lionsgate
Nostalgia seems to be immortal, and as long as audiences keep buying tickets and eating up special-effects-laden action sequences, we're going to be getting remakes and reboots. One such example is the upcoming Power Rangers movie, which is being described as an "origin story" and reboot of the original series. Starring Dacre Montgomery, Naomi Scott, RJ Cyler, Ludi Lin, and Becky G. as the Rangers, Bryan Cranston and Bill Hader as their allies, and Elizabeth Banks as the villain, the new Power Rangers actually looks to be a pretty cool update from the goofy original version. And, since it's not a contemporary super hero or millennial nostalgia movie if there weren't already planned sequels, it's fair to wonder just how many Power Rangers movies there will be in total.
If you've been following the production updates and marketing campaign around the new Power Rangers movie, you know that, as reported by Polygon, there's a post-credits scene that hints at the continuation of the story in future films. Not to get too spoilery, but it looks like a Ranger of a certain color may be entering the picture in the future. So, we know that there is certainly a plan for a sequel.
But in fact, this thing is a whole lot bigger than one measly sequel: Power Rangers producer Haim Saban recently told Variety that even though the new film hasn't even been released yet, "We already have a six-movie story arc." Yes, six. That means five more movies are on the way. Or at least, they are likely to be on the way, if the $120 million spent on this new movie ends up leading it to box office-smashing success. And that's certainly possible. Just look at the most recent reboot to hit the screens, Beauty and the Beast, which earned back its $160 million price tag and then some in its first week in theaters.
That film's success suggests that indeed, revisiting the cultural markers of our youth is still a pretty smart path to financial reward. Saban certainly has high hopes. He told Variety that "If this film is as successful as I hope on March 24, on March 25 we'll have the first story meeting for Movie No. 2." It remains to be seen whether Saban's prediction will be on the mark, as reviews have, so far, been relatively mixed.
Still, critical reception doesn't necessarily translate to a box office bomb or success (and thus likelihood subsequent sequels), as franchises like Transformers have certainly shown in the past. So if audiences turn out for Power Rangers, you can expect up to five sequels. Time to get morphin'.