Arie's 'Bachelor' Season Has A Running Theme You May Not Have Noticed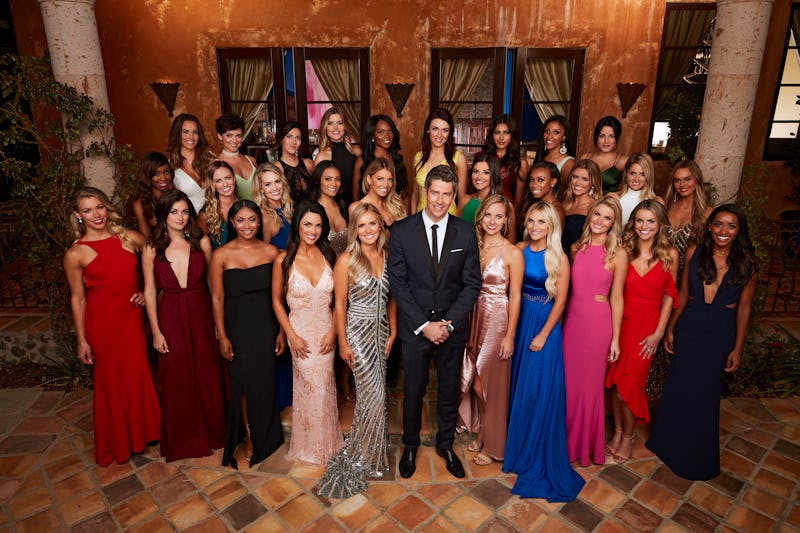 Craig Sjodin/ABC
As all true Bachelor Nation fans know, the only thing better than the holiday season is Bachelor season, and luckily both are nearly upon us. Arie's season of The Bachelor debuts on Jan. 1. Even if you're still saying to yourself, "Arie who?", there is no denying that a new season of The Bachelor is just what the doctor ordered to help us endure the cold months of winter. And since the profiles of the women competing for Arie's heart this season were recently released, you can get a head start on filling out your fantasy bracket. But when you start looking at head shot after head shot, an interesting pattern emerges... (and no, it's not that they are all rocking perfectly curled tresses). So many 2018 Bachelor contestants are realtors.
There are four realtors on this season. Four! Or, at least, four women are working in the real estate business. Out of 29 competitors, that's a whole lot of people who are probably pretty good at finding you that perfect house with those updated appliances you wanted and two and a half baths. Maybe they will ditch the competition entirely and form their own real estate company, and honestly that might be the feminist plot twist we need to start our 2018 off right. And at least it's four realtors instead of four "free spirits" or four "pantsapreneurs", two professions of actual contestants on The Bachelor and Bachelorette.
But it actually makes perfect sense why there are so many realtors this season, because the Bachelor himself is a real estate agent. The former race car driver has dubbed himself "The Racing Realtor", and works for RE/MAX Excalibur in Scottsdale, Arizona. Maybe these women will have an edge, since they will be able to talk shop with Arie not only about race cars, but about the housing market too. Sexy.
Honestly, the only question remaining is which realtor will make it the farthest. It's like The Hunger Games, except only with real estate agents and with far less violence. Let's see what distinguishes these realty queens from one another, and what might make them poised to win Arie's heart.
Ashley
First up is Ashley, a 25-year-old real estate agent from West Palm Beach, Florida (there is in fact a difference between a realtor and a real estate agent, in case you're curious). Though it seems like Ashley has a lot of things going for her, per her ABC bio (her favorite movie is No Country For Old Men: excellent choice) it doesn't seem like she's a frontrunner for Arie's heart. She barely makes an appearance in any of the trailers for this season, or in the "Meet Your Women" sneak peak. That could just mean she's staying out of the drama, but is also a sign that she isn't one of the contestants that the show is choosing to highlight, which means it might be a short run for Ashley.
Caroline
Our next realtor is Caroline, 26, from Holliston, Massachusetts. Her bio says she's looking for someone to co-parent a dog with, but unfortunately it doesn't seem like Arie will be the man for the job. She doesn't really appear at all in the promos, which might mean she got axed on the first night. Sorry, Caroline.
Chelsea
Chelsea is not merely a real estate agent, but a real estate executive, so you go, girl. Unfortunately, it looks like Chelsea might be one of this season's villains. She's a single mom, as is revealed in the trailer for this season when she states in a confessional, "I'm making bold moves because being a single mother, I deserve more time than others." Making bold moves is never going to make you many friends on The Bachelor, but it doesn't seem like Chelsea is here to make friends.
But even though the trailer shows Chelsea at the center of drama with the other contestants, it seems like she might make it pretty far into the season. One shot shows her making out with Arie on a jetski on a group date, so she at least sticks around long enough to get some smooches in. And Chris Harrison named her as one of the top five contenders for the winner in an interview with Entertainment Weekly. Chelsea "goes out of her way to make a first impression on Arie," Harrison said in the interview. "He is very taken by her. But he can tell she's holding back. She has a little bit of a secret. She will reveal it into the show."
Seinne
Our last realty expert is Seinne, a 27-year-old commercial real estate manager from Long Beach, California. And Seinne seems to be a front-runner, if not the winner of the whole dang thing. In the same interview with Entertainment Weekly, Harrison seemed enthusiastic about Seinne's chances with Arie:
"This girl is flat out impressive. She's incredibly intelligent and she definitely has this zest for life that Arie is in awe of. He's a little bit mesmerized by her."
Arie is in "awe" of her and "mesmerized" by her? Sounds like the two have a real connection, and shots from the trailer seem to confirm. "This could be our love story" Arie tells her on a date, perhaps hinting at the fact that he's falling for her?
I guess fans will just have to wait and see which realtor ends up on top.