Milo Ventimiglia Is Here To Stay On 'This Is Us'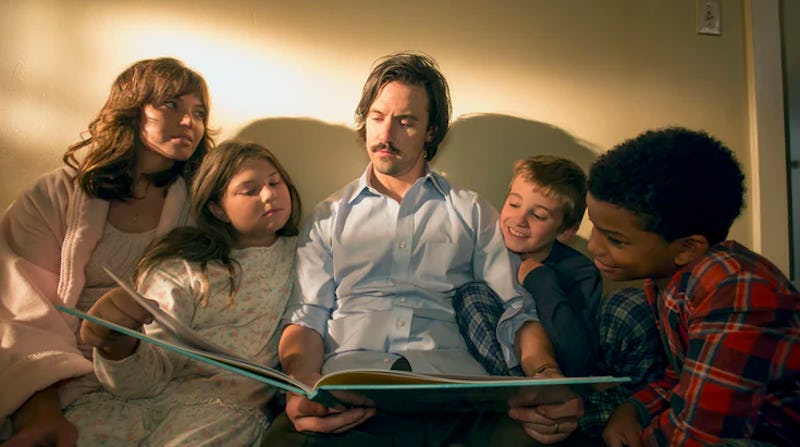 Ron Batzdorff/NBC
Last week, fans were excited to hear that NBC renewed This Is Us for two more seasons (a total of 36 episodes), meaning that the Pearson family's time-hopping journey isn't over. While we know the future holds more family drama from the past and present, there's one character whose future we can not be sure of. How many more episodes of This Is Us will Milo Ventimiglia appear in as Jack? We know the character is already dead in the modern timeline, so could his role on the show come to a close before we even get that second season?
Luckily, while Jack may be physically missing from present day storylines, Ventimiglia is a series regular, which means he appears in almost every episode, and that won't be changing. The actor spoke with Entertainment Tonight about how Jack's death on This Is Us will affect his time on the series and assured fans that there's no need to worry. "Going into this show I knew that my character was always going to be past and I was OK with it," Ventimiglia said. "Dan Fogelman, our creator, he was like, 'Milo, you're not going anywhere.'"
In another interview with People, Ventimiglia again reassured fans that our favorite sexy on-screen dad is here to stay. "Jack's journey is not over," he told the magazine. "Jack is still going to be there, but you also know now how important these moments are with his wife, with his kids ... He doesn't know that he's going to be passing at a certain age."
Now that we know there's plenty of Jack ahead, we can safely look to future episodes about his next storylines. First up, creator Dan Fogelman told Entertainment Weekly that there will be an emotional reveal about Jack's death in the Jan. 24 episode. We will also be learning more about Miguel soon, as the synopsis of the Feb. 7 episode, "I Call Marriage," hints that Miguel and his wife, Shelly, break "devastating" news to Jack and Rebecca. This news causes Jack and Rebecca to "reflect on their own relationship." Just a guess here, but I am going to wager that golf-playing Miguel and kid-saddled Shelly are going to get divorced, and Jack and Rebecca will wonder what all couples who have close friends going through a divorce wonder: Could it happen to us?
Ventimiglia also told Entertainment Tonight that the following episode will vindicate Miguel, and the so-far overlooked character will likely win us over. "If you don't love Miguel by episode 15, you should just turn the show off ," the actor said. "He's got a heart of gold and he has a big, big moment coming up in episode 15 that is really going to solidify people going, 'OK, OK. I'm OK with it. I got you,'"
Mandy Moore, who plays Rebecca, also told ET, "If people aren't fond of Miguel, then we haven't done our jobs ... I walked away from reading that script and was like, 'OK! Done deal. I love him.'" While reveals about Jack's death and Miguel and Rebecca's relationship may make fans apprehensive about their current favorite, charismatic TV couple, ET did promise some romantic Valentine's Day scenes between Jack and Rebecca.
So yes, Jack is dead in 2017, and it's a bummer. But This Is Us is about life and family. While Jack is not physically present in the modern story arc, it still feels like he is there, because the ones we love never really leave us. And thanks to This Is Us' time-jumping flashbacks, Jack won't be leaving our TV screens anytime soon.