Mariah Carey's 'Glitter' Return Is Moment Of Major Redemption For The Legendary Singer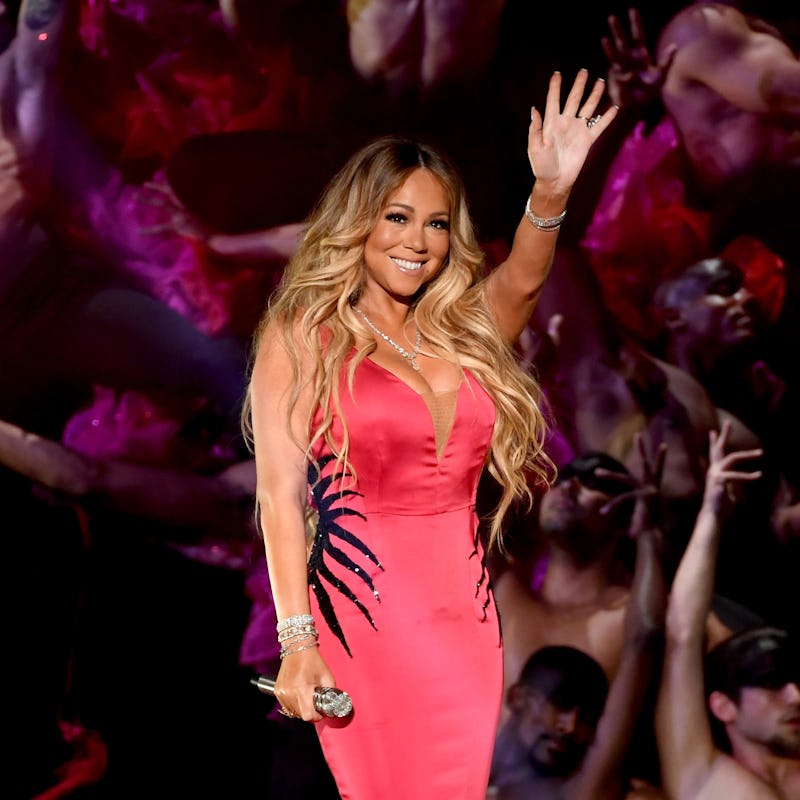 Kevin Winter/Getty Images Entertainment/Getty Images
On Nov. 15, more than 17 years after its release, Mariah Carey's Glitter album soundtrack hit number one for the very first time on iTunes. It was a major moment of redemption for the singer, who recently revealed to Good Morning America that the album "almost ruined" her life. Despite it not being a huge success for the entertainer, Glitter's recent appearance on the iTunes charts proves that, if nothing else, Carey's talent is so undeniable that there's almost nothing that can tarnish her track record as one of the most legendary artists of modern times.
For fans of the vocal phenom, seeing the Glitter soundtrack finally get the accolades it deserved was a mission which they were determined to make happen. Carey's "lambily" collectively embarked on a social media campaign called #JusticeForGlitter to help push the soundtrack of the critically-panned 2001 movie into the iTunes Top 10 this month. After a few days of rallying, their plan ultimately became a huge moment in the 48-year-old entertainer's highly-decorated career, marking one of the biggest entertainment comeback stories of 2018 and allowing Carey to triumph in the end.
In its 2001 release, Glitter was lambasted by critics who had seemingly nothing good to say about neither the soundtrack nor the film it was intended to support. And to make matters even worse, the release of the album came on the very same morning as the horrific terrorist attacks of Sept. 11, 2001.
While one could surmise that the national tragedy played a role in the album's tanking, another important album, which dropped the same day, would prove to be a major hit for one of hip-hop's soon-to-be most influential superstars, Jay-Z. The rapper's sixth album, The Blueprint, hit stores on that same fateful day, managing to sell more than 420,000 copies in its first week and entering the Billboard 200 chart at Number 1, according to CNN. Billboard additionally notes that Nickelback's Silver Side Up sold 178,000 units, commanding the Number 2 position in its debut. Bob Dylan's newly-released Love and Theft sold 134,000 units, took the Number 5 spot and became the highest charting title for Dylan since 1979.
Although there's no way to truly draw a sound conclusion on the disparity between Carey, Jay-Z, Nickelback, and Dylan's album sales during that particular week, a report from CNN theorizes that youth demographics may have been the main culprit.
"Young people not directly affected are always more removed from the onset of national tragedy," Tricia Rose, a professor at Brown University and author of The Hip Hop Wars, told CNN. In her explanation, Rose went on to share:
"While the much older fans of Mariah Carey or Bob Dylan would likely be too busy and worried about terrorist attacks to rush out and purchase a CD the week of 9/11, Jay-Z's teen and early 20s fans, already hyped up about this release long beforehand, remained focused on their idol. And many probably never left the comfort of their bedrooms to download the release."
It remains unclear whether the age factor actually contributed to Glitter's faltering. After all, some of Carey's most devoted fans are millennials, most of whom likely responsible for the #JusticeForGlitter campaign's success. However, it is important to note that the project was a complete musical departure from any of Carey's previous releases, as it focused heavily on an '80s disco sound to stay on par with the film's setting, which was set in 1983.
An article from Billboard published on Sept. 20, 2001, reported that there was an overall album sales decline of nearly 5% from the previous week in the wake of the 9/11 tragedy. The outlet also notably mentioned that Glitter's Number 7 entry would have been deemed an impressive first week for other acts with its achievement of 116,000 units sold. But due to Carey's dominance on the album charts in the 11 years prior, the project would become her worst debut since the Number 30 charting of Merry Christmas in 1994. (FWIW: Merry Christmas is one of the best-selling Christmas album of all time.)
Not only did the album signal a shifting point in the talented entertainer's illustrious career, but the perceived commercial and critical failure proved to be the precursor of a widely-documented "emotional and physical breakdown" suffered by Carey during its promotion, as described by her representative at the time in a statement to The Washington Post. After a few unsettling public appearances, Carey checked herself into the hospital with a spokesperson saying that the singer's breakdown was caused by "extreme exhaustion," and that she was receiving psychiatric care. Years later, in an interview with People published in April 2018, Carey revealed she was diagnosed with bipolar disorder in 2001.
While the situation led many to believe that Carey's career was nearing an end, her triumphant return in 2003 would prove the album flop and health issues to be only minor setbacks in her iconic life story.
In 2003, she released Charmbracelet and then came The Emancipation of Mimi in 2005. The latter became her highest-selling release in the U.S. in a decade and produced her 16th number one hit, We Belong Together. In 2009, Carey would also return to acting with a critically-acclaimed performance in Lee Daniels' Oscar-winning film Precious in 2009. As her career, once again, began to take off, Carey's private life would also soar. In 2008, she met and married entertainer Nick Cannon and gave birth to their twins Monroe and Moroccan three years later.
Just when things appeared to be moving along smoothly, she would hit another roadblock in December 2014 when her split from Cannon became the topic of public fodder. That same year, her album Me. I Am Mariah… The Elusive Chanteuse failed to meet the acclaim of her past albums. Then after an engagement and subsequent split from billionaire fiancé James Packer in 2016, Marie Claire UK points out that Carey's New Year's Eve performance, which received major attention after her in-ear headphones malfunctioned, resulted in what The New York Times referred to as a "performance train wreck."
Following the performance, she made light of the situation, posting a GIF of herself shrugging it off on Twitter. Along with the GIF, Carey shared a light-hearted caption, proving that nothing can get her down. She wrote,
"Sh*t happens. Have a happy and healthy new year everybody! Here's to making more headlines in 2017"
The very next year, Carey returned to redeem herself at Dick Clark's New Year's Rockin' Eve with Ryan Seacrest, flawlessly performing her hits "Vision of Love" and "Hero" in Times Square. She even took a few moments to poke fun at the events of the year prior, opening the set with, "Let's try this again." She also joked,
"Just want to take a sip of tea if they let me. They told me there would be tea. Oh, it's a disaster. Okay, we'll just have to rough it. I'm gonna be just like everybody else with no hot tea."
Despite those minor bumps, Carey and her legacy continue to remain unbreakable. Her current Las Vegas residency, The Butterfly Returns, was launched in July 2018 to critical acclaim. And just one day before Carey releasing her 15th studio album Caution on Nov. 16 (which is also receiving both critical and fan acclaim), Glitter would return to the charts just to remind everyone of the magnitude of Carey's greatness as an artist.
During her recent chat with GMA, Carey credited her fans while sharing her thoughts on what many knew all along: Glitter was actually a pretty good project. She explained,
"That's the Lambs, that's the Lambily, those are my fans. They had this movement, it was called hashtag Justice for Glitter, which I think was directed at me because I never really perform those songs. But the truth is, it's for the nostalgia now because it's actually a really good album. I can say it, now that they got it to number one."
Speaking with Andy Cohen in an episode of Watch What Happens Live, the talented star also revealed that she will be adding a medley of songs from Glitter to her concerts and stage performances going forward thanks to the continued appreciation from fans.
With that, it seems that things have come full-circle for Mariah Carey when it comes to the Glitter saga. And if nothing else, its comeback certainly proves that all things that glitter could potentially become gold — if given the right amount of time.