11 Very Specific Ways Meghan Markle's Engagement To Prince Harry Has Changed Her Life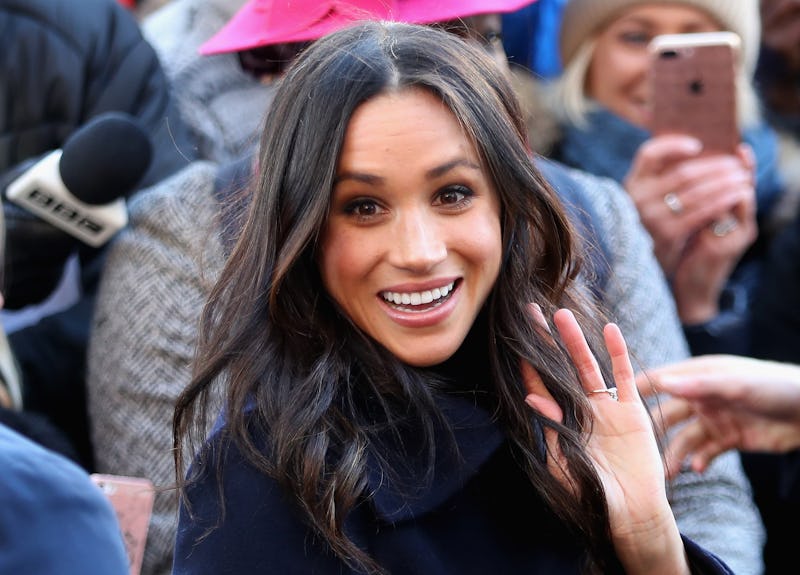 Chris Jackson/Getty Images Entertainment/Getty Images
Prince Harry and Meghan Markle's royal engagement has been the most enjoyable entertainment news story of the year. Everyone wants to know more about Markle and how her life will change once she marries Harry. Her life has already changed a lot since they started dating and became engaged, and once these two get married, Markle will have a plethora of perks to enjoy and obligations to fulfill as a member of the royal family.
Markle's days as a regular citizen are long gone. She might be an actor, but even as one of the stars of the USA series Suits, she has lived a relatively private life, and she's also been able to live by her own rules. Through marrying Prince Harry, the shine of the spotlight has already increased and soon, her responsibilities will, as well.
You might think that pretty much anyone would trade a "normal" life to be a princess — or duchess in this case — but it is far from an easy life. The retired actor will lose her privacy and a lot of the everyday privileges that she may have taken for granted. These include everything from social media use to wardrobe choices, taking selfies, and even playing certain board games.
Here are just some of the ways that her life will be completely different.
She Will Undergo Hostage Training
According to TMZ, Markle will go through a week of military training to learn how to escape if she is held hostage. This includes getting out of restraints and even making specific facial expressions to indicate if she's being held against her will if a captor forces her to be in a video. Reportedly, other royals, including Kate Middleton have also gone through hostage training.
She Will Not Use Personal Social Media Accounts
Markle previously shared some hints about her relationship with Harry on her Instagram page. On July 1, 2016, Markle posted a photo of flowers with the caption, "Swooning over these. #London #peonies #spoiledrotten." Clearly, she was referencing her British boyfriend with the "London" hashtag. Markle hasn't posted on Instagram since April 7, 2017 and she hasn't tweeted since March 8, 2017. From now on, all her social media updates will likely come from official royal accounts, as is the case for Harry, Prince William, and Middleton.
She Will Not Be An Actor
The writing has been on the wall for the Suits star's acting career for a while. There's obviously no way that she could be a member of the royal family and work on a TV show that films in Canada. In her first joint interview with Harry, Meghan said, "I don't see it as giving anything up, I just see it as a change, It's a new chapter. Also, keep in mind, I've been working on my show for seven years."
She Will Get A Royal Title
The Queen will give the couple royal titles on on their wedding day. Royals historian Marlene Koenig told Royal Central, "Most likely, he will be created a Duke. Sussex is available so she would be HRH the Duchess of Sussex."
She Will Become A British Citizen
A spokesperson for the Royal Family confirmed to CNN that Markle will go through the process to become a citizen of the United Kingdom and that it is "too early to say" if she will retain a dual U.S. and U.K. citizenship. The process could take several years.
She Cannot Take Selfies With Fans
On December 1, at her first official royal engagement since the engagement was announced, Markle reportedly told a fan, "We're not allowed to do selfies" in a polite manner. CNN Royal Commentator Victoria Arbiter told Business Insider that selfies aren't banned, but they are "strongly discouraged." Aribiter added, "From a security standpoint, they're also not ideal as they warrant a certain closeness."
She Is Leaving Her Dog Behind
In her joint interview with Prince Harry, the bride-to-be shared the news that she left one of her dogs in the United States: "One is now staying with close friends and my other little guy is in the UK. He's been here for a while." Kensington Palace told Inside Edition, "It was a choice Ms. Markle made and we will not speculate as to why she made the decision, but it is always difficult to transport animals across the Atlantic."
She Has To Pack An All Black Outfit For Every Trip In Case Someone Dies
As morbid as this sounds, The Sun reported that royals need to bring a black mourning outfit when they travel with them just in case a family member dies. This wasn't always the case, though. In 1952, Queen Elizabeth's father, George VI, died while she was on a trip to Kenya, and she did not have a mourning outfit with her. When she landed in the U.K., an all black ensemble was given to her so she could change before she exited the plane.
She Isn't Supposed To Keep Gifts
According to the Daily Mail, "Official gifts are not the private property of the member of the Royal Family who receives them but are instead received in an official capacity in the course of official duties." In fact, every year a list is revealed to the public all of the gifts that the royal family has received. Thankfully, gifting the royal family is not a completely useless gesture. According to Forbes, "official gifts can be worn and used but are not their personal property and cannot be sold or exchanged." So, if Markle receives a gift, she can use or wear it in public, but it is not actually hers.
She Isn't Supposed To Be Touched In Photos
In 2014, LeBron James affectionately put his arm around Kate Middleton in a photo and it caused quite a stir because of the thought of him breaching royal tradition. The British Monarchy website states, "There are no obligatory codes of behavior when meeting The Queen or a member of the Royal Family, but many people wish to observe the traditional forms," i.e. shaking hands, bowing, or curtsying.
Michelle Obama caused a similar controversy when she hugged the Queen in 2009. In both instances, the royal family members were polite and warm, but it was the reaction from the public and press that got out of hand. So, it wouldn't be "breaking a rule" to give Markle a hug, but it would clearly be frowned upon. Fans are allowed to "shake hands in the usual way" according to the British Monarchy website and that's probably the safest route to avoid drama.
She Is Done With Her Lifestyle Website
In April 2017, Markle shut down her lifestyle website, The Tig. It was never confirmed that her romantic relationship was a reason for the Tig shutdown. A source discussed the blog with People saying, "It's a full-time job. She wants to focus this season of Suits, which just starting filming and spending more time in the field on her philanthropy." Considering that she gave up acting to take on the responsibilities of becoming a royal, it makes a lot of sense that she will not be able to maintain a lifestyle website.
Dating a prince and marrying into the family is not all glitz and glamour. It takes a lot of sacrifices to and obligations to be Meghan Markle these days, and it will only increase once she walks down the aisle.