OtterBox Just Launched A Disney Collection To Help Protect Your Phone With Princesses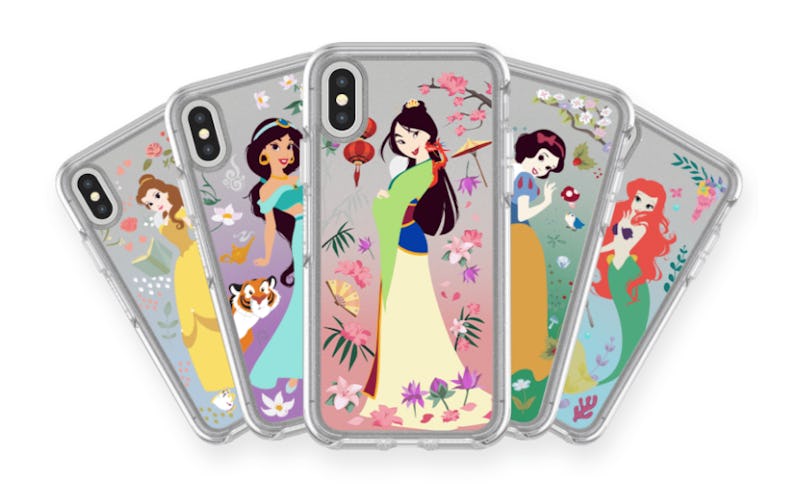 Courtesy of OtterBox
Hear ye! Hear ye! Some of the world's most iconic princesses have arrived and this time, it's not for a fictional wedding. No, the beloved royals that rule the sea, ride on magic carpets, and transform beasts into princes have come to adorn your cellphone, thanks to an OtterBox x Disney collaboration that just launched.
Can a Disney fanatic ever have too much princess merch? You've got your princess attire, wedding ring lines created after the characters, and so many designer collections inspired by Disney royalty that bring up the best childhood memories. Even if you're pouring top-notch Pinot Grigio into princess-adorned wine glasses, you can never really feel too grown up. Now that OtterBox "The Power of Princess" cases are available with the beloved characters, too, a trip down memory lane to when your love for all things Disney first started is going to happen whenever you pick up your lifeline.
This isn't the first time mobile cases and Disney designs have joined forces. When Disney first announced OtterBox would be the "Official Protective Case" of Walt Disney resorts, it birthed an alliance that combined security and fantasy. The partnership just kicked up the magic factor with the ever-popular princesses now gracing the backs of the protective cases.
The trusted cellphone case brand is offering some of their most adorable accessories yet, thanks to Disney's iconic females. The Power of Princess collection, available for iPhones, ranges from $44.95 to $54.95, depending on your phone version. It's powerful not only because of its ability to withstand dropping your delicate cellphone, but also for the empowering princesses it features.
No matter your favorite, each royal included within the line has a special quality that makes her worth remembering — and now there's a case to constantly remind you of their bravery, kindness, and inspirational attitudes. Available on the OtterBox website, here's all of the Disney merch you could snag.
If you're toting an iPhone 7, 8, 10, or their plus-size versions, you're in luck. There's a protector showcasing the ocean princess herself, Ariel. As you embark on adventures like the thrill-seeking little mermaid, you can rest assured knowing this dual-density OtterBox will keep your phone from falling apart.
Of course, there's a case featuring the sophisticated Belle. This know-it-all beauty makes for quite the phone case, her bright yellow dress popping against the muted OtterBox background. Surrounded by greenery, Belle is absolute perfection.
There's no way you could have a Disney-inspired collection without an OG princess like Snow White. Seriously, she's the definition of "happily ever after". Synthetic rubber material and a raised screen bumper with beveled edges helps protect your touchscreen and withstand falls, making your phone just as accident-resistant as Snow was to the Evil Queen's poisonous apple.
There's really no other way to bring honor to your cellular device than by dressing it up with a Mulan-adorned barrier. Nothing can inspire you to take charge of all of life's happenings quite like this warrior princess. So, opting for this OtterBox only makes sense for the fiercest princess lovers.
The go-getter that never let anyone stop her from doing her thing, Princess Jasmine makes for worthy phone decoration. You can even spot her pet tiger Rajah making an appearance on the accessory, so it's really a Disney family affair with this option.
You can't go wrong with any of the OtterBox x Disney offerings, so have your pick of the litter browsing the brand's site. Of course, it would have been nice to see a few other royals make the cut —say, a super OG like Cinderella, someone as fierce as Pocahontus, or even a newbie like Tiana. Here's to hoping the amazing collection expands with the full Disney princess lineup in the near future.