Shopping Koko Kollection Singles Could Save Money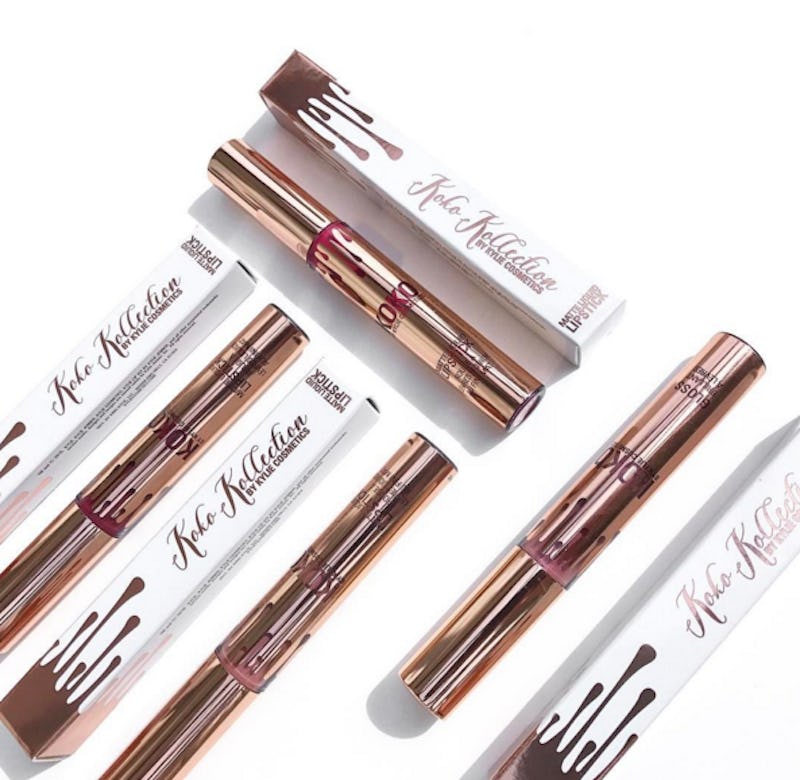 kyliecosmetics/Instagram
Now that the super popular Koko Kollection has been restocked as singles, you're probably wondering what that means for your budget. The bundle option was surprisingly affordable to shop, but what about these individual lippies, you know? So, how much are Kylie Cosmetics' Kollection Singles, exactly? Well, here's how it all breaks down.
When this collection was sold as a set you could get it for just $40. That's $10 per lippie, but you only had the option of buying all four at once. The ability to shop them one-by-one will cost you, but it'll be cheaper than $40 in the long run, if you're only hoping to get one or two of these shades. The lipsticks are retailing for $17 each and the Damn Gina Gloss is going for $15. So, with a purchase of two lip products from the Koko Kollection, you're looking at spending $34, at most.
That's not a bad deal, if you ask me, but there's a bit of a catch. So, if you do want to own all four of these Koko Kollection colors, it'll now cost you $66 instead of the original $40 to get your hands on them. Hey, you win some, you lose some. The good news is, these hues are permanent, so you can take your time shopping them. Even if they go out of stock, they'll be restocked eventually. While this shopping method may not be the best option for your wallet, it certainly is great for your beauty routine.
The individual shopping opportunity could wind up being cheaper for you, it all depends on which ones you're hoping to include in your personal collection.
But, I must say, with colors like these up for grabs, it's going to be hard to choose which one you like the most.
Some people are thrilled to get the chance to buy these hues on their own.
Meanwhile, others are missing that $40 price tag.
1. Damn Gina
Damn Gina Gloss, $15, Kylie Cosmetics
While you sort out how you feel about the matter, you may want to start trying to select which one of these you're going to buy.
2. Khlo$
Khlo$ Matte Liquid Lipstick, $17, Kylie Cosmetics
Then, you may just have to succumb to the fact that you'll buy them all. One paycheck at a time. Because hues like this pink-nude are hard to say no to.
3. Okurrr
Okurrr Matte Liquid Lipstick, $17, Kylie Cosmetics
Your pout will be poppin' with this bright pink shade in your possession. Get it in your cart, ASAP, Okurrr?
4. Gorg
Gorg Matte Liquid Lipstick, $17, Kylie Cosmetics
You can never go wrong with a deep wine color in your personal lipstick line-up. Might as well add this to your virtual shopping bag while you're at it!
Feel free to shop as many shades as you'd like! All four items were in stock on the Kylie Cosmetics website at the time of publication.