You Need Lilly Pulitzer x Starbucks In Your Life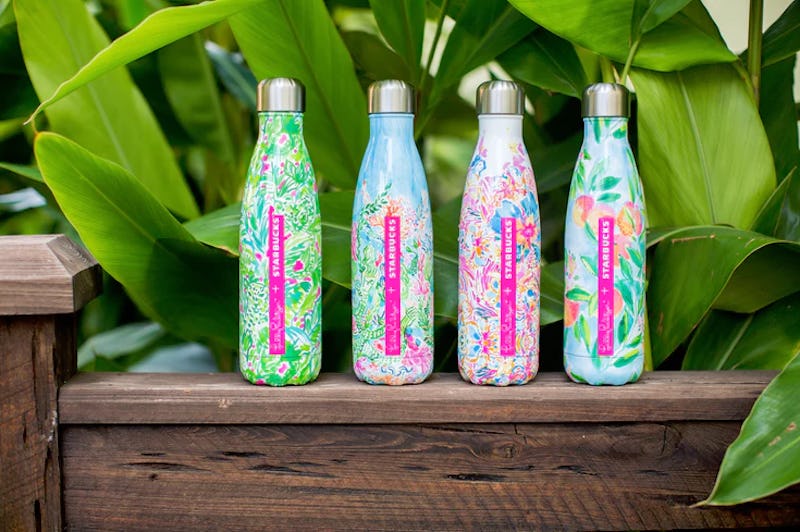 Courtesy Lilly Pulitzer
If you're ready to kick winter to the curb already, join the club! Tiny changes such as bolder colors in your makeup and fun prints in your wardrobe will help you slowly make the transition to spring — then all you'll need is the weather to catch up. If you're looking to change seasons with your accessories, too, then you really need to find out how much the Lilly Pulitzer X Starbucks bottles cost because, yes, in this case, your thermos definitely counts as an accessory. Trust me, there's no better way to continue to carry your hot coffee around than in a boldly colored, spring-ready mug.
The brand that's known for beach-y, put a pep in your step-type prints has teamed up with Starbucks to create S'well bottles that will have you feeling like you're on vacation with each and every sip. The great thing about S'well items is they reduce the use of plastic while effortlessly housing warm or cold beverages. So, even when you are finally able to make the switch back to your one true love — iced coffee — you'll be able to with ease.
According to WWD, the bottles retail for $39.95, but consider what you're getting here. According to the Lilly Pulitzer website, with this purchase, you'll receive a limited edition product with a hand painted, never-before-seen print which can hold all of your beverages (everything from coffee to colada). Not to mention, the designs are gorgeous. Are they worth the money? You betcha!
Aren't these beautiful? According to the Lilly Pulitzer website, you can shop these in participating Starbucks stores beginning Feb. 15 and online at the Starbucks website later in the spring. You can also enter to win a bottle through Mar. 1.
Each print is oh-so perfect for warm weather!
Not to mention, the designs were originally painted by hand, which only makes them more special.
According to Twitter, these are selling quickly from their locations, so if you're able to get your hands on one, consider yourself accomplished!
If they're sold out at a Starbucks near you, here's to hoping for a restock soon! Although, you can always look for them online, too. According to Lilly Pulitzer's website, if you sign up for their emails, you'll be the first to know the exact date to expect them to go live on the Starbucks website.
One way or another, you've got to get your hands on these!