Princess Eugenie's Wedding Dress Is Way More Expensive Than Your Average Bride's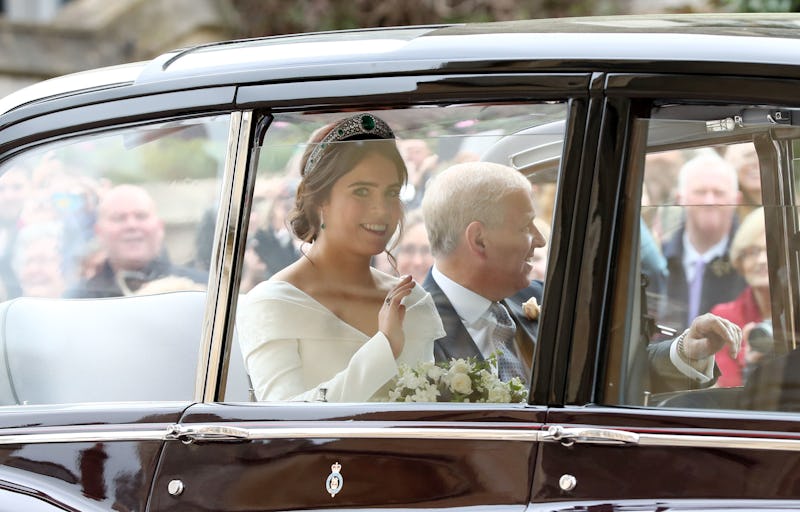 WPA Pool/Getty Images Entertainment/Getty Images
Two royal weddings in one year, means two royal wedding dresses to drool over in a very short space of time. And as fashion fans well know, a royal wedding dress is far from your average bridal gown. They can cost hundreds of thousands of pounds, set bridal trends for years to come, and even have secret messages sewn into them. So what about the second royal to wed this year — Princess Eugenie's wedding dress. How much did it cost and was it actually a princess dress?
Bustle spoke to royal commentator James Elliott Brookes to find out how much Eugenie's Peter Pilotto dress will have cost to design and make. Brookes reckons, given the amount of detail on the low back cream dress, that it will have cost several tens of thousands of pounds as a minimum. He explains: "As the dress's fabric has been custom made and features an intricate weave the cost is likely to be at least in the tens of thousands."
And it could be that the dress is worth even more, as Kate Middleton and Meghan Markle's dresses are rumoured to have cost several hundred thousand pounds. Although Eugenie's is certainly expected to have cost less than that, given her status as a non-working royal.
He also has some clues as to the symbolism of the dress, which like Meghan Markle's, contained some hidden messages. "Although the silhouette is modern, the dress incorporates silk, cotton and a viscose blend and was woven in Italy," Brooks says. "It incorporates plenty of symbols that are meaningful to the couple. There's the Thistle of Scotland - the pair are both fond of The Queen's Balmoral estate there - the shamrock of Ireland to represent Eugenie's maternal family - and of course, the York rose - she is, after all, a Princess of York; just like her grandmother, The Queen, once was.
Eugenie's accessories were certainly fit for a princess, as she wore a tiara loaned to her by her grandmother the Queen, featuring a large emerald at the centre and shoes by designer Charlotte Olympia.
While Eugenie's dress will be beyond the price range of most modern brides, it's likely that it will spark a series of copycats, as Markle's did earlier this year. So if you fancy recreating her elegant look for your big day, chances are the high street will give you a helping hand soon enough.
Shortly after Meghan and Harry's big day, Missguided brought out a £35 white dress that looked uncannily like Meghan's classic boat-necked gown. And those who preferred her Stella McCartney evening ensemble weren't left out either, as Boohoo launched a £22 white dress with a halter neck and side-slit that looked almost identical.
Although the Eugenie effect probably isn't as significant as the Meghan or Kate effect, her dress is still likely to be pinned to Pinterest boards up and down the land and provide plenty of Autumn wedding inspiration for brides everywhere.
And it's not the only outfit fashion fans will get to enjoy over the course of Princess Eugenie's wedding weekend. As well as the main ceremony on Friday, she and fiancé Jack Brooksbank will host a festival complete with fairgound and afternoon tea on the Saturday. Whatever the bride ends up wearing, I reckon it'll be a lot more elegant than my go-to Glastonbury look. And I highly doubt the Queen will be wearing wellies. Although she has been known to don a pair while walking her dogs on her country estates.
The festival after-party isn't the only break with tradition Eugenie is making on her big day, she and Brooksbank opted to make their celebrations entirely plastic free due to her strong environmental stance, which led many royal watchers to predict her dress would be made by environmentally-friendly designer Stella McCartney. Well, I guess everyone gets it wrong sometimes...