How Much Did The Obamas Make On Their Book Deal?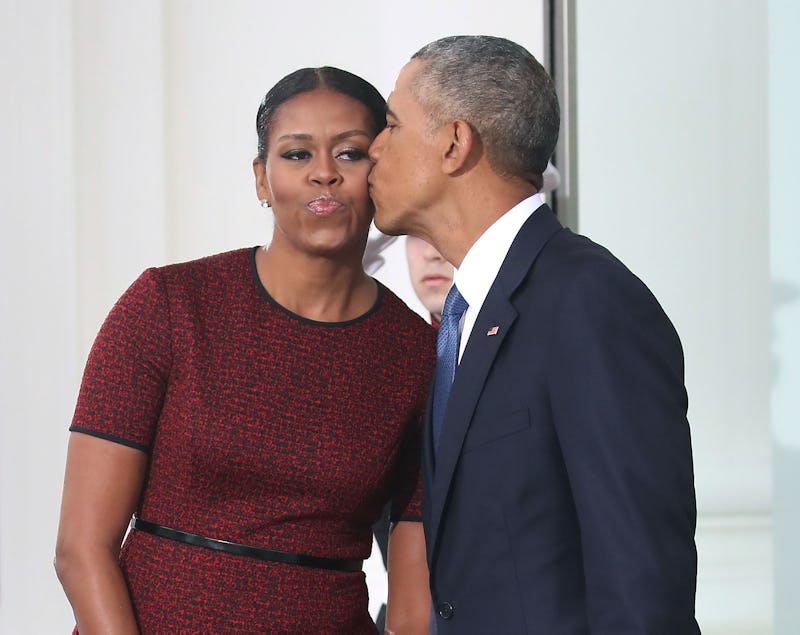 Mark Wilson/Getty Images News/Getty Images
The book world has waited with bated breath to learn which of the major publishing houses would win the bidding war for Barack and Michelle Obama's post-presidency books, and now one of the Big Five has come out on top. How much did the Obamas make on their book deal? Penguin Random House has not disclosed an exact number, but it's reportedly a record-setter that's more than $65 million, according to the Financial Times.
The former First Family have a previous relationship with Penguin Random House, whose Crown imprint published Barack Obama's The Audacity of Hope and Michelle Obama's American Green. The Obamas' post-presidency books — which may or may not be memoirs — were auctioned together in an unusual move. Penguin Random House is not required to publish the books under the same imprint, however, and The New York Times notes that releasing Barack and Michelle's books under different divisions may "help the company absorb the cost of a large advance."
Recent POTUSes and FLOTUSes have received advances somewhere in the vicinity of $10 million for their post-presidency books. The Financial Times reported Tuesday that bidding exceeded $65 million for the two books. According to The New York Times, "opening offers for Mr. Obama's book alone were in the $18 million to $20 million range," and "publishing industry executives with knowledge of the bidding process said [the deal] probably stretched well into eight figures." In addition to the large advance, Penguin Random House will "donate one million books in the Obama family's name to First Book ... and Open eBooks."
No titles or publication dates for the Obamas' post-presidency books have been announced at this time.