We Need To Crush The Myth That DACA Recipients Don't Pay Taxes
by Priscilla Totiyapungprasert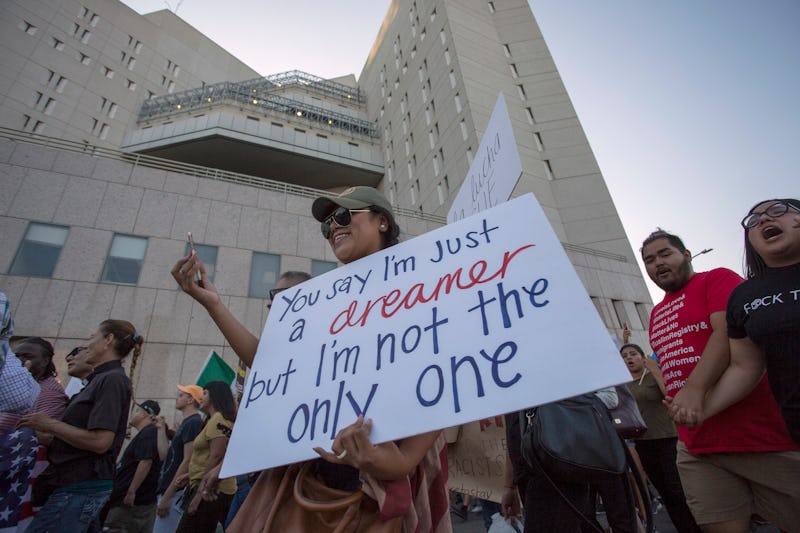 David McNew/Getty Images News/Getty Images
The Trump administration announced earlier this week its intention to scrap the DACA program, which protects young immigrants brought to the United States without documentation from deportation. Some who side with Trump's action argue that DACA provides benefits to undocumented immigrants — benefits reserved for tax-paying American citizens. Research and hard evidence, however, have debunked the myth that only American citizens pay taxes. Undocumented immigrants, including dreamers, pay taxes, too.
A total of 1.3 million young undocumented immigrants who are enrolled or eligible for DACA contribute $2 billion a year in taxes, state and local, according to the Institute of Taxation and Economic Policy. This includes personal income, property, and sales taxes. One such DACA recipient, Belén Sisa, caught widespread attention online after the dreamer posted a photo of her tax return. Sisa, a political science student at Arizona State University, was born in Argentina and entered the United States on a visitor visa with her parents when she was 6 years old, but the family overstayed their visas. Sisa told CNN this is her fourth year filing tax returns.
More than 75 percent of DACA permit holders are employed and despite their tax contributions, dreamers are not necessarily eligible for the benefits their tax money goes toward. For example, DACA recipients are not eligible for Obamacare or Medicaid.
Overall, undocumented immigrants paid $13 billion into the retirement trust fund, but will only receive $1 billion in benefits, the Social Security Administration estimated. Dreamers are also not all getting a free ride to college, as some claim. Undocumented college students, DACA or not, are not eligible for federal financial aid. Some states allow them them to pay in-state tuition and a few offer state-sponsored aid. At least seven states prohibit undocumented immigrants from attending college as residents, and some private institutions enroll them as international students where they must pay international tuition.
DACA, which stands for Deferred Action for Childhood Arrivals, will remain in place for six months while it goes to Congress. In its current state, the Obama-era policy grants undocumented immigrants who entered the country as children a renewable two-year period of deferred action from deportation and eligibility for a work permit. Congress now has to pass new laws that will help DACA hold up in court. Trump tweeted he would revisit the issue should Congress be unable to legalize DACA. Members of both parties, including House Speaker Paul Ryan, have expressed support for keeping DACA.