Here's What A Day Of Training Actually Looks Like For An Olympic Athlete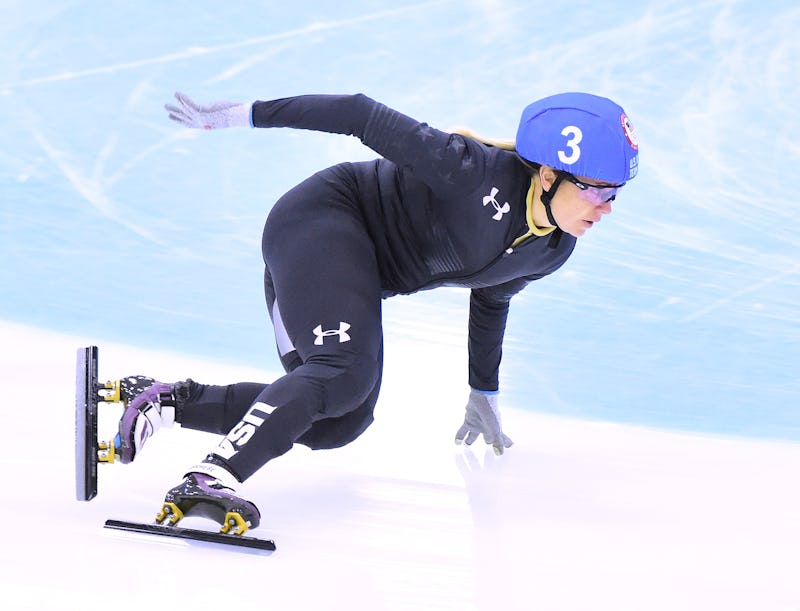 Harry How/Getty Images Sport/Getty Images
Even as a viewer, I can't help but think of the Olympics as a serious commitment. For more than two weeks every two years, I'm hooked to prime time, mentally logging when I can watch which events and noting which of the competitions I might need to stream quietly behind my work screens during the day. I'm under no illusions that this is actually difficult. Instead, it's just additional perspective about how much dedication must be demanded of the actual athletes during the Games. These people are total champs, and they work hard for the bodies and results that they get. You already know how much TV you watch over the course of a single Olympics day (at least, I do), but how much do Olympic athletes train in a 24-hour period?
The answer, in short, is a lot.
When your favorite competitors hit the scene in South Korea on Feb. 9, you can be sure they will have prepared to be at the top of their game. And when you hear all the details about their grueling workout schedules (more on that to come), it will be even harder for you to believe that some of these Olympic-level superhumans aren't even paid for their daily training.
Of course, no two routines are the same. Canadian Olympic skier Sara Renner told Weight Watchers that a typical tough training week for her entails about 25 hours of practice, or approximately three to four hours each day. While most of the hours are completed skiing at "a pace where conversation is possible," that's still a whole lot of time on the slopes. On many days, Renner trains twice, and her workouts alternate between weight training sessions and actual skiing time.
Short track speed skater Jessica Kooreman will make her second Team USA Olympic appearance next month in South Korea. Even in the off-season, she told Shape that she trains six days a week, for eight hours each day. She calls this schedule "one a day workouts." (Hilarious.) As she nears big competitions, Kooreman will add a second daily session into the mix, focusing more on weight training and time on the ice.
American Figure skater Ashley Wagner — who fell short of making the 2018 Olympic team but added a bronze medal from the 2014 Sochi Games to her impressive collection of national and international hardware — gave Elle some insight into her Sochi preparation schedule. "I train four hours on the ice, [followed by] off-ice training, working out, yoga, and maybe something fun like a hike or paddle boarding," she said. The fact that Wagner won't be appearing in PyeongChang certainly can't be blamed on a lack of time, training, or dedication!
Obviously, preparing for the Olympics isn't solely a numbers game, so simply loading up on hours in the gym isn't the only key to success in competition. Training strategy is also important, and athletes need to incorporate a variety of activities — not just constantly practicing their specific event — into their Games prep, per VeryWell. Competitors who participate in events on the snow or ice (so, pretty much all of them) typically build in time for "dryland training": agility drills, rollerblading, cycling, stair running workouts, plyometrics, and more.
Nutrition is key for supporting these training activities too. All hardcore athletes need to ensure that they're taking in adequate nutrition — Olympic rower Esther Lofgren's 24-hour meal diary on HuffPost is an impressive line-up of foods heavy in omega-3s, anitoxidants, and protein — but winter athletes have some special circumstances. Per U.S. News, the high altitudes and cold temperatures that we see in locations like PyeongChang require nutritional consideration. Higher altitudes can cause dehydration and a dip in energy, a combo that nutritionists combat with sports drinks. More carbs are needed in colder climates, since extended periods of shivering burns them up faster and depletes glycogen stores. Sounds to me like a good excuse for hot chocolate!
No matter how you look at it, these athletes are incredible, but the time they devote to their sport of choice is especially impressive. I, for one, will keep that in mind come February when I'm starting to feel stressed about how late I'll need to stay up in order to catch the figure skating final.