Arie Could Be Making Bank Giving Out Roses On 'The Bachelor'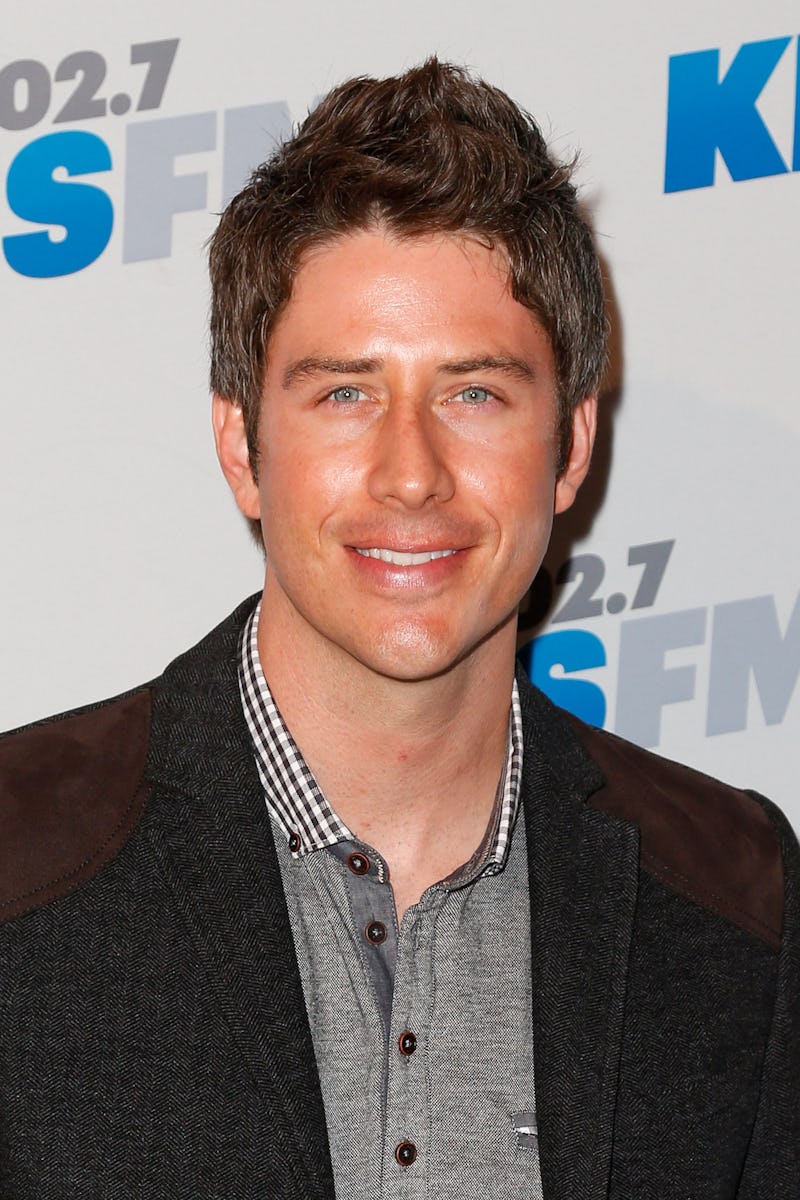 Imeh Akpanudosen/Getty Images Entertainment/Getty Images
Going on national television to find the love of your life sounds like a stretch, but stranger things have happened. And since The Bachelor franchise has produced a handful of strong, happy couples, who am I to judge? (Just kidding. I'm going to judge, for sure.) But since Bachelors and Bachelorettes put their entire lives on hold so that they can seek love on national television, there has to be some money involved, yeah? How much does Arie Luyendyk Jr. make for The Bachelor? Bustle previously reached out to ABC about Bachelor payment, and the network gave no comment.
The position actually is not as lucrative as you might think, and the final number depends on the person at hand and what they're able to negotiate. As far as I can find, there's no set amount that a person gets paid to be the Bachelor or the Bachelorette. According to WetPaint, Emily Maynard may have earned a reported $250,000 for being the Bachelorette (which is the season that introduced the world to Arie, just as an FYI). Ashley Hebert, Us Weekly pointed out, could have only made $30,000 for her time on The Bachelorette. Reality Steve said otherwise on that one, speculating that Ashley made six figures instead (which is a heck of a lot better). HollywoodLife claimed that Sean Lowe only made $90,000 to be the Bachelor, so you see, there's quite the discrepancy here. Since Arie is returning to the franchise and hopefully bringing some fans, I'm going to assume he's making a six-figure income for his time on The Bachelor.
And besides, it's not just about the money that you make on the show — it's about the endorsements, appearances, and sponsorships you get after the roses have all been doled out. Before the days of social media, it was all about appearances and talk shows, but now, former Bachelors, Bachelorettes, and their contestants make millions selling things on Instagram. Jade and Tanner Tolbert made a cool million bucks shilling teeth whitening trays and Hello Fresh boxes on Instagram in 2016, per Us Weekly, and they haven't stopped yet. If you have the audience, why wouldn't you partner with brands? You have the followers and exposure, and they have the cash. It's a very, very easy way to make money. And then, of course, you can get your own spinoff show, just like Ben Higgins and Lauren Bushnell did. The opportunity to cash in on The Bachelor is boundless — you just have to know how to corral it.
Interesting to note, though, is that while the Bachelors and Bachelorettes bring in paychecks to helm the show, the contestants don't get anything. They also give up their lives and jobs and relationships, and there is nothing at the end of the rainbow for them, except a 1-in-30 shot at love. They don't even get clothes out of the deal. According to Cary Fetman, a stylist that's worked on The Bachelor for nearly 15 years, the contestants don't get any help dressing themselves for rose ceremonies. They get a packing list, but at least in the case of the ladies, they have to bring a different outfit or dress for every rose ceremony. Olivia Caridi said on Ben Higgins' season of The Bachelor that she spent $40,000 on clothes, which would be bananas, but not unheard of if you bought every dress full-price for every rose ceremony. If you make it to the final two, Feter says, ABC will pick up your dress for you, but that's all the help you get. Talk about a financial drain!
Clearly, the scales are tipped toward the Bachelor or Bachelorette — after all, they're the person who is in charge of things and they're the person who the audience is tuning in to see. But don't you think, after all that hassle, the contestants deserve a little something?
While Arie's payday for The Bachelor is under wraps for now, I'm thinking he should be sharing some with the women that are going through a once-in-a-lifetime journey with him.