This Is How Much Caroline Flack's Engagement Ring Would Set You Back & OMG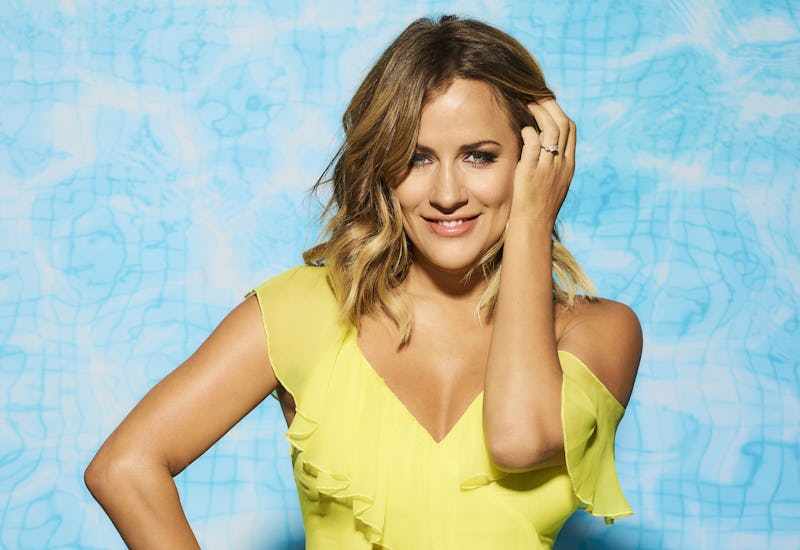 ITV/REX/Shutterstock
When you inevitably sit down to watch Love Island next week, it'll be hard not to notice the big rock adorning Caroline Flack's finger. The presenter announced her engagement to fiancé Andrew Brady in April, showing her ring off on Instagram. But the million dollar question is, just how much is Flack's engagement ring worth?
The 38-year-old star was proposed to with a engagement ring that contained three round diamonds. Also known as a trinity or trilogy ring, they are often chosen to symbolise the past, present, and future of a relationship. Alternatively, they can also be used to represent friendship, love, and fidelity.
It's unclear whether 27-year-old Brady, who is best known for starring on The Apprentice and Celebrity Big Brother, designed the ring himself or chose it from a jewellery store. Despite the couple's celebrity status, a diamond expert has revealed that the ring perhaps isn't as expensive as it looks. In fact, it's a downright clever choice.
"Choosing a three stone setting is a great way to boost the carat weight of a ring and get more for your money," Ringspo's jewellery expert Alastair Smith tells me. "Instead of paying for one large diamond, Andrew Brady has chosen three smaller diamonds which may add up to a significant carat weight, but which will be considerably less expensive than a single diamond of the same weight."
Apart from her initial Instagram post, the only good shots of Flack's ring have come from this year's official Love Island photos. Judging from these images, Smith believes that the presenter's central diamond is around 0.7 carats with the two on the side weighing 0.4 carats each. "With top quality diamonds, this would have cost around £5,500 for the diamonds," he says.
However, this doesn't take into account the band of the ring. Smith says that it's hard to tell whether the setting is white gold or platinum but estimates that the total cost of the ring is around £6,500.
According to a recent survey by William May, the average British person spends £1,471 on an engagement ring. This makes Flack's ring much more expensive than your everyday design, but it's relatively modest compared to the average cost of a celebrity engagement ring, which 77 Diamonds reports stood at £1 million in 2016.
Three-diamond engagement rings are set to be more popular than ever this year thanks to another A-list endorsement. Prince Harry designed a trilogy ring for Meghan Markle. Made up of a diamond from Botswana and two taken from a brooch belonging to Princess Diana, the former actresses' rock is said to be "priceless". A number of other famous faces, including Salma Hayek and Nicole Kidman, were also proposed to with three stone rings.
Back to Flack. The TV presenter has endured plenty of scrutiny around her engagement to Brady. The pair announced their plan to wed after three months of dating, prompting Twitter to question Brady's motives. However, the couple are clearly very happy together.
Flack opened up about the proposal in May, telling YOU Magazine that "it was totally out of the blue and very low key. I had no idea he was planning on asking me to marry him! But I knew things felt different in the lead-up; from the very first date with Andrew I felt as though I'd known him for years. I've never had that feeling before."
Although she's gearing up for a wedding, Flack told Lorraine Kelly on her ITV chat show that she won't be "smug" towards the upcoming Love Island contestants. "It does feel nice, but I still don't think I'm qualified to give any advice, not from me," she added. "I can just be someone they can talk to."
Perhaps the islanders will take inspiration from Flack's snappy engagement. Brace yourselves for a Love Island wedding, everyone.
The fourth series of Love Island will start on ITV2, June 4 at 9 p.m.