Everlane's New Bag Had A 17,000-Person Waiting List — And There's A Big Reason Why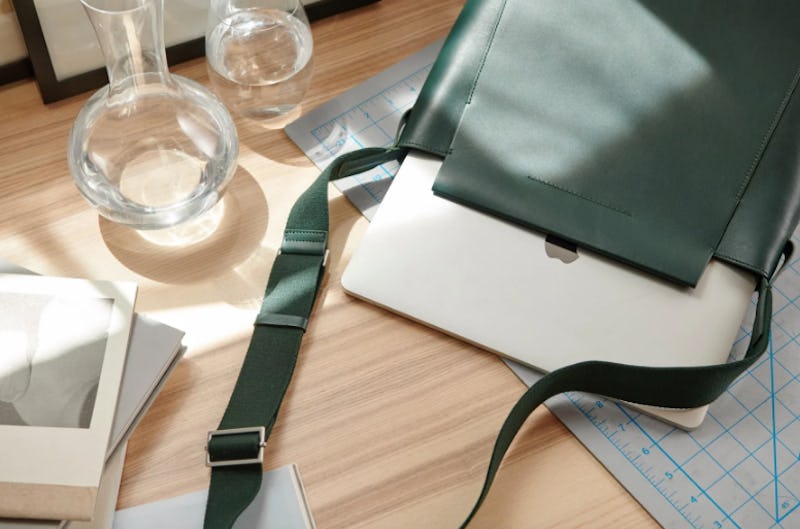 Courtesy Everlane
Once and a while an item comes around that is so great, just about everyone takes notice. This is that time. Everlane's new Form Bag had a 17,000 person wait list before it even launched, and for a good reason. The versatile bag is available right now, but there's a good chance that it won't be in stock for long.
There's a reason why Everlane's Form Bag caught 17,000 peoples' eyes. To start, it was made with style and function in mind. While some bags say that, this brand means it. The zipper-free bag is sleek and elegant, while still being large enough to hold everything you need for the day — including your laptop. The bag also has an adjustable strap that makes it easy to go from crossbody to handbag.
"What if your most beautiful bag were also your most functional?," the Everlane website reads. "That's what we set out to do with our new Form Bag. Handcrafted in Italy with no detail spared— finally, form actually meets function."
You don't have to wait in a 17,000 person-long line to get your hands on the bag though. The Form Bag is available on the Everlane website right now. It comes in black, cognac, and dark green and is $235.
While that's not exactly the most affordable bag on the block, this is not your average bag. It's super versatile, matches just about every outfit, and is made of sustainable materials. Don't just take the website word for it though. Everlane asked TyLynn Nguyen — friend, fashion entrepreneur, and mother — to test out the bag.
"I love that this bag fits all of my work stuff—laptop included—but doesn't look like a work bag," Nguyen says on the website. "Even when I'm running around, I never have to worry about anything falling out—that's huge."
The bag is 100 percent Italian leather and was made in Florence, Italy, according to the website. There's an interior pocket, magnetic closure, and fits a 13" laptop perfectly. So you can have everything you need as you're running around town.
If you're not familiar with the brand, here's the rundown. Everlane prides itself on exceptional quality, ethical factories, and radical transparency, according to the website. You can actually see inside the exact factory that made the Form Bag. Just like the bag, this company goes above and beyond to do more for its customer.
Because of its 17,000 person waitlist, the Form Bag is now at the same status as the Everlane Day Market Tote. The bag is also a favorite — and often sold out — item on the brand's website. Meghan Markle and Angelina Jolie have been seen carrying the previous launch.
Basically, if you want to get your hands on the Form Bag, you're going to want to do it soon. Wile it is a permanent part of the Everlane website, there are a lot of people dying to get their hands on it. There's no telling how fast this bag will sell out — or when it will be restocked for that matter.