Kim Kardashian's Ultra Light Beam Collection Is Her Most Affordable Launch Yet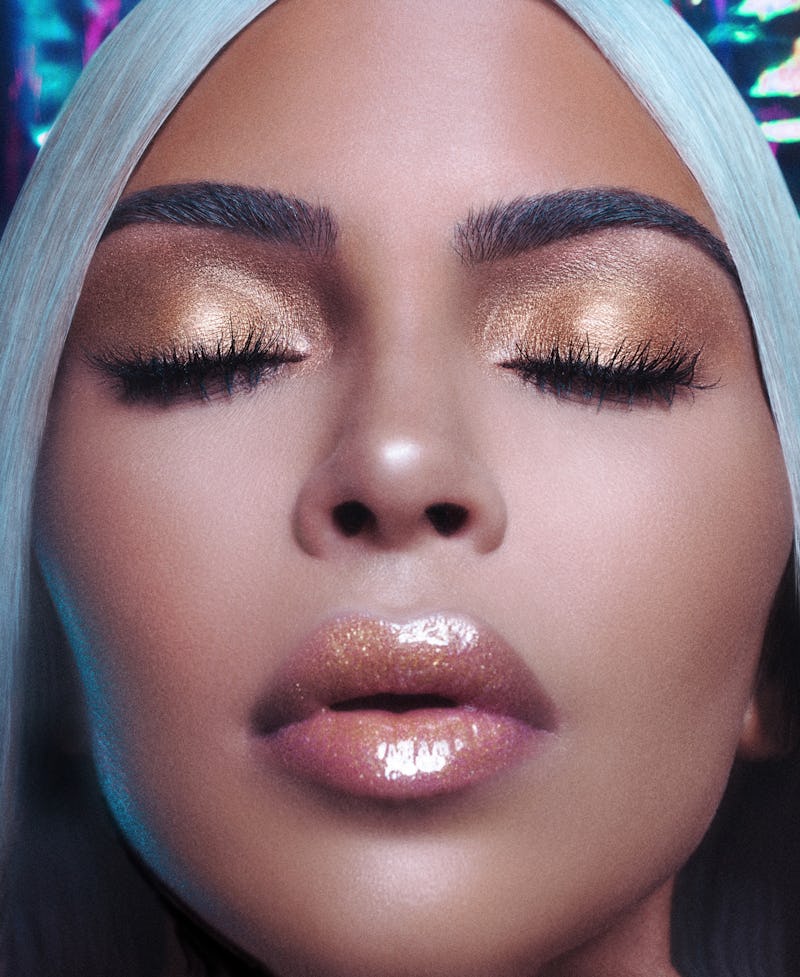 Courtesy of KKW Beauty
Another exciting KKW Beauty launch means your hard-earned coins aren't going to be safe. Kim Kardashian West's eponymous makeup brand is launching an Ultra Light Beam Collection, featuring some of the glitziest lippies and highlighting pigments to hit the market.
Hate it or love it, Kim K always slays. The KUWTK star turned beauty brand owner has only been selling KKW Beauty products for a few months now, and she's already had several successful product launches. Next on her to-do list is taking the beauty sphere by storm with five new ultra-shimmery glosses and loose glitter powders to match.
Swatches of KKW Beauty's Ultra Light Beams Duos are way too glitzy for words. They're the rose gold and bronzey shimmers beauty lovers needed as of yesterday. It's so hard to pick a favorite lip and cheek enhancer from the bunch, so you're probably going to want them all. Luckily, the duos won't cost you an arm and a leg.
Kardashian's cheapest line to date, the highlighter-lip gloss combos have a $32 price tag. That's quite a steal compared to her $45 liquid lippies, and $50 highlighting and contouring kits. With a product this stunning and an amazing price to match, it's going to be hard to resit snatching up the entire collection.
The Iridescent duo features an opalescent pearl lippie and frosty highlighter, the ultimate pair for shimmer that'll give you chills.
A light gold with the prettiest specs, this Gold pair will deliver the glitziest glow.
There's so much to love about this high-shine Rose Gold gloss. And the highlighting powder of the same hue is to die for.
The Bronze duo will likely be a fan favorite. Prepare to get the ultimate glow on with these warm golden beauties.
The only thing that could make this Copper lip gloss even better is a reddish-gold pigment to top it off. This duo is truly stunning. But really, aren't they all?
If the glitzy color selection doesn't do it for you, the endless possibilities of how you can use each product may just blow your mind.
Use the Ultra Light Beam Glosses alone to transform your pout into a shimmering spectacle. Or maybe go a little crazy by topping your favorite lipstick with KKW Beauty's gloss to give it beautiful dimension.
The glittery loose powders are even more multi-purpose. Use them alone or with your favorite highlighter to give your cheekbones and the high points of your face a glow so blinding it hurts. But it doesn't stop there.
Combined with mixing medium or water, the Ultra Light Beam Powders can double as metallic eyeshadows. You can even apply them all over as body shimmers, so there's no need to restrict them to your facade. Layering them over the high-shine glosses is always an ultra-glam option, too.
If you're wowed by every single thing in Kardashian's soon-to-be-released launch, the Collector's Edition Set, featuring all ten products in one convenient kit, can all be yours.
But this is KKW Beauty we're talking about here, so expect the entire collection to come with a hefty price tag. It'll cost you 160 smackaroos, to be exact. All of the glitzy goodness just might be worth shelling out the big bucks, though.
It goes without saying that Kim K has done it once again. She's clearly on a mission to show up every other beauty brand, including little sis Kylie Jenner's uber popular cosmetics company.
If you're hoping to get your hands on the goods, you'll want to be on your P's and Q's come 3 p.m. ET/ noon PT on Dec 1. Kim K's beauty products have a tendency to sell out fast AF — and these gorgeous duos are going to be no exception.