This Lippie Is Like Your Favorite '90s Lip Gloss & A Mood Ring Had A Baby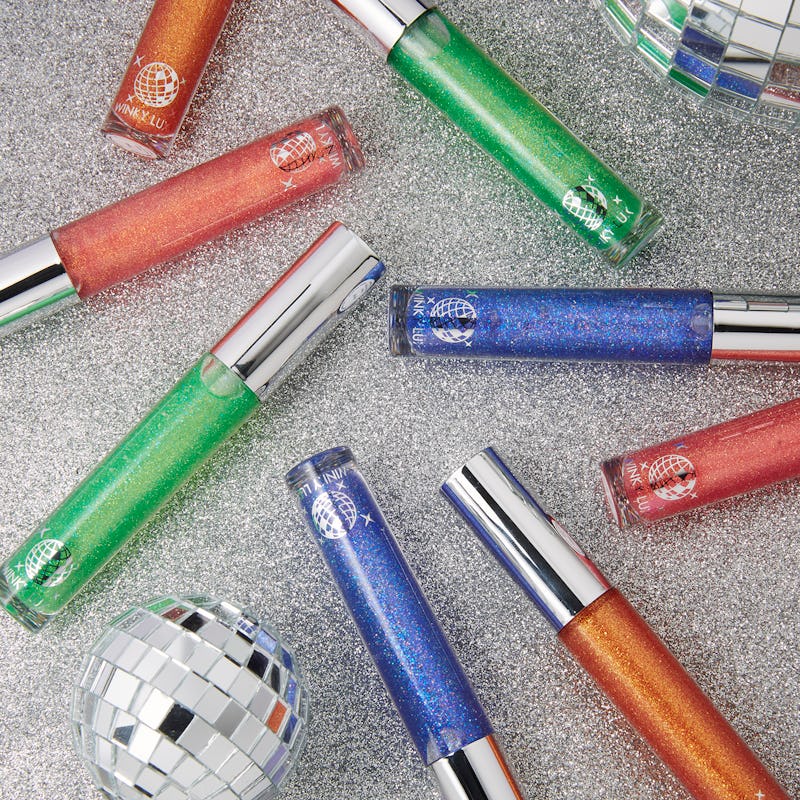 Courtesy Winky Lux
There's nothing more '90s nostalgic than a heavy gloss and mood rings. Well, this product is all of that in one — sort of. Winky Lux's Disco Kitten Gloss changes colors as it sits on your lips. You know, so you can get your perfect color every single time. The pH balanced gloss is like your favorite throwback, but so much better.
The best part about growing up is finding beauty products that you used to love as a child. Winky Lux knows that, so it created the Disco Kitten Gloss. it goes on clear, no matter which shade you buy, and turns into your perfect pink right before your eyes.
According to the brand, the gloss will be available on the Winky Lux website on May 30 at 4pm EST, so you can have it all summer long.
Each shade will come in four different colors — orange, pink, blue, and green. No matter which one you get, you'll get your perfect pink though. That's not all you'll get, either. According to the brand, each gloss is "loaded with cosmic glitter." Basically it's everything that your favorite '90s gloss is, but so much more.
It comes in a clear twist-top tube, so you and all of your friends can see the glitter inside. Get your jelly shoes ready, because it's pretty much the '90s all over again.
There is one big difference between this gloss and the one you used to carry around in your mini handbag in the '90s — the price. This isn't you average $2 Lip Smackers, my friends. The Disco Kitty Gloss is $14 per tube. That's right smack dab in-between high-end and drugstore, so you're going to want to stock up.
One little ingredient makes the lip product go from clear to pink. According to Marie Claire, it's all because of "Red 27, a synthetic dye that reacts to the pH of your lips and accounts for the variation of color from person to person." This is far from the first pH-balancing lip tint, but it's deifnitely one of the most '90s out there.
You'll be able to stock up on as many as you want from the brand while they're still around. Although it's not branded as a limited edition item, this product won't be around for forever. You know what won't go out of style though? Finding the perfect pink for your lips. Winky Lux just made it easier to find.
This isn't the first time that the brand has launched a pH product, either. The very first color-changing product from the brand was the Flower Balm Lipstick. The brand created the perfect pink lipstick shade that looked clear, but reacted when it went on the lips. The lipstick has a little flower inside the gel, as the name suggests.
You can actually still shop the Flower Balm right now on the Winky Lux website. So you can stock up on both color changing products while you're shopping. Just like the new addition, the Flower Balm is also $14 per tube. That's a small price to pay for all the magic that goes on inside the tube. Of course, it also comes in the signature Winky Lux pill-shaped packaging.
The difference between Flower Bomb and Disco Kitty is, well, the application for one. While one is a bullet-shaped tube, the other is a gloss that goes on with an applicator. There's also the finish. Disco Kitty is a whole lot more wet-looking. Not to mention that it also has glitter in it.
The beauty world is a wonderful place, my friends. There are new creations every single day, so you might as well as embrace it while you can.