What Melania Trump & Michelle Obama Pay For Clothes Says So Much About Their Style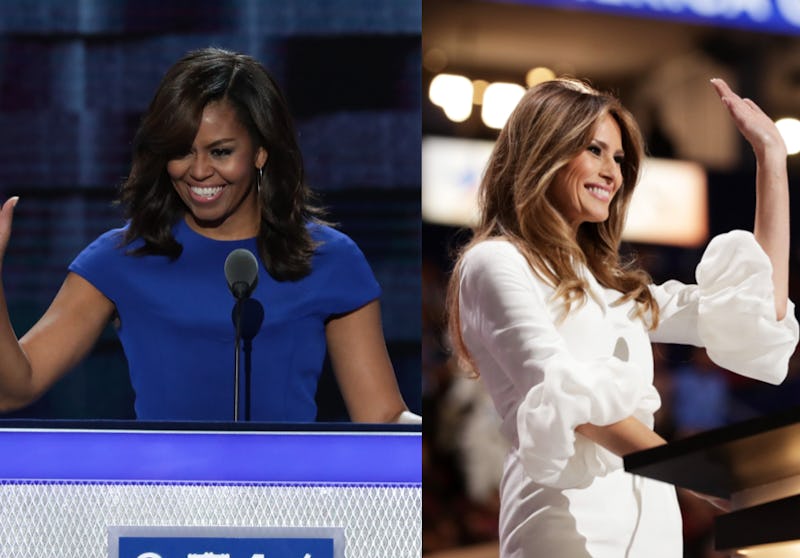 Chip Somodevilla; Alex Wong/Getty Images News/Getty Images
For better or for worse, Americans love to pay attention to the fashion choices of first ladies of the United States. And with that attention has come criticism when first ladies' wardrobes are particularly expensive, or controversial in any way. If you're wondering how much Melania Trump vs. Michelle Obama pays for clothes, you might not be surprised to find out their wardrobes don't seem to look much alike.
That doesn't mean they don't overlap at all, though. For example, both Melania and Michelle have worn Christian Louboutin heels before, which tend to cost over $600. But in general, reports suggest Melania has worn much more expensive outfits than Michelle did during her years as first lady.
Comparing what the two women wore at the Democratic and Republican National Conventions in 2016 is especially telling. Melania reportedly dressed in a $2,190 Roksanda dress, while Michelle picked out a $995 Christian Siriano dress. In fact, Melania has gained a reputation for high glamour, and for some especially luxurious outfits, like the $51,500 Dolce and Gabbana outfit she wore to the G-7 Summit in Italy last May. To put it into perspective, Michelle wore a $474 outfit from J. Crew to the G-20 Summit.
It's worth noting that the outfit of the first lady is not a government expense. Additionally, first ladies are rarely "gifted" with clothing. Rather, first ladies are free to select and work with various designers that they choose, often as a means to perpetuate those designers' various brands. And more often than not, they're paying for their clothing out of pocket.
Perhaps another way that Michelle's and Melania's fashion choices differentiate is within their intentions: during her time as first lady, Michelle was known for championing young designers, prioritizing American designers of color, specifically. Some designers she selected included Tracy Reese, Thakoon, and Mimi Plange.
In contrast, Melania's thought process when deciding her outfits was largely unknown, until she finally gave some insight on her fashion choices in a rare sit-down interview with ABC News. Melania said of her often criticized fashion decisions, "I would prefer they would focus on what I do and on my initiatives than what I wear."
With that said, she also admitted that she has, in the past, worn outfits with the specific intention of delivering a message to the media and the American people. Most notably, that includes the jacket she wore in the midst of her husband's controversial family separation crisis. It read, "I Really Don't Care. Do U?" Of that jacket (which was from Zara), Melania said, it was "kind of a message, yes."
She continued, "It's obvious I didn't wear that jacket for the children ... It was for the people and for the left-wing media who are criticizing me. I want to show them that I don't care. You could criticize whatever you want to say. But it will not stop me to do what feels right."
This represents a huge shift from previous statements, in which her spokesperson claimed there was "no message at all." Given how high profile a first lady's outings usually are, it's justified to assume that every outfit is intentional and planned. And so far, Melania and Michelle have chosen to send much different messages through them.