How These National Organizations Want You To Beat Trump's Policies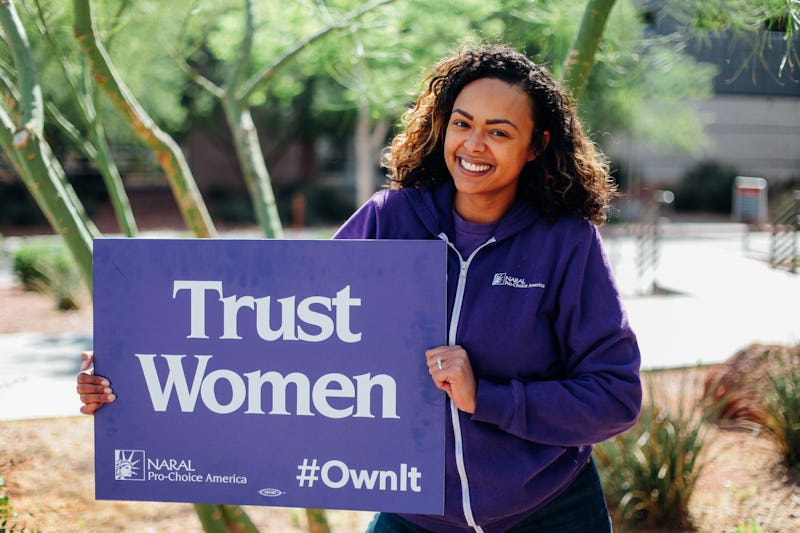 Courtesy of NARAL
Trump's 100th day in office has passed — but in the grand scheme of things, 100 days is hardly any time at all. There are more than 1,300 days left in this presidency, and that's only if he's not re-elected. You're probably thinking about how overwhelming that number seems. However, in this fight, it's about taking things one step at a time. Three renowned national organizations — two that advocate for reproductive rights and one that fights for the environment — are pushing for you to stay local in your effort to resist Trump.
The American Civil Liberties Union (ACLU), NARAL pro-choice America, and the Environmental Defense Fund (EDF) know better than anyone what it means to have their work cut out for them. Between signing the global gag order, allowing states to withhold Title X family planning funds from facilities that offer abortions, toying with the idea of pulling out of the landmark Paris Climate Deal, and prioritizing deregulation over environmental protection, Trump has made it his mission to dismantle both abortion rights and efforts to address climate change.
But in the midst of the political craziness coming out of D.C., don't forget to pay attention to what's happening in your own backyard. Trump's policies matter — there's no doubt about that — but so does the way you help shape your local community. These national organizations are here to help you tune into what you can do in the present moment.
The ACLU
One of those organizations is the ACLU, which is known for diligently defending individual rights as they apply to abortion, LGBTQ issues, voting, immigration, and race, among other topics. In particular, its Reproductive Freedom Project works to ensure that abortion, women's healthcare, and contraception are accessible to all Americans, and it litigates major court cases to do so.
"I come to work every day because I have faith that all of us together can make real change."
Brigitte Amiri, the ACLU Reproductive Freedom Project's senior staff attorney, tells Bustle that since 2010, states have "quietly passed over 300 laws that restrict access to abortion," a statistic confirmed by the Guttmacher Institute. Needless to say, these 300 or so pieces of legislation add up to a daunting number of restrictions. Attempting to keep track of each of them — as well as every future state law that limits abortion availability — would be exhausting, if not nearly impossible. But advocating for greater abortion access or contraception access in your own hometown is a different story.
Influencing local legislation isn't just immediately achievable — it's also incredibly crucial. Individual states, Amiri explains, are intentionally leading a "quiet campaign" that gradually chips away at the right to abortion. Oftentimes, these anti-choice campaigns result in the passing of TRAP laws, or targeted restrictions on abortion providers. Socially conservative lawmakers claim these laws are put in place to protect women, but neglect to mention the fact that legal abortion is safer than childbirth, according to a longterm study by the CDC.
On top of TRAP laws, certain states force women to undergo a waiting period before having an abortion or even ban abortion altogether after the 20-week mark. There are at least seven states that have only a single abortion clinic, likely because of these various restrictions.
"Sometimes it feels like it's incremental progress or it's two steps forward and one step back, but I've been doing this work here at the ACLU for almost 12 years," Amiri says. "I come to work every day because I have faith that all of us together can make real change."
Being inspired by the change you are able to bring about in your own local community is key to maintaining that hope. And it makes the end goal of empowering women to make their own reproductive choices seem that much more tangible.
Keeping up-to-date with the abortion restrictions your state may be considering is key to resisting. "We [the ACLU] will be sending out actions periodically in terms of fighting back against restrictions on access to abortion and contraception," Amiri mentions. You can sign up to become an ACLU Action supporter via the organization's website.
NARAL Pro-Choice America
Similarly, NARAL is committed to improving abortion access in the United States. Electra Skrzydlewski became NARAL Pro-Choice's organizing director in Nevada in July 2016. The fact that 88 percent of Nevada counties do not have an abortion clinic, according to the Guttmacher Institute, proves that even states with majority pro-choice legislators won't enact change unless it's heavily demanded of them.
"Our movement didn't start with this election, and it certainly wasn't going to end with it."
"So, there are a number of progressive groups that are working in coalition to make sure that we're asking for the moon with the hopes that political bargaining and negotiation, as is always the case, will get us the best deal," Skrzydlewski explains to Bustle. For example, she is currently working on convincing the Nevada legislature to ensure pregnancy accommodations and offer 12 months' worth of contraceptives at once. To achieve this, she's "bringing new activists into the fold" and "training up people to do the work wherever they are." In other words, she's building up an army of pro-choice Nevadans who are willing to demand that their elected lawmakers work for them.
Though Skrzydlewski is naturally concerned by the current administration, she makes the argument that the fight to expand reproductive rights existed in both red and blue states long before Trump even decided to run for office.
"But you know, our movement didn't start with this election, and it certainly wasn't going to end with it," Skrzydlewski says. She continues to dedicate her time to that local movement, where she can speak to individuals face-to-face and perhaps open them up to new perspectives they hadn't considered.
"NARAL is a member-driven organization, and I love that," Skrzydlewski adds. "I love going to the doors and talking to somebody who might be 17 years old who has no idea that they can get involved in this, or someone who is 67 who has been fighting this since they were a teenager." That human-to-human interaction, which holds so many possibilities, is what changes people's minds and helps them gain understanding. But it's not the only way to bring about change in your community.
"Women and men who are ready to fight back can sign up to march or knock on neighbors' doors or call their legislators," Skrzydlewski suggests. "And even if there is no direct avenue for someone to physically participate or take live action, they can always share their story."
She remembers how Ilyse Hogue, NARAL's president, shared her own abortion story on stage at the DNC. Her personal account moved other women to begin discussing their own experiences, no doubt creating a coalition of American women who are willing to stand up for one another's reproductive rights.
EDF
And for Kate Zerrenner, head of the Environmental Defense Fund's Energy-Water Initiatives in Texas, promoting renewable energy — much like pushing for abortion rights — is about approaching the issue piece by piece right in your own backyard.
"We've got midyear elections in two years, so we concentrate on making sure we change the dynamic," Zerrenner explains to Bustle. "And the only way to do that is to be engaged politically, understand what the positions are of the candidates, and volunteer for them, do phone banking, do whatever you need to do."
Like Skrzydlewski, Zerrenner says she faced a challenge in the red state of Texas long before Trump was elected. In fact, simply achieving some form of a renewable energy future in the state might have seemed insurmountable a few short years ago, considering its longtime Republican-dominated legislature. Instead of becoming discouraged, however, Zerrenner approached her goals with one strategy in mind: relating renewable energy to job opportunities and saving money.
"You break it down into doable things."
To her, choosing a strategy and pursuing it step-by-step isn't that unlike her four-year-old daughter putting together a puzzle.
"She said, 'Mommy, it's too hard,' and I said, 'Here's how we do puzzles. We don't look at the whole picture but we break it down by the individual pictures,'" Zerrenner says. "And I think that that lesson is appropriate when you think about how to access climate change, too. You break it down into doable things. It's too overwhelming if you look at the huge big picture."
And it seems as though that approach is proving to be successful thus far, as Texas doubled its solar energy capacity in 2016 and is currently considering ways to make desalination — a method that removes salt and minerals from water to make it drinkable — more efficient.
Aside from electing local officials who care about the environment, Zerrenner also suggests people make small changes to their everyday lives. These changes can involve recycling, simply using energy-efficient lightbulbs, or backing educational policies that teach children how to live more sustainably. After all, Zerrenner mentions, it's the children who oftentimes teach their parents how to be more environmentally friendly. And this gradual transmission of information from one generation to the next — or from one activist to another — should give Americans hope for the future.
Looking at the nation's current state of affairs under Trump can be disappointing, but if you allow yourself to only fixate on that single perspective, you might overlook the women's rights cases the ACLU has won, Nevada's success in flipping both legislative chambers so that they support pro-choice initiatives, or Texas' groundbreaking progress in establishing renewable energy programs.
These local achievements are a reason to keep your chin up, never stop moving forward, and refuse to become discouraged by what seems like a daily barrage of bad news. But positive, uplifting political news does exist — sometimes it's simply up to you to create it in your own community.