New York's Free College Tuition Program Leaves Room For Improvement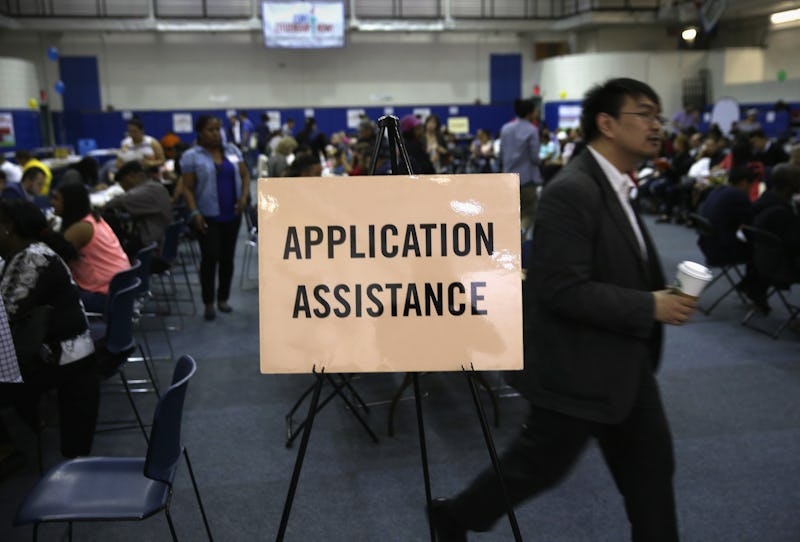 John Moore/Getty Images News/Getty Images
New York state recently passed legislation that would provide free college tuition to many students. The new law will be implemented this fall and is being heralded for its progressiveness. While the law is certainly admirable, there are still many ways in which New York's free college tuition program could be improved, particularly for low-income students.
New York's free college tuition program is referred to as the Excelsior Scholarship and provides state money for students' tuition at all schools in the State University of New York system, which, according to NPR, includes 64 campuses and 1.3 million students. However, while the program covers many schools, there are somewhat stringent requirements about who qualifies for the program, for what expenses state money can be used, and where students must reside after they graduate.
In the first year of the program, students coming from families making less than $100,000 in annual income qualify for aid. However, this aid is considered "last dollar," meaning that students must apply for and use other sources of grant money, including federal Pell Grants, before the Excelsior Scholarship program kicks in. Moreover, money from the program can only be used for tuition itself, not for books, transportation, living expenses, or other typical college costs. Finally, the program requires that students must attend school full-time and graduate in two or four years, depending on whether they are obtaining an associate's or bachelor's degree. It also mandates that, after graduation, they remain in New York for the duration of the time that they received Excelsior Scholarship funds.
While the program is undoubtedly progressive and will likely help many students, it also does leave some students behind. Often, students encounter more financial hardships from college living expenses than from the cost of tuition itself. Unfortunately, those who cannot afford living expenses are still not helped by the Excelsior program. Furthermore, students must attend college full time and cannot take any time off if they wish to utilize the program's funds; thus, working during college is made incredibly challenging if one wishes to use the program. For these reasons, the Excelsior Scholarship seems geared toward those who can afford college living expenses without working during the time that they are in school.
Moreover, the program's aid requirements and income caps also put restrictions on students. The notion that students must use other aid alternatives before the Excelsior Scholarship means that lower-income students, who often stand to receive more federal tuition aid, will receive less of the scholarship than higher-income students. On the flip side, the family income cap of $100,000 means that students from families making more than this do not qualify for any state aid. While this may not seem problematic, the high costs of living in New York mean that families making six figures still struggle to send their children to college. Furthermore, the Excelsior Scholarship does not factor family size into the income cap, meaning that families who make $100,000 but have more than one college-bound child still do not qualify for the scholarship.
Finally, the requirement that students must stay in New York post-graduation for the duration of the time that they received Excelsior Scholarship funds is also highly limiting. If student must relocate for family reasons, job opportunities, or other life occurrences, they stand to be saddled with debt from the program, which requires that the scholarship turns into a loan if they leave the state within the designated post-graduation time period.
Thus, while the Excelsior Scholarship to provide free college tuition to New York students is absolutely a step in the right direction, placing fewer limitations on who qualifies for the aid and expanding the assistance to allow for coverage of living expenses could vastly improve the program. Furthermore, eliminating the requirement that students stay in New York after graduation could help address any hesitations that students may have if they are reluctant to enter into a years-long post-graduation contract with the state.
New York state should absolutely be commended for its new initiative to help more students attend college affordably. However, it should also continue to take steps to improve this program so it comprehensively addresses the needs of all students. And then, hopefully other states will follow suit.