How Obama & Trump Talk About Their Kids Shows They're Two Totally Different Dads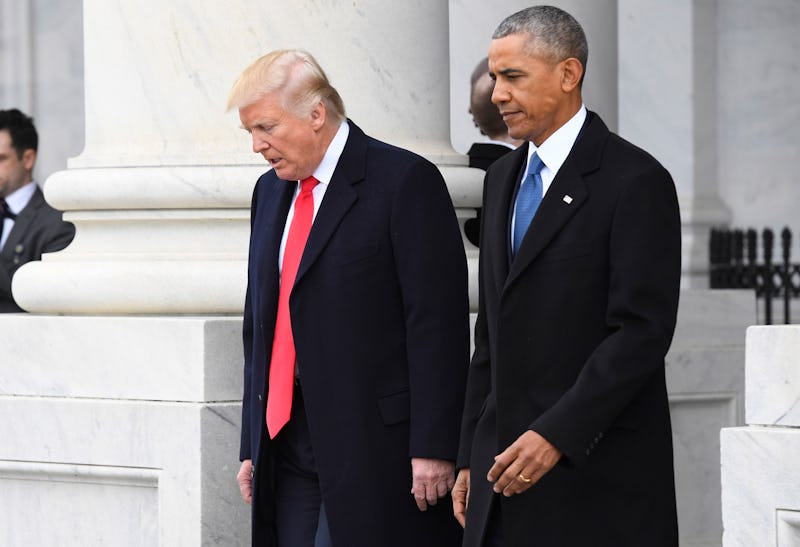 Pool/Getty Images News/Getty Images
How parents talk about their children can reveal a good deal about their relationship with them. It's probably one of the reasons why there are various reports on how Donald Trump and Barack Obama talk about their kids. From their praise for their children to their concerns, what presidents say about their offspring could help readers understand how leaders of America navigate parenthood.
While he was the president of the United States, Obama had built a reputation for himself as a humorous and thoughtful father of two young girls, Sasha and Malia Obama. Whether he was sharing his thoughts on Father's Day or delivering his final press conference, Obama shared his comments on his daughters saying that they "enchanted" him with their resilience and hope.
Now that Trump is the president of the United States, the president is known for showering his children, particularly Ivanka Trump and Donald Trump Jr., with praise emphasizing their intelligence. Considering that Trump's children are older than Obama's, the president has also discussed their input on policy-making. In the past, for example, Trump praised Ivanka for working on various policies for furthering employment prospects in the digital and technical sector.
When placed side by side, Trump and Obama's words for their children read like any other father's. But when you look closer, you might notice that Obama tends to keep his love draped in humble terms while Trump opts for grandiose descriptions.